| Jul 26, 2022
NPS for Ecommerce Brands
What is NPS? We break down why NPS matters for ecommerce brands, how to find this important KPI, & leverage it for success. Read our easy guide to NPS now:
Why is NPS such a key metric for ecommerce brands?
What is NPS anyway?
You can bet the larger brands you're competing with have a strategy to measure and improve their NPS. So we think you should have the same competitive edge.
Because this KPI goes way beyond site reviews from your customers.
Your NPS provides direct insight into your overall brand appeal, customer loyalty, and areas that must improve if you want to thrive. It can even help predict customer behavior that affects your bottom line.
So yeah, it's a pretty big deal. And that's why we're breaking down ecommerce NPS the easy way in today's guide.
What is NPS?
A net promoter score, or NPS, reveals the likelihood of a customer recommending your brand to someone. They may refer a family member, friend, colleague, boss, etc. It even includes recommendations via online reviews left for strangers on the internet.
While your customer satisfaction score measures your buyer's feelings about a particular purchase or interaction with your brand, NPS encompasses their overall feelings about your brand as a whole.
Everything about your brand goes into their consideration, from your website design, product photos, and checkout process to your brand packaging, shipping, and more.
Customers then respond by selecting a number on a scale of 0 (not likely) to 10 (extremely likely).
Net promoter scores range from -100 to 100, and we'll show you how to measure your brand's NPS later. But let's go over why tracking NPS is worth your time and effort.
The Power of NPS for ecommerce Brands
Your NPS isn't just a crystal ball of good-to-know intel. It can be leveraged to skyrocket your brand to the next level.
A Solid NPS Can Boost Sales and ROI While Lowering Customer Acquisition Costs
Referral marketing costs nothing for your brand but rakes in tons of customers if you have a high NPS. So you'll enjoy higher ROI, lower customer acquisition costs, and drive revenue.
So you not only want to keep your customers happy, you want to reward them for referring new customers your way. We'll talk about how to do this later.
Enhance Your Adwords Spend & Google Seller Ratings
If your brand is paying for Adwords but not collecting site reviews for NPS, you're wasting your money. Every ecommerce brand should be using NPS and syncing it with Google Seller Ratings.
Google is the primary driver of eComm business -- half of all searches for products start there, after all. A high Google Seller Rating [*]:
Google Seller Ratings automatically gathers and aggregates your customer reviews from multiple sources. So make sure your NPS reviews are synching here.
This is non-negotiable for a thriving eComm brand in 2022.
💪 Dive deeper into this topic with our Ultimate Guide to Improving Your Google Seller Rating next!
NPS Can Help Predict Churn Rates and Identify Areas To Improve
NPS is a fantastic way to understand how people feel about your brand and what they think you could do to improve the customer experience.
Just ask customers to share their feedback and explain the primary reason for rating your brand as they did. Then you can use this invaluable market research to deliver exactly what they're looking for.
For example, a low NPS indicates that customers are dissatisfied. They may be thinking about canceling their delivery subscriptions or switching to a competitor.
Since retaining your customers costs a lot less than acquiring new ones, your brand can use its NPS to address their concerns and improve your customer retention rate before they bounce. Then you can check whether your NPS rises or falls after you make these upgrades.
NPS Can Become an Actionable Marketing Tool
Highly targeted marketing messages have the highest chance of converting. That's why getting your brand's email segmentation on point is so crucial.
When you learn which customers are Promoters versus Detractors, you can create different, targeted messages based on these segments. You'll be better equipped to identify each segment's pain points and send messages and offers that convert more often.
Just sync your NPS information with an email marketing platform like Klaviyo. Then you'll be able to send automated emails to Detractors, Promoters, and Passive customers. You'll nurture these relationships and delight them toward higher NPS ratings in the future.
🙂 Psst! Klaviyo seamlessly integrates with Stamped to make this task a piece of cake!
How To Find Your NPS (no hard math required!)
Many ecommerce brands understand why NPS is vital to their success, but they get tripped up in the math. When you break it down, it's actually easy to calculate your NPS using simple formulas.
Just follow these 4 steps:
1. Ask Your Customers for a Rating
You can't calculate an NPS score without asking your customers for this data. So before you whip out the calculator, come up with an on-brand way to poll your buyers.
The most commonly-used request? On a scale of 0 to 10, how likely are you to recommend our brand to a friend?
Here's how Target asks customers to rate their brand post-checkout:
Stamped sends NPS requests using your preferred cadence. If you integrate Stamped with a communications tool, such as Klaviyo, you can build customized flows to send the requests and respond to them accordingly.
2. Categorize Customers By NPS
Once your survey results start rolling in, separate responses into three categories:
NPS Promoters (people who give your brand a 9-10). These customers view your brand favorably and are highly likely to recommend it to their network. They're also your most loyal customers.
NPS Passives (people who answer with a 7-8). These indifferent customers are satisfied but not head over heels about your brand. They might fall in love later (and become Promoters). But they might just as easily switch to your competitor, or worse, become an unhappy Detractor.
NPS Detractors (people who rate your brand between a 0-6). These unhappy customers do not view your brand highly and will not recommend it to others. They may leave damaging online reviews and spread negative word of mouth, harming your seller rating and slashing your brand's trust and credibility with shoppers.
3. Find Out How Many Promoters & Detractors You Have
Remove the Passives from the equation for now. The secret to an impressive NPS is having an overwhelming number of Promoters to mitigate the potential harm caused by Detractors.
So to calculate your NPS, you need to know the percentage of Promoters and Detractors in your ranks. To find these:
Take the number of respondents in each category and divide it by the total number of customers surveyed.
So let's say you asked 200 customers for an NPS. You learned 75 were Promoters and 15 were Detractors.
To find your percentage of Promoters, divide 75 by 200, and you'll get 0.38. To turn that into a percent, multiply 0.38 by 100 to get 38%.
Using the same formula, let's find the percentage of Detractors. We'll divide 15 by 200 and wind up with 0.075. Multiply that by 100, and we'll get 7.5%.
4. Calculate Your NPS
To calculate your NPS, you'll need the percentage of Detractors and the percentage of Promoters. Then you'll plug those into this easy formula to find your net promoters:
Percentage of Promoters - Percentage of Detractors = Your Net Promoter Score
Using the numbers from our example, Promoters account for 38% of our polled customers while Detractors make up 7.5%.
38% Promoters - 7.5% Detractors = 30.5% NPS
Remember, net promoter scores can range from -100 to 100. And the ecommerce industry standard averages between 30 and 45.
💡 We pulled data to see how the NPS of Stamped users compares to industry standards. Our users average an NPS of 65!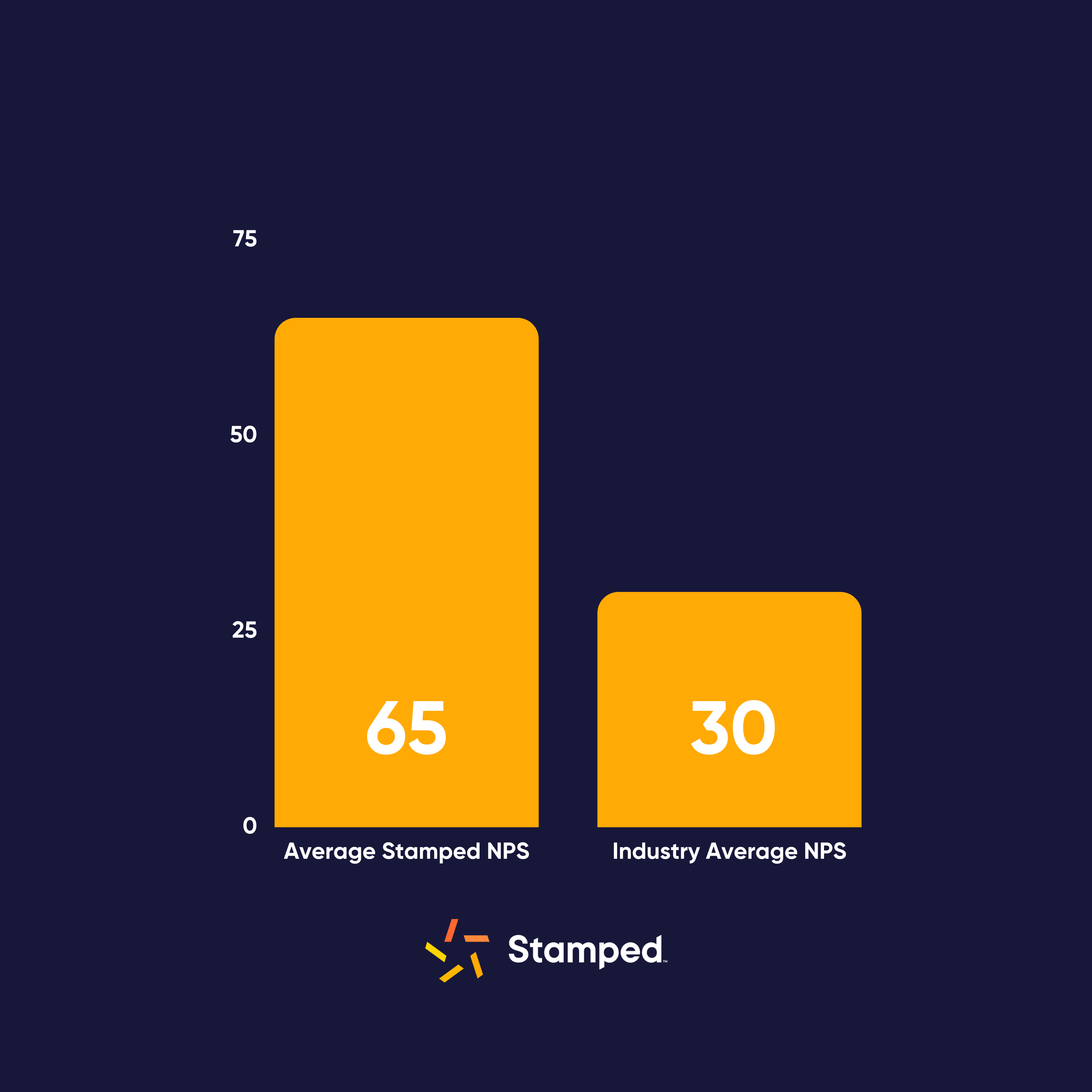 So how does your net promoter score look? According to ecommerce averages, an:
Now that you know your NPS and what it means for your ecommerce brand, it's time to get to work. You can raise your NPS if it's not where you want it to be. And you'll need to consistently monitor high scores to keep your crown.
How To Improve Your NPS
You should be watching how your NPS changes over time. The good news is you don't need to raise your NPS by a lot to notice a significant boost. One company increased its NPS by just 1% and earned an additional $1.6 million net profit [*].
Use these strategies to improve your NPS and keep your customers loyal and happy:
Start Meaningful Conversations with Your Customers
Brands often treat NPS as a one-way conversation. But it should really be considered a two-way dialogue.
The first step is asking customers to rate your brand on a number scale. Then, if you leave a blank form for customers to provide additional information about their experience, you'll score qualitative data that sheds light on their feelings.
Examples of follow-up questions here may include:
So to make NPS actionable, it's best to integrate a top-rated customer review platform like Stamped with an email marketing tool like Klaviyo or an SMS marketing tool.
This not only helps you collect NPS using automated surveys, but allows you to respond to a Detractor NPS automatically with a follow-up. You can try something like: "Hey, we saw that you were unhappy with your recent order, can you please help us understand why?"
Your customers will feel valued, know you genuinely care, and see that you want to fix the situation.
Send Targeted Offers Based On NPS
You can also use your email marketing integration to create targeted campaigns for all your Passive customers, Promoters, and Detractors.
To thank your Promoters for being so loyal, send them exclusive discount codes, free shipping promos, ebooks and whitepapers, etc. This will definitely show how much you value them and encourage them to remain loyal.
To woo Passives, consider offering an extended free trial, a discounted plan upgrade, a free tutorial or one-on-one demo with a brand rep, etc. Show them why you're better than the competition and deserve their business.
To win back Detractors, apologize and explain that you're taking their suggestions to heart and actively working on improving things. Thank them for their feedback and ask how your brand can remedy the situation.
Turn NPS into a Customer Acquisition Tactic with Google Seller Ratings
Stamped's integration with Google allows brands to upload the Net Promoter Score (NPS) reviews collected in their accounts as Google Seller Ratings. This can be displayed as review ratings in Google Text Ads.
✨ Learn how to enable Google Seller Ratings here!
Create a Loyalty Program
A loyalty program incentivizes your customers to remain loyal with rewards like discounts, gifts, and other goodies. You can start with a simple referral program that rewards customers for recommending your brand to new customers. Then you can upgrade your loyalty program to include VIP tiers and more. If your customers are leaving positive NPS scores and you are not enrolling them in a loyalty program, you are missing an opportunity to retain the customer.
✨ See why Stamped's Customer Loyalty Software earns high marks from ecommerce brands now! 
Now You're a Pro at ecommerce NPS!
Kudos on making it to the end of this guide! You now have everything you need to calculate your NPS and leverage it for incredible customer retention and increased customer lifetime value.
Stamped is the best and Loyalty platform for ecommerce. We'll help you build your brand and acquire more customers through reviews and then retain through customers with a loyalty program. Stamped's NPS tool enables ecommerce brands to collect NPS, action the feedback, and distribute it to channels like Google Seller Ratings to turn NPS into a customer acquisition tactic. Let's partner together to level up your brand today!
Trust Builds Brands
Sign up to see how Stamped can help your Ecommerce brand drive growth and awareness.
Sign Up Free