Conversion Rate Optimization | Nov 11, 2022
What is Referral Marketing? Definitions, Benefits, and How To Get Started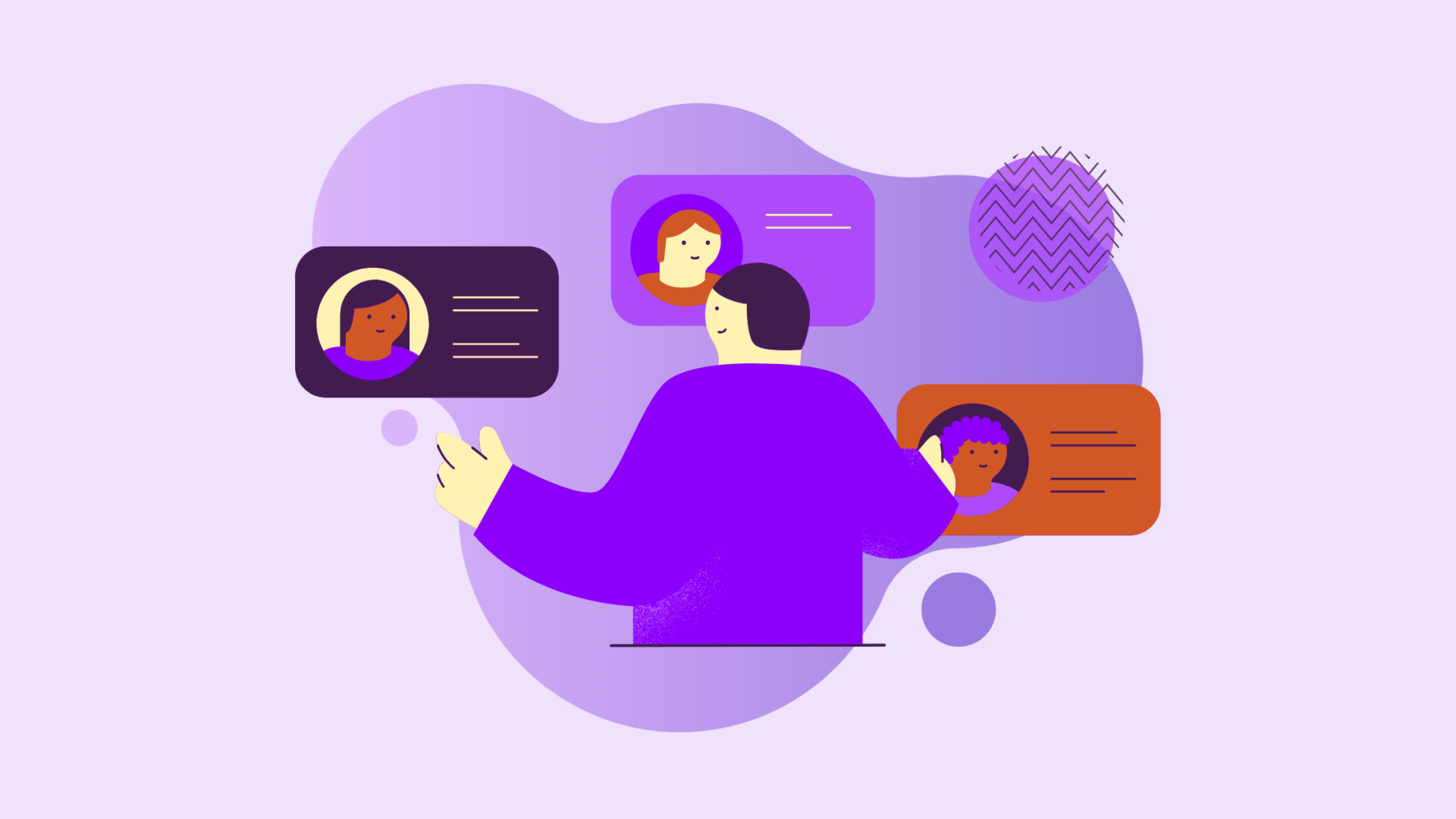 If you're brand new to referrals, this post will walk you through the foundational basics and best practices inspired by our customers. If you are already using referrals, this is a great resource to educate your team about the benefits of referral marketing and how you can enhance your program even more.
What are referrals?
Referrals are a word-of-mouth marketing tactic that encourages happy customers to advocate on behalf of your brand in exchange for gifts or other incentives. Sometimes called refer-a-friend programs, referral marketing has become a go-to method for eCommerce stores looking to grow their sales while minimizing the cost per action.
Referral marketing benefits
Referrals have a positive impact across your customer lifecycle, including:
Cost. They are relatively inexpensive to launch (hint hint, if you are using Stamped referrals are available in every pricing tier) and are affordable to run. If you set your rewards well within your margins, you will always profit off of referrals.
Efficacy. 77% of consumers are more likely to buy a new product when learning about it from friends or family.
Precision marketing. Giving your happiest customers referral bonuses incentivizes highly qualified new customers AND encourages your existing customers to return. In fact, 65% of consumers say that receiving rewards impacts their frequency of purchase.
Retention. Customers referred by other customers have a 37% higher customer retention rate.
Brands across the board, from small business all the way to household brand names, can benefit from launching a referrals program.
Why the time to launch a referral program is now
It's getting harder to reach new customers, as they often research brands independently and the digital marketing landscape has changed over the past few years.
Customer acquisition costs (CAC) have risen as much as 222% over the past few years, related much to changes in privacy and data protection laws, iOS 14, and cookie tracking. It's clear that brands who want to grow their customer base must now consider new strategies to reduce their CAC.
That's why referral marketing is more important than ever. Referrals are a way to directly decrease your customer acquisition cost (CAC) by turning existing customers into a sales channel. They are relatively affordable to implement, easy to document the impact of earned revenue, and have the added benefit of strengthening your customer retention rate because they motivate existing customers to make a second purchase.
Keep reading to learn how to get started.
How to get started with referral marketing
Choose your Incentives
Providing a reasonably interesting incentive is key to ensuring success. Often, brands offer rewards that aren't convincing enough considering their average order value, order barriers, etc. The referral reward provided to the customers doesn't always have to be of a fixed or percentage discount, it could be points too since the customer is already part of the Loyalty program they will be able to use the points to redeem a reward they prefer. The reward to the new customers (friends) should be something they can use right away such as fixed or percentage discounts, or free shipping by identifying the new customer purchase trends, abandoned cart values, etc.
Points
For customers already in your loyalty program, giving a points reward can be an attractive incentive while also furthering their participation in your loyalty program. Much like your referrals, your loyalty points should be valuable enough for your customers to want to use them without cutting heavily into your margins.
Cashback
Cashback is a great referral incentive for new customers, as it offers them a discount off their first purchase without have to first register for your loyalty program (as they would have to do with points).
Discounts
Discounts are also attractive to new customers as it allows them to make a first purchase at a reduced rate, making the purchase decision easier for them. When you are offering discounts, ensure that they are still within your profit margins so you are not losing revenue when referral discounts are used.
Decide when to launch
Timing is key when launching your referral program. If you are new to referrals, consider launching your program after the holidays to re-engage your customers. Develop a SMS or email campaign to announce the launch and encourage customers to enrol. This is an effective way too boost customer retention after a seasonal surge.
If you already have an existing referral program, consider embedding it into your BFCM communications. Customers are looking for discounts during the holiday shopping season, so giving them a referral code is seen as mutually beneficial.
Choose the Right Platform
Stamped Loyalty has all of the tools you need to launch, manage, and scale your referral program. With Stamped, you can implement a referral marketing program on any pricing tier.

Monitor Your Performance
Using your Dashboard, you should regularly monitor your progress and adjust your strategy. Referrals are one of the easiest ways to see value earned, as they are driving direct purchases. Monitor your Stamped Dashboard to see who are your top referrals, how much revenue you've driven, and want for any anomalies or trends. Keep reading for three high-impact referral marketing strategies to try.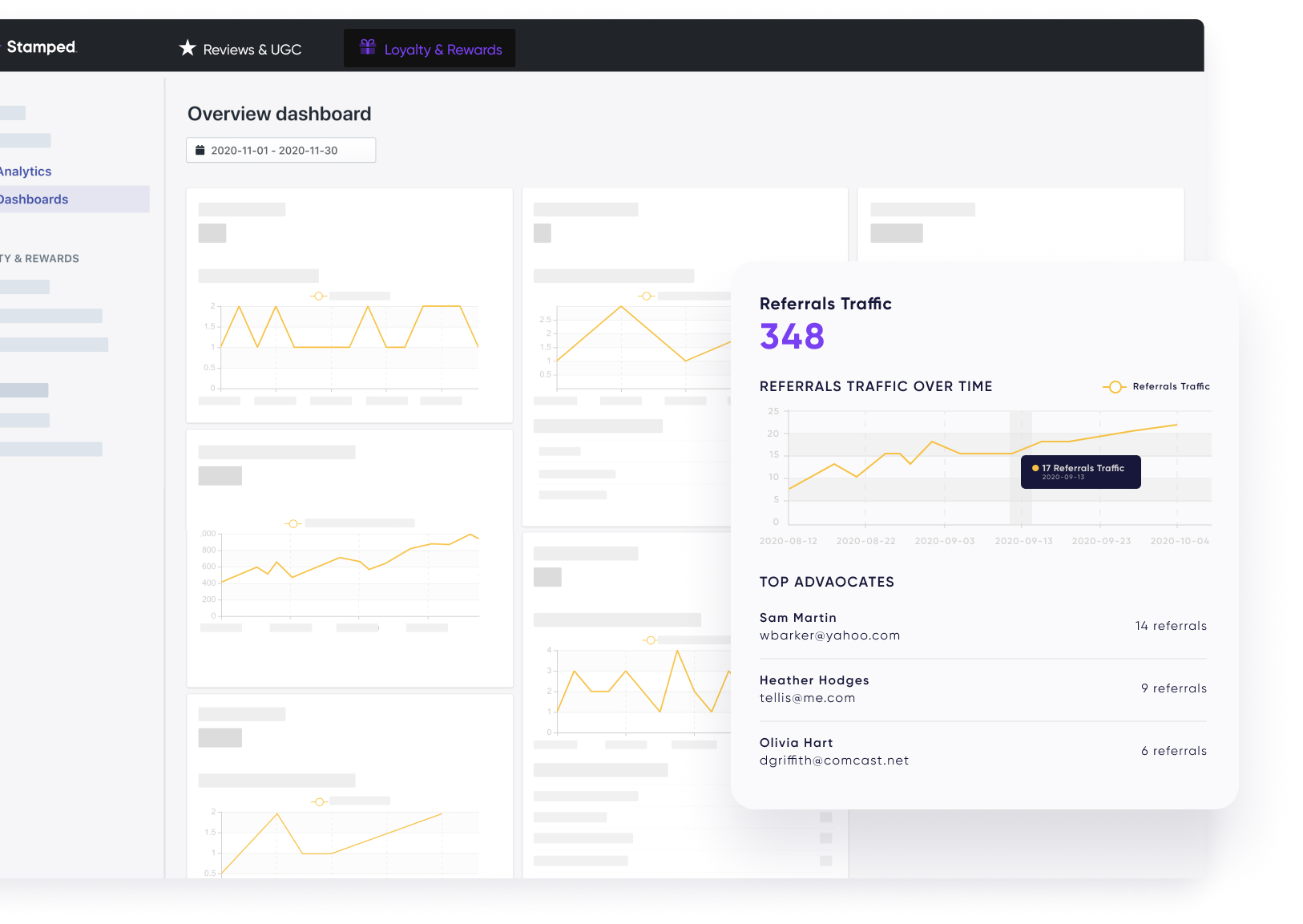 Referral marketing best practices & strategies to try as you get started
Consider using these three strategies to bring your referral program to the next level:
Use referral offers in your re-engagement campaigns. A re-engagement campaign, or a targeted email/ SMS message, is sent to customers who made a purchase with you in the past but have not revisited your site. For this strategy, you will identify this segment of users and send them an invitation to join your referral program. By seeing that they can earn points or discounts by recommending you to a friend, they are more likely to revisit your online shop and make further purchases.
Offer exclusive discounts to referral program members. Your referral program customers are your most active brand evangelists as they are already recommending your brand to other customers. Consider ways to nurture these relationships, such as offering exclusive early launch access to new products, developing a "thank you" campaign with additional offers, or sending personalized reach outs to your highest earning referral members.
Offer a referral code to customers who leave a positive review. Customers who are using your referral program are doing so because they had a positive experience with your brand and your product. To heighten the relationship between reviews and referrals, develop a campaign delivered to customers who leave a positive referral to invite them to your referral program. This will maximize the experience of their positive review and ensure you are turning every good review into a lifelong customer.
We hope this was helpful and you're ready to get started with Stamped referrals. Reach out to us at hello@stamped.io with any questions.
Trust Builds Brands
Sign up to see how Stamped can help your Ecommerce brand drive growth and awareness.
Sign Up Free