BFCM eCommerce Guide to Catapulting Your Sales This Year
We'll show you how to prepare for Black Friday Cyber Monday (BFCM) as an eCommerce business to make this your most lucrative year yet. Learn more now!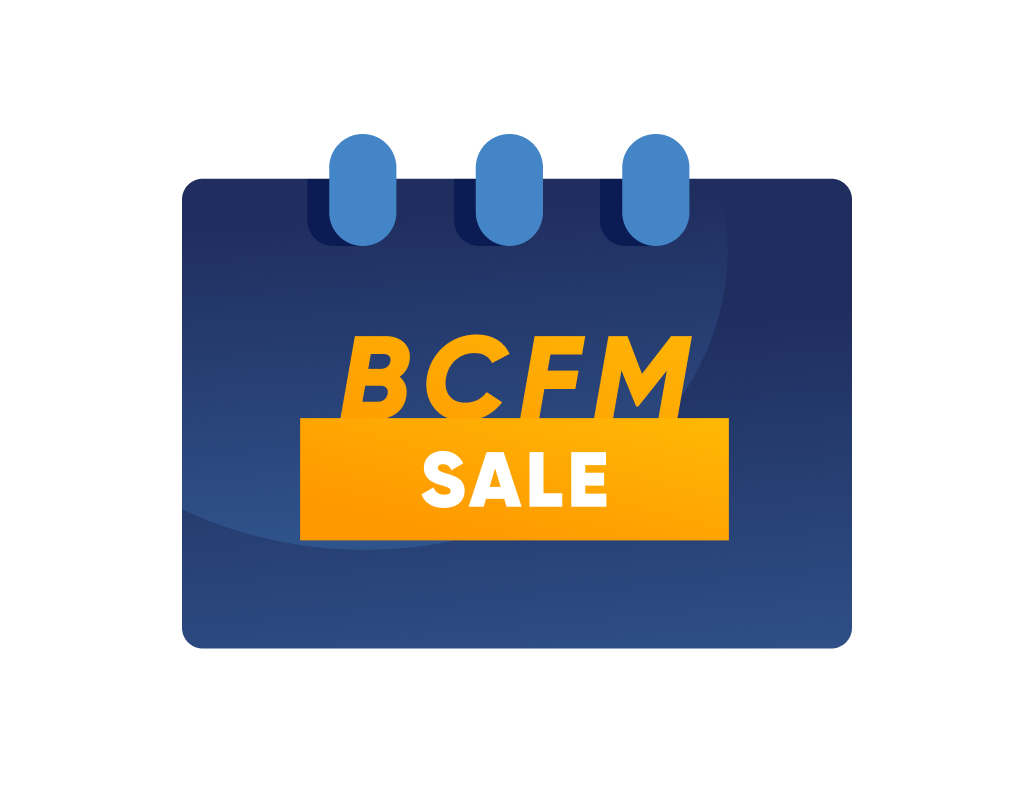 Is your eCommerce business prepared for BFCM (Black Friday Cyber Monday) this year?
Whether you had a fantastic BFCM weekend last year or you wish it could have been better, it pays to start working on your sales promotions sooner rather than later. After all, these two days are the biggest shopping days of the year!
So that's exactly what today's guide will help you do.
We'll share eight must-haves every Black Friday and Cyber Monday strategy should have. We'll also highlight seven tools and four marketing tactics your eCommerce business should use to thrive during this exciting time.
And before you wonder whether this is really necessary or worth your time and attention, let's start our guide by explaining just how lucrative BFCM can be for your brand:
BFCM: What's the Real Potential for eCommerce Businesses?
The acronym BFCM is just a short way of referring to Black Friday and Cyber Monday (i.e., the two biggest shopping days of the year). It kicks off the holiday shopping season starting the Friday after Thanksgiving and lasts through Monday.
So what makes these days worth prepping for?
In 2020, 174 million shoppers took advantage of BFCM, compared to just 83.3 million in 2019.
Black Friday sales in 2020 topped $9 billion, which was a 21.6% increase from the previous year. And last year's Cyber Monday clocked in at $10.8 billion in the US, making it the highest sales day of 2020.
When you add in global sales, the grand total comes to a whopping $717.5 billion for the entire weekend.
That's an estimated $6.3 million in online sales every minute of Black Friday alone!
Thanks to the COVID-19 pandemic, a staggering $3.6 billion worth of sales occurred on smartphones. And these figures are expected to increase in 2021 as new variants of the virus keep more shoppers at home.
So what does all this mean for eCommerce business owners?
That you have an excellent opportunity to drive sales and capture new customers in a single weekend -- if you have a winning strategy in place to do so.
How to Prepare Your eCommerce Business for BFCM
The key to thriving during BFCM is to plan ahead, which you're already starting to do if you're reading this guide (nice work!).
So here's a list of steps you'll want to complete to put your eCommerce business in the best possible position:
Step 1: Have a Plan Ready to Go Long Before November Rolls Around
Now is the perfect time to start creating your BFCM plan.
This should be your roadmap that includes important details such as:
You can think of this list as your who, what, where, when, and why. Answering these questions now will help you make important decisions later on.
It's a smart idea to begin with a dissection of last year's BFCM strategy. Instead of repeating the process, you should work on improving what worked and tweaking what didn't.
Then you'll have an accurate jumping-off point to create your 2021 BFCM strategy based on your own customer and sales data.
Try to find out:
Ask yourself what your team can improve upon and what you can do better to create your personalized BFCM roadmap.
And since you're planning so far ahead, you can also tackle any areas you may not have had time for last year. Was there anything you wish you'd done differently?
Once you have a rough blueprint of your strategy, you can move on to the tech side of things:
Step 2: Make Sure Your Website is Set Up for Success
Next, it's super critical that your website can handle the influx of BFCM traffic.
You don't want to spend all this effort driving people to your site only for it to lag or, worse, crash when too many people get there.
That's a recipe for shoppers bouncing from your site too quickly and before they make a purchase.
Again, you can look at last year's traffic report in your Google Analytics to see if you need to bump up your bandwidth or make other adjustments to handle the giant wave of holiday shoppers.
You should also check to see how your site looks and functions on mobile, since so many BFCM shoppers will be using their smartphones, tablets, and other devices.
You want everything to be legible, pleasant on the eyes, and functional no matter the screen size shoppers use.
So are your buttons too close together? Is your font size easily readable? Are you set up for a simple and seamless mobile checkout?
The more you can cater to users across all types of devices, the more likely you'll be to close more sales.
So check your site's bandwidth and mobile-friendliness before moving on to the next step.
Step 3: Create a Landing Page that Reduces Overwhelm for Shoppers
If you have certain items that you'll be pushing people towards, it pays to create a separate landing page for these products specifically.
This ensures that people don't get overwhelmed or distracted by full-priced items that may not convert as well as the ones attached to a special deal.
So make a special BFCM landing page with all your offerings. Think of creating this page like a traditional mail flyer: people should be able to see all your deals at a glance.
Then add links on your BFCM landing page so shoppers can click to find further details on the individual products they're interested in.
Step 4: Have Tighter Controls Over Your Inventory Management
On top of checking to see if your website can handle the influx of customers, you also want to make sure that your inventory, order fulfillment, and customer service can handle this increased bandwidth too.
If you don't already have a handle on your inventory, things will only get worse when BFCM rolls around. So make sure to tackle this area right away.
Once again, you don't want to spend time driving customers to your site only to then be sold out of products or experience shipping delays as you wait to restock.
Do this, and customers either won't make the purchase, or they'll quickly cancel it once they learn their order will take too long to ship.
Start managing your inventory now to ensure you're well-stocked on items that you'll be promoting for BFCM. You may also want to consider scaling back on products that you don't sell as much or won't be offering a deal on.
Step 5: Work Out the Kinks in Your Order Fulfillment Process
Now is also the best time to revisit how long it takes your team to fill orders.
So take a moment to track this and then think about:
You don't want your influx of orders to slow down fulfillment, as this will definitely turn off customers. If they have to wait a few days for their order to ship, they may be less likely to return in the future, which you clearly don't want.
Yes, the goal is to capture as many BFCM sales as possible, but you also want this momentum to continue long after the weekend ends.
So check on your order fulfillment now and address any issues ASAP.
You should also look at data from last year to help project whether you'll need more hands on deck during this period, which may also be necessary for the next step.
Step 6: Ensure You Have Enough Customer Support Team Members Ready to Go
How is your customer support team set up for the BFCM influx? Can they handle more emails or calls than they're currently receiving?
If they're at maximum capacity, it's time to add more members to the team, even if it's just for a short holiday sprint.
You should also make use of a live chat box for new customers who may have a question they can't find an answer to on your website.
The sooner you can answer these questions -- especially when shoppers are moments away from making a purchase -- the more likely you'll be to close the sale. Having a live agent ready to go with a chat box will help you do that.
Step 7: Set Up Reviews for Your Website
Another thing you can do to prepare for BFCM is to start positioning yourself as a trustworthy brand.
Building out your product reviews long before the weekend hits guarantees that customers visiting your website will quickly see that your brand can be trusted.
This will help you convert shoppers faster and makes them less inclined to sit on the fence.
Remember: many other brands will be competing for your customers' attention. So the faster you can build trust and confidence, the better.

Our review management software is the best tool to help you establish trust and credibility. It helps you quickly and easily capture reviews that you can then use throughout your website and social media channels.
These reviews will also help boost your SEO rankings, skyrocketing your store's chances of ranking higher in search results.
These two perks will help your brand cut through competing offers that weekend and command attention.
Step 8: Set Up a Loyalty Rewards Program
You should also plan to set up a loyalty rewards program before BFCM hits, if you haven't done so already.
Again, it's wonderful to capture an influx of sales during Black Friday Cyber Monday weekend, but it's even better if you can convert these new shoppers into loyal fans who continue to buy from your brand.
The best way to do that is by rewarding people for their purchases. And that's precisely what a Customer Loyalty Software tool like ours can help you do.
Loyalty programs help you acquire new customers with incentives based on their shopping activity and interactions with your brand. Because they game-ify the shopping experience, they can help you maximize your customer lifetime value.
For Black Friday and Cyber Monday, consider offering special discounts and exclusive offers to VIP customers first to reward them for being so loyal.
Then you can offer double or triple points to everyone who shops during BFCM weekend.
These incentives will certainly pique your shoppers' attention and draw them to your brand. And when they earn points, they'll want to return after BFCM to rack up more points or cash in their rewards.
That's why it pays to get a Loyalty Program up and running ASAP.
So now that you know how to strategize for BFCM, let's move on to the tools that will help you get the job done.
The Top 7 Tools to Use for BFCM
These tools should catapult your Black Friday Cyber Monday weekend to great heights this year:
1. Stamped.io Review Management Tool
Our Review Management software tool helps you automate collecting reviews so you can quickly rack up as many as possible before Black Friday Cyber Monday weekend.
It can also help you display your reviews on your website, throughout social media, and anywhere else it makes sense (such as in your emails). Shoppers will quickly see your brand is one to trust.
Start building up your reviews now, and you'll have no trouble converting BFCM customers when the time comes.
2. Stamped.io Rewards & Points Loyalty Tool
To create your loyalty rewards program, use our Rewards & Points tool. You'll be able to increase engagement and create brand advocates before, during, and after the Black Friday Cyber Monday weekend.
You can also start building out exclusive offers for your VIP customers to ensure they know where to shop that weekend.
3. Your Email Provider
Start generating excitement for your BFCM deals as early as possible, so customers can lock in your brand as the go-to before the time comes and before other brands have a chance to snag their attention and holiday spending money.
Email providers like Aweber already have pre-made Black Friday Cyber Monday templates that you can start tweaking to match your brand. Working on this task now will help you get ahead of the competition.
4. Facebook and Instagram
Social media channels like Facebook and Instagram make the perfect place to promote your flash sales for the weekend.
If you create teaser posts leading up to BFCM, you'll be able to tell your followers and other shoppers what's in store so they stay tuned.
But don't give your hand away just yet! Provide just enough intel to get their curiosity going, then they'll be more excited to head over to your store to learn all the details.
For example, let everyone know when and where your deal will be launching (Instagram at 12 PM). Tell people they'll find out the exact savings discount once they visit your site that day.
You can and should promote these "events" via your email marketing to drive as much traffic to them as possible.
5. Coupon Apps
Coupon apps like Retail Me Not may also be a helpful tool to drive traffic to your website that may not have come otherwise.
Make your offer enticing enough to get noticed in a sea of other options, and you may find yourself plenty of new customers to make it worthwhile.
6. Live Chat Box
If you don't already have a live customer support chat box on your website, or you've turned it off, activate one for this weekend specifically.
Having on-demand customer support is the perfect way to answer questions new shoppers may have right on the spot. Do this, and they'll be more likely to complete their purchase instead of going elsewhere.
HubSpot has superb live chat software, and so does My Live Chat, making them both worth checking out. Just make sure to have these tools running for the entire duration of the weekend to avoid missing conversion opportunities.
7. eCommerce Inventory Management Tools
Using up-to-date and robust inventory management tools will help you keep track of what's selling and what's worth pulling from your shelves due to a lack of sales.
This will help you prepare accordingly for BFCM, and it'll help ensure you don't run out of your best promotions.
Companies like Ecom Dash and Stitch Labs can help you better manage your eCommerce inventory, so you can adequately prepare for your Black Friday Cyber Monday deals.
Now that you know the best tools to use, let's chat about how to use them to take full advantage of the weekend.
4 Effective Marketing Tactics to Use During BFCM
These strategies will help you drive customers to your website and engage them once they're there:
1. Send Emails Ahead of Time With a BFCM Preview
As discussed a moment ago, get your Black Friday Cyber Monday email marketing campaigns nailed down long before that weekend approaches.
This is helpful for two reasons:
Let people know the exclusive offer they're getting ahead of time for being a loyal email subscriber, and they'll save that email and some money to spend at your store.
Just be sure to send helpful reminders leading up to the days so your brand stays top-of-mind and people will be ready to shop when the time comes.
2. Post Social Media Updates with Teasers
You'll want to take the same tactic with your social media strategy: get teasers out ahead of time and well in advance to ensure people know where to turn to for the weekend.
Sending out a series of cryptic Tweets and social posts about what's ahead will keep people guessing and interested in seeing what's about to go down.
Having countdown posts is a fun way to build anticipation like this.
3. Host Flash Sales That Give Exclusive On-the-Spot Discounts
You can use both your email marketing and social media posts to drive people to flash sales, as we touched on earlier.
These are an amazing way to engage your followers in the moment. You can also preview exclusive offers that you won't feature anywhere else.
Flash sales work by instilling a sense of urgency that this deal won't last forever, which can drive a quick boost in sales as shoppers worry about missing out.
4. Create Loyalty Programs With Exclusive BFCM Sneak Peek Offers
Since you'll be competing with so many other brands this weekend, it pays to get a leg up on your competition. Having a Loyalty Program in place definitely gives your brand an edge.
With this, you can reward customers for choosing your store. In turn, they'll enjoy free perks that make it worth sticking around.
To sweeten the deal even further, you can also add exclusive BFCM offers to your loyalty rewards so new customers are incentivized even more to stay with your brand.
Add an extra 10% or 20% off on top of your deals or throw in freebies for anyone who subscribes to your Loyalty Program before Black Friday Cyber Monday weekend, and you'll see an increase in sales and loyal customers.
2 Must-Have Post-Holiday Activities to Keep the Momentum Going
With our strategies, tools, and marketing tactics, your 2021 BFCM weekend should be a total success! So use these two post-holiday must-haves to keep your positive momentum going and finish the year strong:
1. Capture Customer Reviews
Post-BFCM weekend is a fantastic window to capture customer reviews from people who purchased during this period.
These customers probably scored a great deal, and they may be more excited than ever to share their joy.
That's why it pays to get those customer reviews now before the post-holiday excitement wears off.
Use our Review Management tool to help you automatically generate these reviews, and you'll see a stellar bump in how many reviews roll in after this weekend. That should help your business thrive throughout the year and well into 2022.
2. Sign Up New Customers for Your Loyalty Program
Get those new customers you just captured during BFCM excited to join your Loyalty Program. Make them see how easy it is to reap rewards for simply shopping with your brand.
Follow through, and they'll be more likely to buy again from you. You may even become their new go-to brand in 2022.
These two simple steps will help you catapult your BFCM success into a much larger win that lasts far longer than you may have anticipated.
Final Thoughts on BFCM for eCommerce Businesses
After reading this guide, you now know the potential that Black Friday Cyber Monday weekend has for your eCommerce business. It only makes sense to take advantage of this lucrative period to score new customers and capture holiday sales.
Fortunately, if you follow the steps in this guide, you'll be able to do all that and more!
You'll likely find that the 2021 holiday shopping season becomes one of your best yet -- and you'll be pleasantly surprised to see these effects carry over into the next year (and maybe even the one after that!).
So now it's time to roll up your sleeves and get to work! Remember, the earlier you implement these tips, tools, and tactics, the better your BFCM will be.