BFCM | Sep 13, 2023
How To Build Your Best BFCM Tech Stack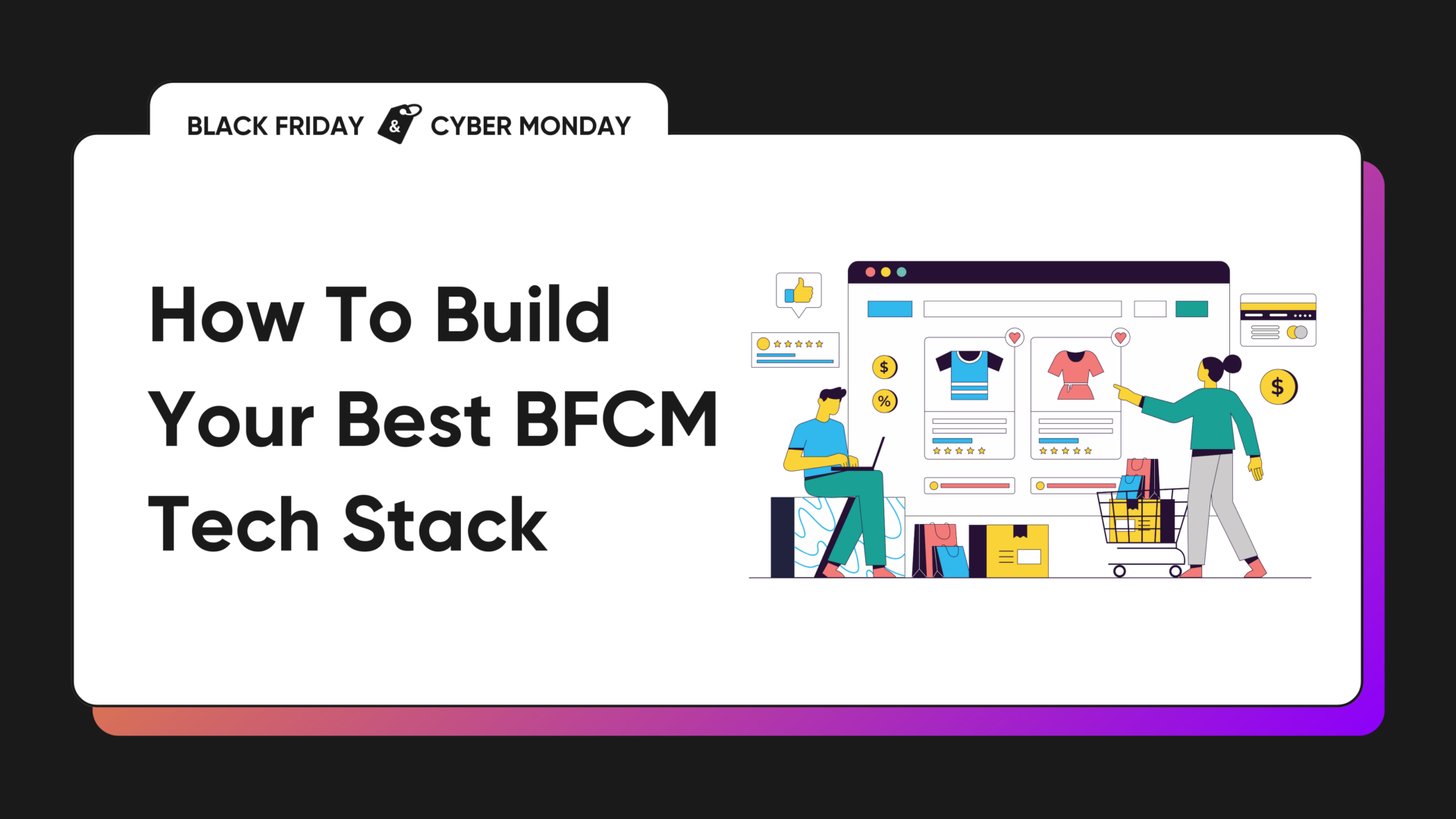 No matter the industry, size, customers, or competitors, almost every ecommerce brand has one major opportunity in common: Black Friday and Cyber Monday. When it comes to Thanksgiving weekend - also known as Cyber Weekend or simply BFCM - customers expect to see the best deals of the year on beauty, apparel, toys, technology, and more.
BFCM can be a challenging time for many brands with the amount of planning and decision-making required to create a successful holiday shopping experience for their customers. However, with a strong marketing tech stack in place, brands can leverage BFCM to drive more engagement, sales, acquisition, and retention than at any other time of the year. What do brands need to know to build their best tech stack for the biggest shopping event of the season?
What is BFCM?
Black Friday and Cyber Monday mark two of the most important dates in just about every ecommerce brand's calendar. For customers, it's the perfect time to save big on holiday gifts and other purchases they've been anticipating. As for brands, it's the ideal opportunity to accelerate growth and drive acquisition, sales, and retention.
Ever since the first Macy's Thanksgiving Day Parade in 1924, the Friday after Thanksgiving has marked the unofficial start of the holiday shopping season. Brands offer huge savings to acquire and retain customers, drive sales and revenue, and end the year "in the black" - hence the name Black Friday. The term Cyber Monday, on the other hand, was coined by the National Retail Federation in 2005, who noticed recurring spikes in ecommerce traffic and revenue on the Monday after Thanksgiving.
Between the COVID-19 pandemic and economic inflation, many ecommerce brands have experienced significant ups and downs in recent years. BFCM gives them the chance to overcome these obstacles and ultimately accomplish their goals.
Why BFCM matters for ecommerce brands
BFCM is one of the busiest shopping events of the year, even more so than other important occasions like Boxing Day, back-to-school season, and the week leading up to Christmas. Customers often wait and save up for BFCM to take advantage of what they expect to be the best possible deals.
Historically, BFCM has been the perfect opportunity for brands to acquire new customers and strengthen relationships with existing customers on the hunt for deals. Brands must create an offer that meets shoppers' expectations and develop a strategy and tech stack that prepares them for it, including ways to drive repeat purchases and customer retention long after BFCM is over.
What brands need to know before BFCM
This year, Thanksgiving falls on November 23rd, meaning Black Friday is November 24th and Cyber Monday is November 27th. There are several key statistics that ecommerce brands need to know in preparation for BFCM:
Approximately 2.64 billion people will make at least one online purchase in 2023
As of 2022, 3 out of 4 consumers make at least one online purchase per month
56.6% of American shoppers prefer to shop online
Mobile commerce transactions will account for 8.7% of all retail transactions by 2026
81% of shoppers conduct online research before making a purchase
Ad spend has tripled since 2019, from $12.5B in 2019 to an estimated $38.4B by 2024
Social commerce is projected to reach a total value of $1.3 trillion by the end of 2023, a 30.8% increase from 2021
The return on investment (ROI) for email marketing is approximately 4,500%
Brands also need to be aware of major BFCM 2022 trends that may affect their approach to BFCM 2023:
Record sales and increased average order value (AOV) can be partially attributed to inflation, meaning customers aren't necessarily spending more than usual
Major brands and retailers like J.C. Penney and Walmart used "pre-inflation" pricing as a marketing strategy, offering regular prices from previous years to drive sales
Mobile commerce outperformed desktop commerce in terms of web traffic, but desktop had a higher average order value (AOV)
Customers are becoming increasingly thrifty, relying on buy now, pay later (BNPL) options to shop and pay at their own pace
Shoppers are also becoming more careful about their consumption habits and how they affect the environment - almost half are more likely to buy from brands with sustainability practices and would be willing to pay extra for eco-friendly products
In summary, brands need to be customer-centric, mobile-optimized, and fully equipped with an effective BFCM strategy and marketing tech stack that makes the most of paid advertising, social commerce, and email marketing from start to finish.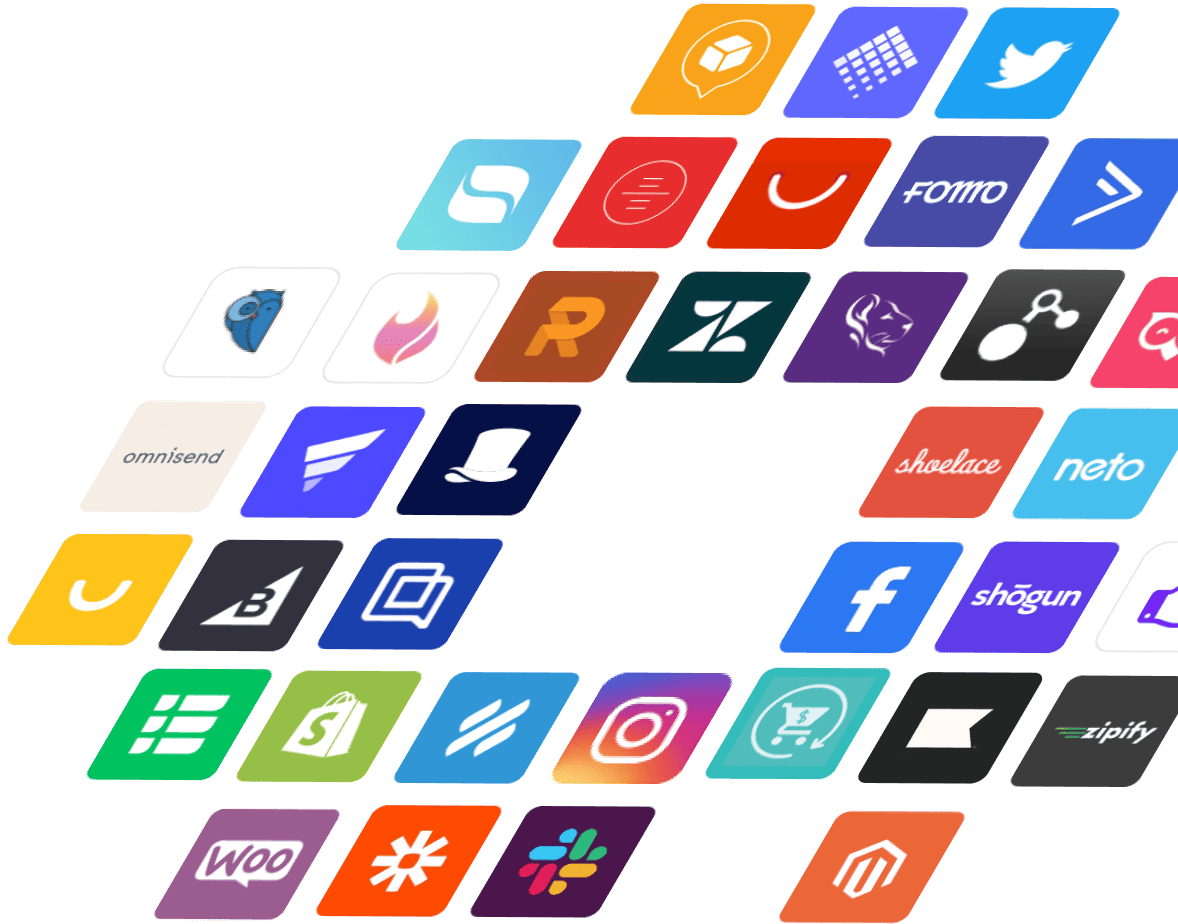 Key components of an ecommerce marketing tech stack
A marketing tech stack is a group of tools, applications, and platforms that brands use to manage their business. They help optimize tasks, automate workflows, reduce manual workloads, and assist brand owners and managers in making business decisions. Tech stacks consist of a front-end and a back-end, where front-end applications help brands build their online storefront while back-end applications help brands deliver information to their customers.
Content management system (CMS): A CMS helps brands create and manage their website without needing to write code or learn programming languages. Brands should look for CMS applications that are easy to use, offer integration and design flexibility, and include options for storing, managing, and exporting data. Popular CMS applications include Shopify, BigCommerce, WooCommerce, and Squarespace.
Customer relationship management (CRM): CRM software is used to track user activity, automate marketing campaigns, provide customer support, and manage customer data like contact information and purchase history. Some of the best-known CRM tools include HubSpot, Salesforce, Zoho, and ActiveCampaign.
Payment processing: Payment processing software like Shopify POS, Stripe, and Recharge allows brands to accept payments, create discounts, and manage complex billing for subscription-based products and services.
Inventory, shipping, and logistics: Brands need a sophisticated system for handling inventory management, order fulfillment, warehousing, shipping, and other logistics to ensure customers can track, receive, and potentially return their orders on time. Popular logistics solutions include ShipWell, AfterShip, and Shippo.
Customer reviews: Reviews are crucial for brands, as they give new customers the confirmation and confidence they need to make a purchase. Reviews solutions should include customization options, review request sequences, review incentives, topic filters, and community Q&A to help brands make the most of their reviews. Some of the top customer reviews solutions include Stamped, Junip, Okendo, and Loox.

💡 Compare and contrast customer reviews solutions to learn which platform works best for your brand. To learn more about how to optimize and leverage your reviews for BFCM, check out our latest article.

Loyalty programs: Every brand needs to have a loyalty program as part of their retention marketing strategy to re-engage existing customers and boost customer lifetime value. The best loyalty programs should include personalization options, custom activities and rewards, VIP tiers, and referral systems. Popular loyalty platforms include Stamped, Yotpo, LoyaltyLion, and Smile.io.

💡 Compare and contrast loyalty program platforms to learn which solution works best for your brand. To learn more about how to optimize and leverage your loyalty program for BFCM, check out our latest article.

Email and SMS marketing: Email and SMS tools enable brands to create automated workflows, targeted campaigns, and personalized messaging for communicating with customers on a one-to-one basis. Automated triggers and segmented lists help brands nurture customers throughout their individual buyer's journeys. Top email and SMS solutions include Klaviyo, Attentive, Tapcart, and Drip.
Social media management and social commerce: Social media management tools help brands create, organize, and schedule content while social commerce platforms allow brands to sell products directly to customers without pushing them to another website. These help reduce cognitive load and friction for brands and customers alike. Popular social media management tools include Gatsby, Buffer, and Sprout Social. Social commerce functionality is currently available on platforms like Facebook, Instagram, TikTok, and Pinterest.
Customer service and support: Brands need to be able to handle customer requests, complaints, and suggestions with ease, whether it's through a help desk, automated chatbot, live chat, or some combination of all of the above. Some of the top customer support solutions include Gorgias, Zendesk, and Help Scout.
Data and analytics: Customer insights are key to understanding what customers want, what can be improved, and what brands need to do in order to improve engagement and conversion rates. Data helps brands identify gaps and opportunities in sales strategies, marketing campaigns, customer behavior, and so on. Popular analytics tools include Google Analytics, Mixpanel, Looker, and Hotjar.
Best practices for building your BFCM tech stack
Creating the right marketing tech stack for your brand, especially in advance of a major sales event like BFCM, can be overwhelming due to the number of categories and options available. However, there are a few best practices brands should keep in mind to ease the decision-making process.
Focus on modular architecture
One of the most important aspects of any strong ecommerce tech stack is the ability to add, remove, and swap different tools and integrations on demand. Brands should be able to replace or remove apps without causing significant disruptions to themselves or their customers. For example, they need to be able to easily migrate their data between different platforms or build automations that work seamlessly with their existing tech stack.
Brands also need to strike a balance between finding an all-in-one solution and having several isolated solutions at once. With an all-in-one solution, they may find themselves getting locked into an ecosystem that's hard to move away from and may not have all the specific features they're looking for. On the other hand, having dozens of separate components can be hard to manage and merge into one integrated system.
They should consider looking for tools that offer a few different solutions that are designed to work together and have specific features that fit their needs. For example, Stamped's Full Suite provides solutions for both loyalty programs and customer review management. Stamped integrates seamlessly with popular tools in multiple categories, from ecommerce platforms like Shopify, BigCommerce, and WooCommerce to marketing solutions like Klaviyo, Gorgias, and Attentive.
⚙️ To learn more, visit our integration directory for a complete list of our tech partners.
Keep it scalable and flexible
Ecommerce tech stacks also need to be able to grow with your brand. Otherwise, brands may find themselves switching and upgrading more often than they would like, which requires time and resources to scope, onboard, and implement into their existing tech stack. This is especially important to consider before BFCM, as brands typically experience surges in traffic, orders, and customer support requests during the sales period.
Brands should look for apps and platforms with flexible pricing options that allow them to upgrade with ease at their own pace. Pricing plans are often based on factors like the number of customers, orders, and messages. For example, Stamped's Reviews and Loyalty pricing plans are based on the number of monthly review requests and the number of monthly orders, respectively. Brands can also request a custom quote to get a plan that works specifically for them. This means brands only have to pay for what they need.
💵 To learn more, visit our Pricing page to get a complete overview of our pricing plans.
Consider cost, complexity, and compatibility
Most importantly, brands need to build their tech stack based on what works best for them, rather than simply going with what their competitors are using. They should fully evaluate each tool based on whether it addresses their business needs and contributes toward their business goals.
To start, brands need to run a cost-benefit analysis to determine if their desired tech stack fits into their budget. This includes whether they need to pay for a more expensive plan to get access to desired features and if the increases between pricing plans match the scalability rate of their brand. They also need to consider extra costs like adding more users and setup, training, and licensing fees.
Next, brands need to strike a balance between complexity and functionality. As mentioned previously, an all-in-one platform may seem convenient and cost-effective, but may lack the features and attention to detail necessary to accelerate business growth. On the other hand, a wide variety of tools can increase operational costs and create confusion or even frustration, especially when trying to get them to work together. Brands should focus on the most important tools needed for their day-to-day operations, then slowly add on from there, rather than try to build their entire tech stack all at once.
Finally, brands need to ensure compatibility across their tech stack to allow information and processes to flow effortlessly between them. This usually translates to a combination of direct integrations, where apps are designed to work together and facilitate data sharing, and third-party services, which bring different tools together. Brands should be able to create an interconnected ecosystem that reduces manual workload and chances of user error.
Get ready for this year's BFCM holiday season with Stamped
BFCM can be stressful for brands of all shapes and sizes, but it doesn't have to be. With careful planning and intentional decision-making, brands can build connections with new customers and strengthen relationships with existing ones. This means having a unique BFCM offer, an omnichannel marketing campaign, and a comprehensive tech stack in place.
With Stamped, brands can build an effective reviews strategy and loyalty program in preparation for BFCM and beyond. Reviews help brands win customer trust and drive new business, while loyalty programs lead to repeat purchases and increases in lifetime value.
To help you get ready for BFCM, we're offering three months free on a fifteen-month term for Stamped Reviews, Loyalty, or Full Suite to help you boost sales and drive retention this upcoming holiday season. Don't miss out - this offer is available until September 15th for Business and Professional plans only.
Trust Builds Brands
Sign up to see how Stamped can help your Ecommerce brand drive growth and awareness.
Sign Up Free