BFCM | Aug 23, 2023
13 Effective Reviews Strategies You Need For BFCM 2023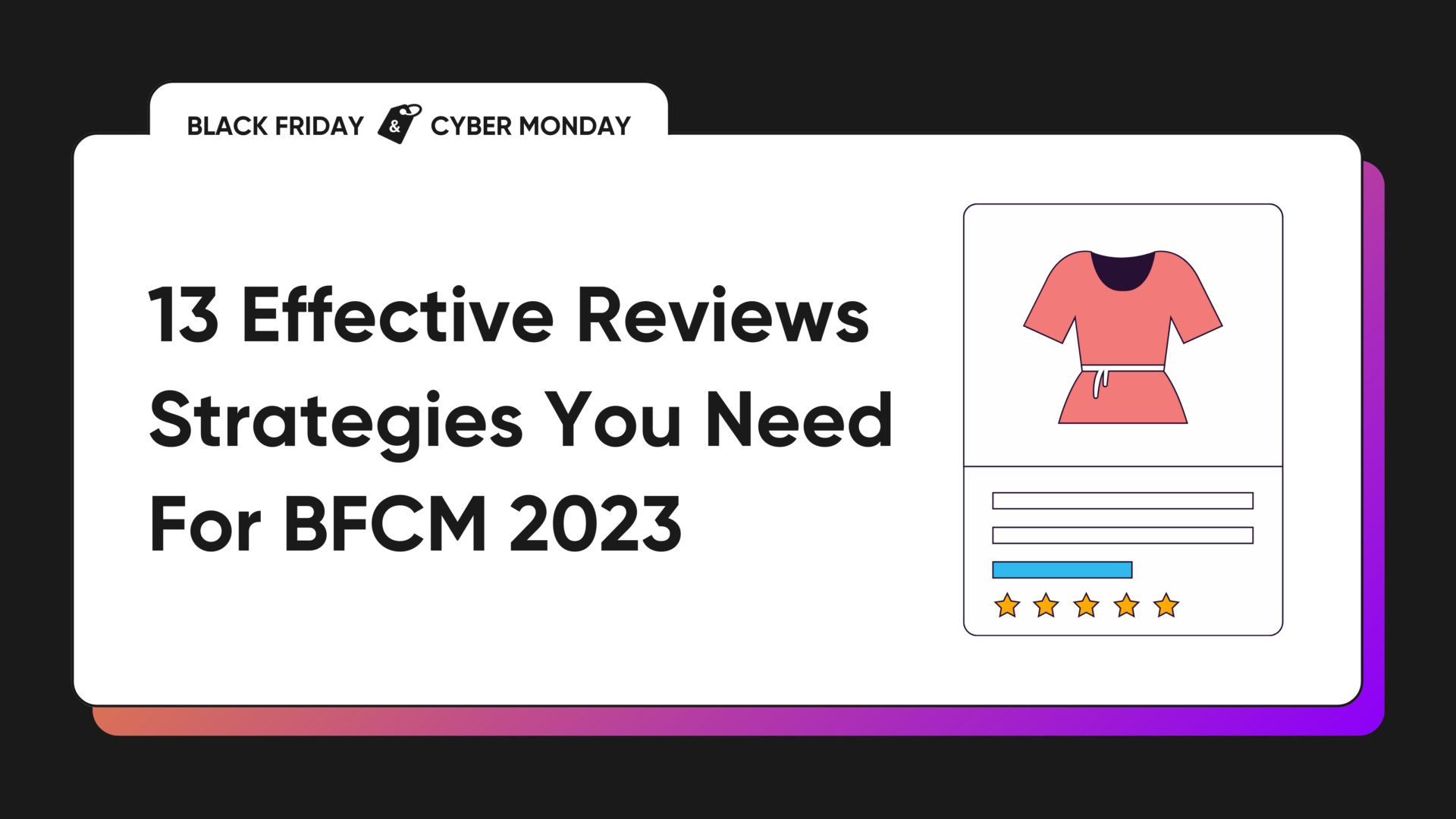 Black Friday and Cyber Monday are the perfect opportunity for brands to acquire new customers, as shoppers are on the hunt for the best deals of the year. However, in an overcrowded ecommerce landscape burdened with growing costs and shrinking budgets, brands often find it hard to get customers' attention and even harder to convince them to make a purchase.
In order to build trust and give customers the confidence they need to complete a purchase, brands need reviews. Customers rely on reviews to learn about the product, develop faith in a brand, and make a purchase decision. Without reviews, potential customers are highly likely to shop elsewhere, even when faced with a tempting BFCM offer.
Reviews are a standard part of every customer's shopping journey, whether they're looking to buy the perfect swimsuit, the best shampoo, or the most effective protein powder. They can inform your brand's business and marketing strategies, from product development to customer service to social media and more. How can you create and optimize your reviews strategy to make the most of BFCM and beyond?
What is BFCM?
Black Friday and Cyber Monday mark two of the most important dates in just about every ecommerce brand's calendar. For customers, it's the perfect time to save big on holiday gifts and other purchases they've been anticipating. As for brands, it's the ideal opportunity to accelerate growth and drive acquisition, sales, and retention.
Ever since the first Macy's Thanksgiving Day Parade in 1924, the Friday after Thanksgiving has marked the unofficial start of the holiday shopping season. Brands offer huge savings to acquire and retain customers, drive sales and revenue, and end the year "in the black" - hence the name Black Friday. The term Cyber Monday, on the other hand, was coined by the National Retail Federation in 2005, who noticed recurring spikes in ecommerce traffic and revenue on the Monday after Thanksgiving.
Between the COVID-19 pandemic and economic inflation, many ecommerce brands have experienced significant ups and downs in recent years. BFCM gives them the chance to overcome these obstacles and ultimately accomplish their goals.
Why BFCM matters for ecommerce brands
BFCM is one of the busiest shopping events of the year, even more so than other important occasions like Boxing Day, back-to-school season, and the week leading up to Christmas. Customers often wait and save up for BFCM to take advantage of what they expect to be the best possible deals.
Historically, BFCM has been the perfect opportunity for brands to acquire new customers and strengthen relationships with existing customers on the hunt for deals. Brands must create an offer that meets shoppers' expectations and develop a strategy that prepares them for it, including ways to drive repeat purchases and customer retention long after BFCM is over.
What brands need to know before BFCM
This year, Thanksgiving falls on November 23rd, meaning Black Friday is November 24th and Cyber Monday is November 27th. There are several key statistics that ecommerce brands need to know in preparation for BFCM:
Approximately 2.64 billion people will make at least one online purchase in 2023
As of 2022, 3 out of 4 consumers make at least one online purchase per month
56.6% of American shoppers prefer to shop online
Mobile commerce transactions will account for 8.7% of all retail transactions by 2026
81% of shoppers conduct online research before making a purchase
Ad spend has tripled since 2019, from $12.5B in 2019 to an estimated $38.4B by 2024
Social commerce is projected to reach a total value of $1.3 trillion by the end of 2023, a 30.8% increase from 2021
The return on investment (ROI) for email marketing is approximately 4,500%
Brands also need to be aware of major BFCM 2022 trends that may affect their approach to BFCM 2023:
Record sales and increased average order value (AOV) can be partially attributed to inflation, meaning customers aren't necessarily spending more than usual
Major brands and retailers like J.C. Penney and Walmart used "pre-inflation" pricing as a marketing strategy, offering regular prices from previous years to drive sales
Mobile commerce outperformed desktop commerce in terms of web traffic, but desktop had a higher average order value (AOV)
Customers are becoming increasingly thrifty, relying on buy now, pay later (BNPL) options to shop and pay at their own pace
Shoppers are also becoming more careful about their consumption habits and how they affect the environment - almost half are more likely to buy from brands with sustainability practices and would be willing to pay extra for eco-friendly products
In summary, brands need to be customer-centric, mobile-optimized, and fully equipped with an effective BFCM strategy that makes the most of paid advertising, social commerce, and email marketing from start to finish.
Why do you need a reviews strategy?
Benefits of customer reviews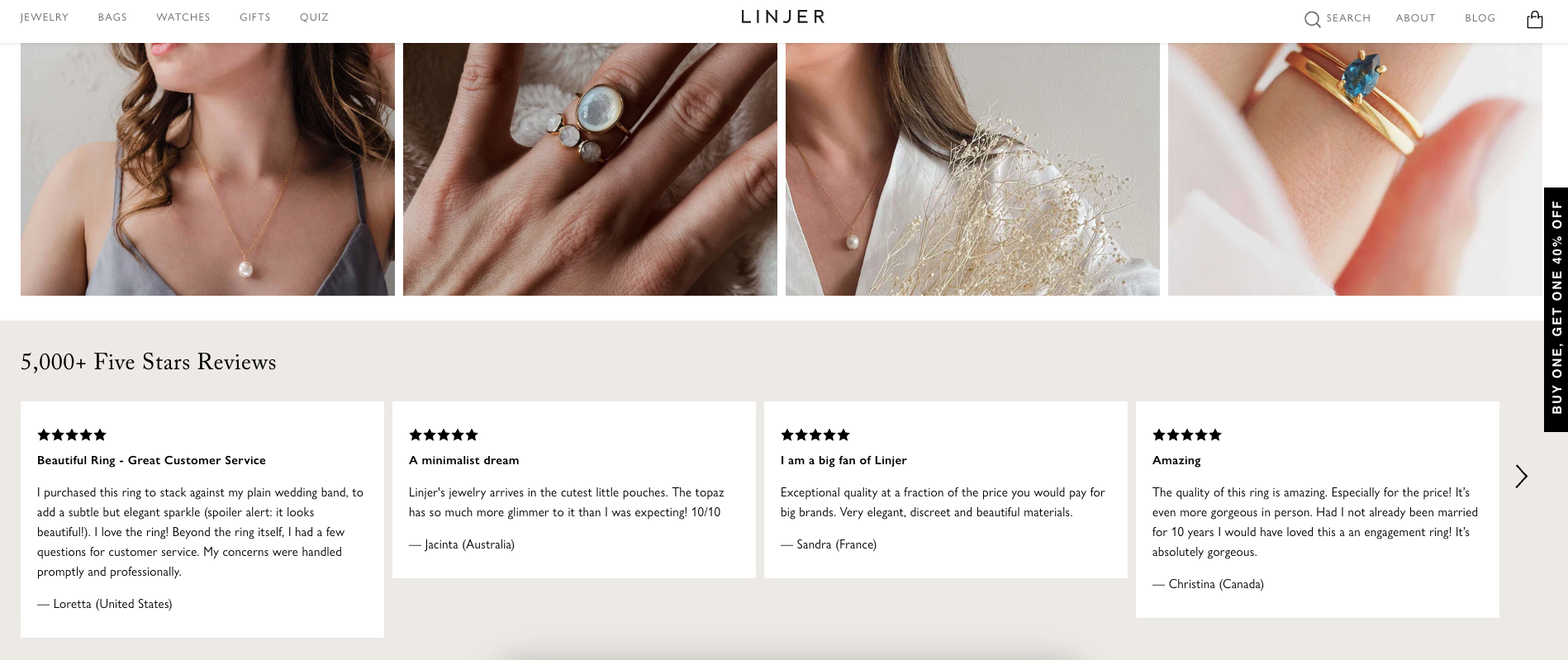 To start, reviews help increase brand awareness and reach. When customers don't have a specific brand in mind, they usually start with a generic search term, then look for reviews to make a decision between competing products. Reviews help customers discover brands they haven't heard of before. Advocates and influencers that post reviews on social media or blogs also help spread the word by telling their audience why they should buy something.
Next, reviews boost brand credibility and consumer trust. A lack of reviews can make a brand appear unfamiliar or even unreliable, as customers only have a brand's marketing campaign and product claims to go on. Reviews give customers more context about a product and confirm whether the brand can be trusted. This increases the chances of customers engaging with a brand and making a purchase.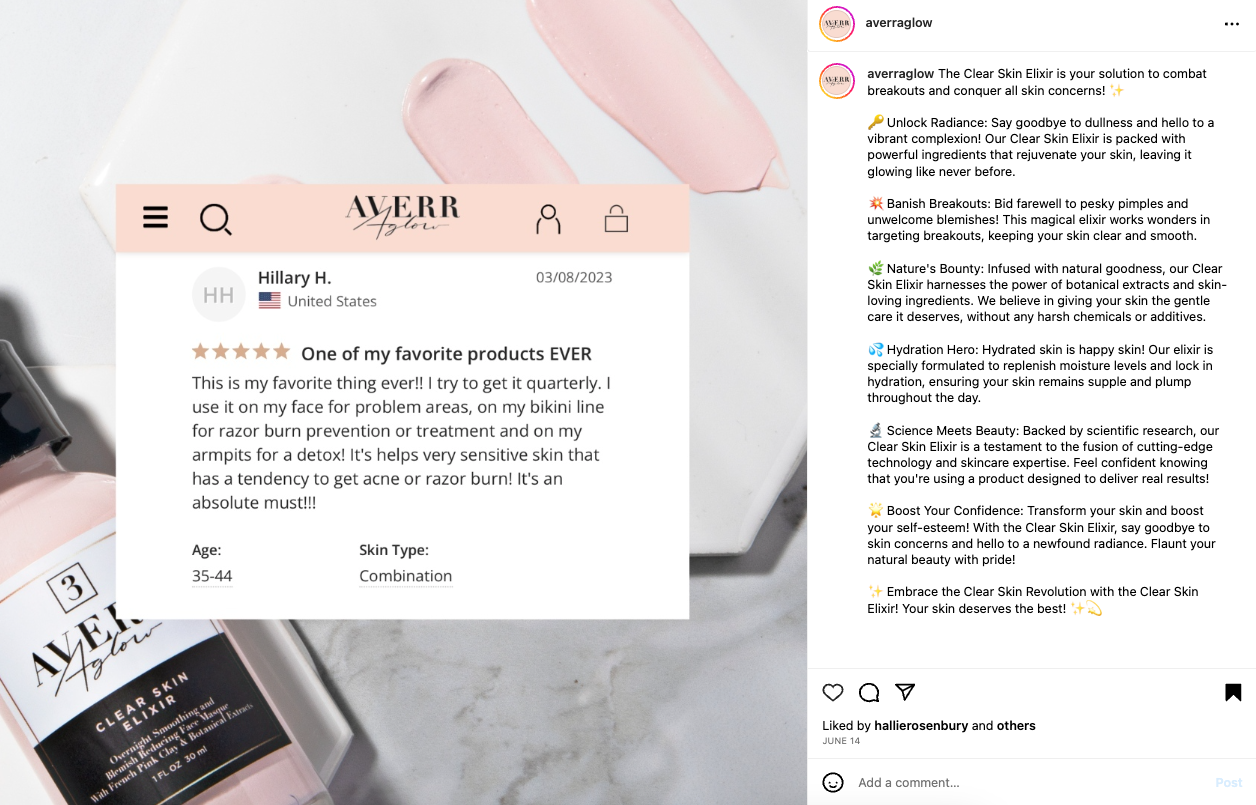 Reviews act as a form of social proof, also known as informational social influence. This is when customers want to fit in with others and own the same products that they do. Positive reviews make brands and products feel desirable and aspirational. For example, customers might talk about how much a skincare product gave them confidence or how a health supplement boosted their energy. These types of reviews inspire customers to make a purchase, as they want to experience the same emotions and results, too.
Next, reviews drive sales and conversions. Customers feel more confident about making a purchase once they've read reviews because they understand whether a product will address their needs or solve their problems. Additional context like whether something will meet their requirements or fit with their lifestyle can be the final push they need to complete their purchase.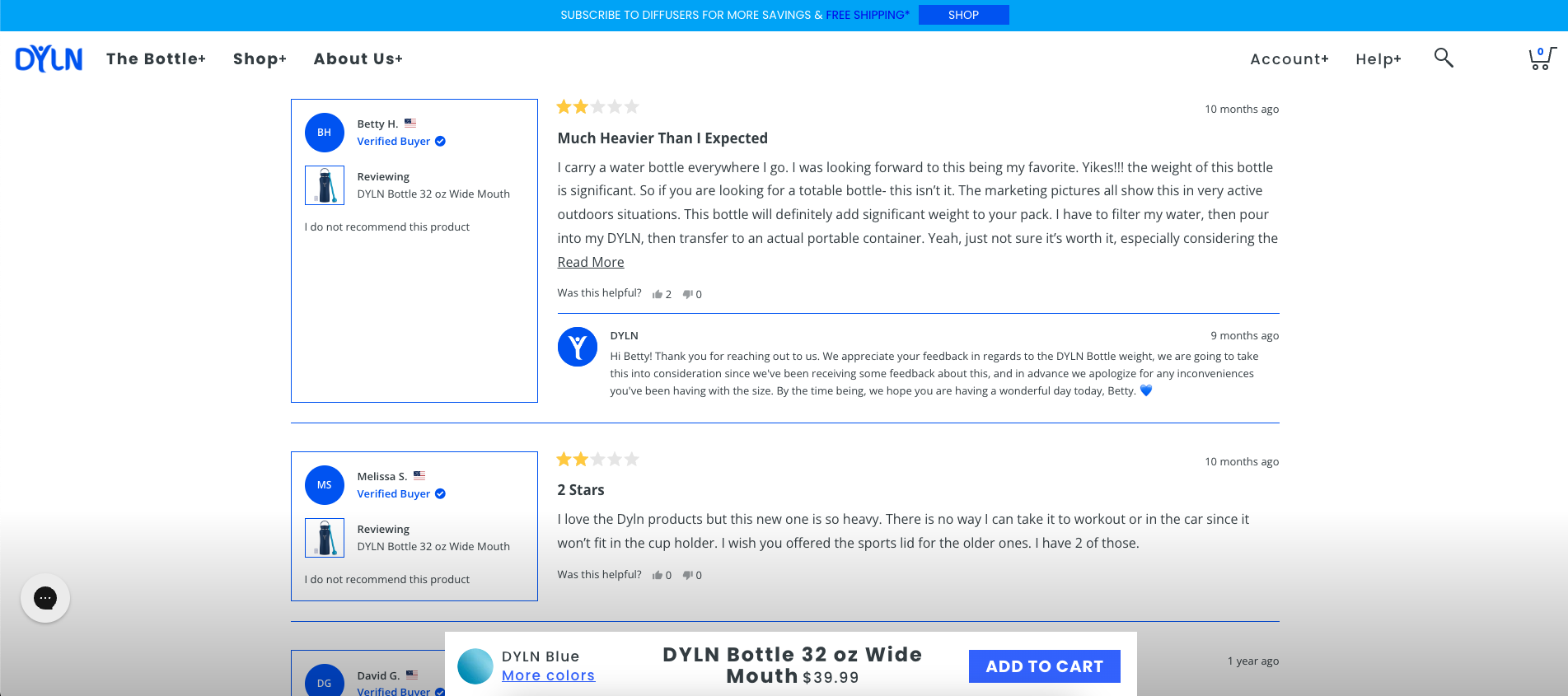 Lastly, reviews support customer service and product development processes. Reviews give brands insight into what customers want and whether the product met their expectations or missed the mark. They also give brands an overall impression of how happy their customers are and whether they need to address any issues on a larger scale to decrease churn and increase retention.
How to optimize your reviews strategy for BFCM
How to prepare for BFCM
1. To start, brands should refine their automated email workflow to ensure they're sending the right message at the right time to the right customers. Communication is especially crucial during a busy time like BFCM where customers are receiving dozens of marketing emails per day. Brands need to make sure that customers get the information they need to make a purchase decision. They should review their announcement emails, abandoned cart emails, and review request emails to look for potential gaps and opportunities.
For example, does your announcement email give customers enough time and information to act on your BFCM offer? Does your post-purchase email warn customers of potential shipping delays? Is your review request sequence timed to accommodate for these delays? Can you include your best reviews in your abandoned cart emails to increase conversion rates? These simple changes can boost your conversion rates and reduce the chances of negative reviews.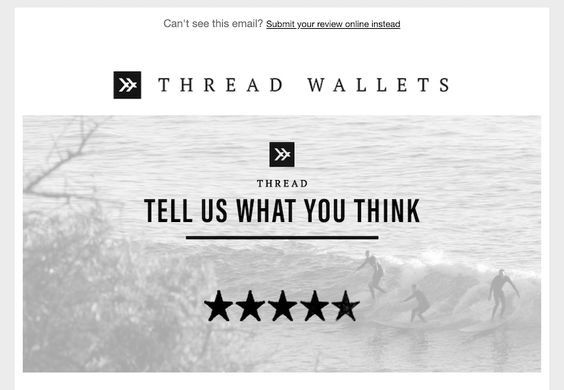 2. Next, brands need to look for ways to increase the value of their review request emails. While asking customers to simply rate your product on a five-star scale is the quickest way to earn a review, it might not be very useful for you or your potential customers. BFCM is the perfect time to improve your review requests, as a significant increase in sales also means a significant increase in opportunities for reviews.
Brands can start by offering an incentive in exchange for reviews if they aren't already doing so, such as a 10% discount, a $5 coupon, or a free sample with their next order. Next, they should consider adding custom questions to their review request form, like how well something fits into their routine or how often they use it. Additional context makes reviews more helpful for future customers looking to make a purchase decision. Lastly, they should consider adding liquid variables and personalized recommendations to make the email feel tailored to each individual.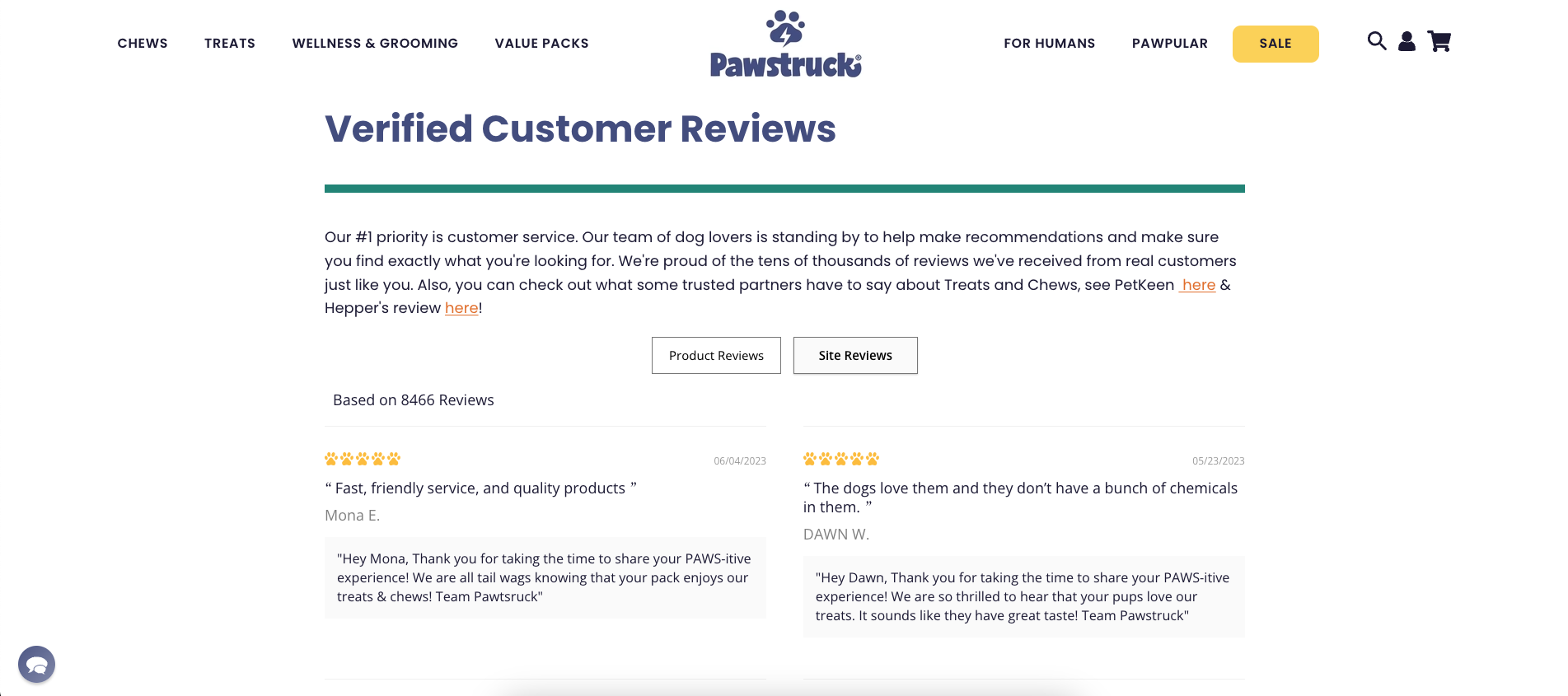 3. Next, brands should ask for other types of feedback to create a well-rounded conversation with their customers. In addition to product reviews, brands need to consider asking for site reviews, NPS scores, and checkout comments. The more context there is, the more likely customers are to make a purchase.
With site reviews, customers can provide feedback on their overall experience with the brand, such as the site performance, shipping speed, and packaging durability. Net promoter scores (NPS) help brands measure customer happiness by asking about the likelihood of them recommending the brand to their friends. Lastly, checkout comments are an easy way to ask customers why they bought something, giving brands insight into their purchase intent before they've even received the product.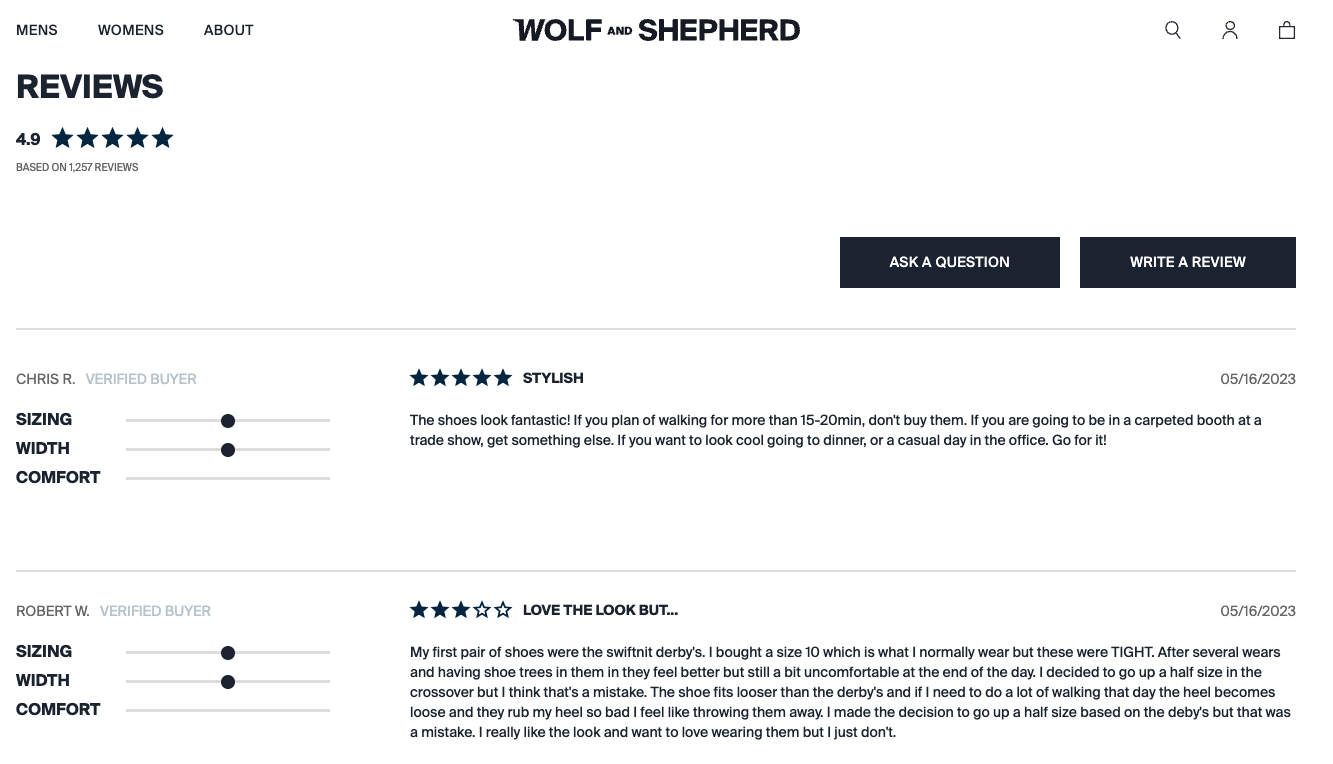 4. Another thing brands need to do is evaluate their website's reviews experience to see if customers can easily find the information they need to build confidence and develop trust in the brand. If reviews are hard to find or difficult to navigate, customers are likely to take their business elsewhere, even if you have an amazing BFCM deal.
Most brands place reviews on product pages, directly below the product's information. They should also have a dedicated reviews landing page, as it's an easy way for shoppers to get a summary of other customers' feedback without needing to visit a specific product page. Lastly, brands should think about adding other review widgets to increase visibility, such as having a carousel on their homepage or a side drawer to make reviews accessible across their entire website.
Customers should also be able to filter reviews to find the specific information they need to make a purchase. Topic filters and search functionality helps them look for keywords like "quality", "comfort", and "durability". Some customers prefer to read one-star reviews to understand why something didn't work for someone else. Finally, brands should also consider adding a community Q&A function where potential customers can ask specific questions that either other customers or the brand itself can answer.

5. Lastly, brands should turn reviews into marketing content. Reviews provide a wealth of information and context, driving sales through the power of social proof. They can be used to help brands elevate their BFCM campaign and capture the attention of customers who are searching for good deals but are unfamiliar with their products.
To start, brands can take phrases and sentences from their best reviews and include them in social post captions, ad graphics, and email copy. They can share customers' photos and videos to demonstrate their products in action. Lastly, they can create hero images, social banners, and shoppable galleries to make the most of their user-generated content and turn skeptical shoppers into new and repeat customers.
How to optimize during BFCM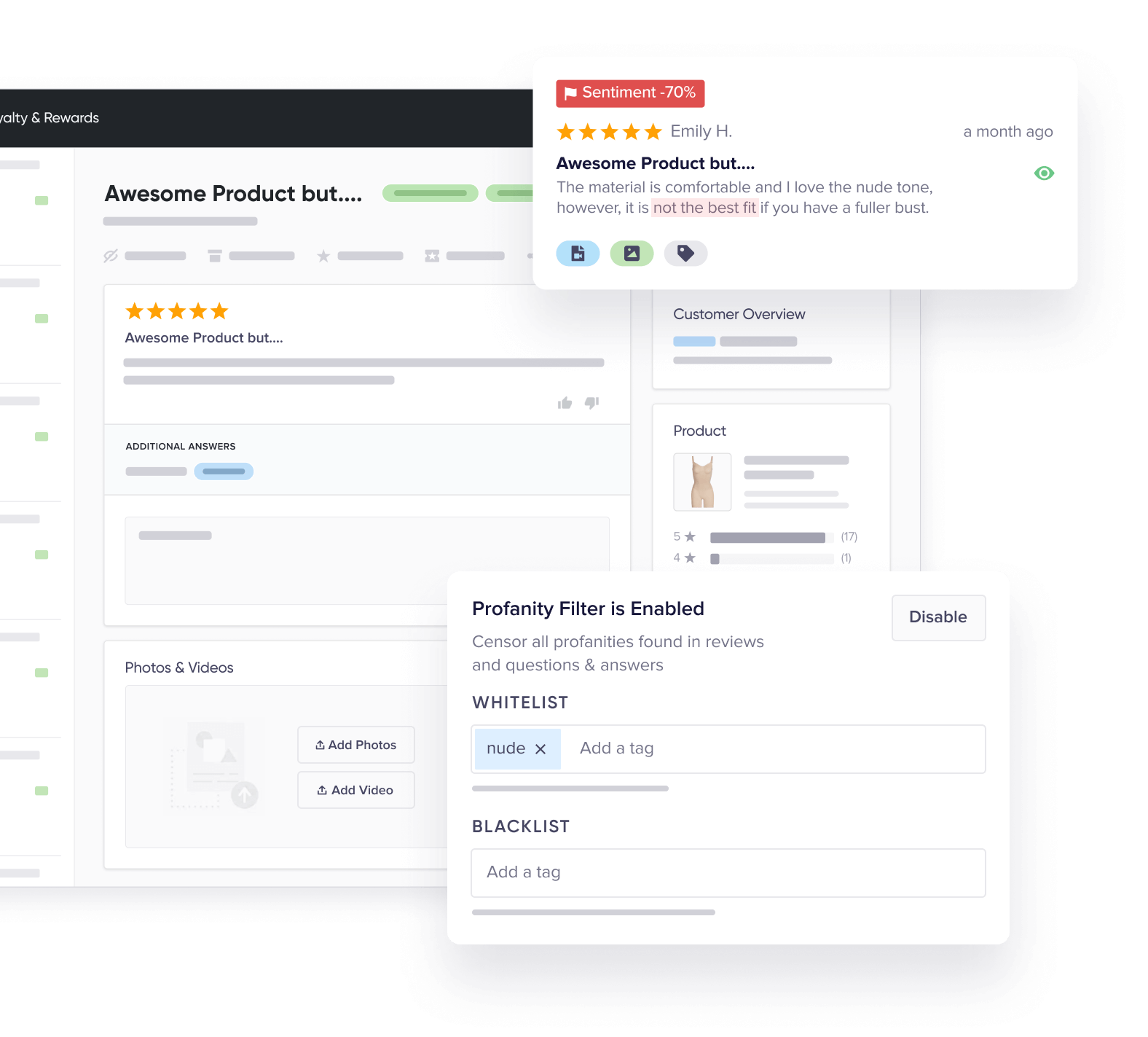 6. The most important thing brands need to do during BFCM is to track their campaign performance across all their marketing channels. This includes their website, email and SMS communications, social media accounts, and any in-person locations or events.
For example, is their site experiencing slowdowns? Are there certain pages that aren't accessible or images aren't loading correctly? For emails and SMS, are customers opening them and clicking links, or are they unsubscribing because they're receiving too many? On social media, are customers engaging with your posts or unfollowing your accounts? Are they leaving questions or complaints that need to be addressed? Brands need to adjust where needed and respond to customers as quickly as possible to increase conversion rates.
7. They also need to keep an eye on their inventory management, order fulfillment, and shipping processes to ensure things are running smoothly. Are there specific products selling out faster than you can stock them? Is there enough staff on-hand to help process and fulfill orders? Are there any potential delays in shipping to certain locations?
If brands find that they're running into any technical or logistical issues during BFCM, they need to communicate it to their customers when possible. By practicing transparency, brands are setting realistic expectations for customers and reducing the chances of future complaints. Customers will also appreciate the honesty and see your brand in a more positive light.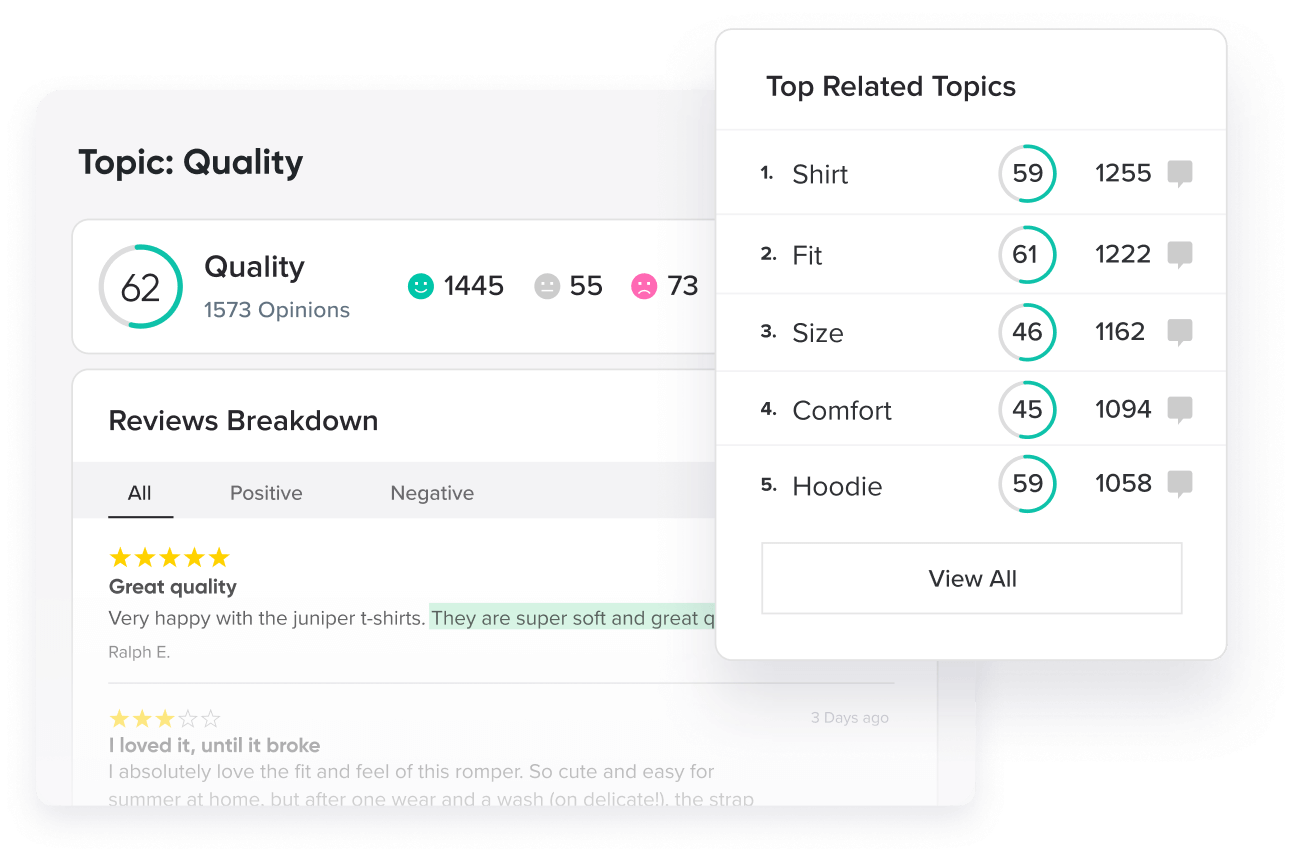 8. Lastly, brands should pay close attention to the impact of their reviews. Tools like site heatmaps and analytics dashboards will help measure the effectiveness of their reviews strategy and determine if they can make any quick adjustments while the holiday shopping season is still going.
For example, are customers completing or ignoring more review requests than usual? Are customers scrolling through your product pages or visiting your reviews landing page? Do ads and social content with reviews drive more engagement? Do customers click on email links tied to reviews? Though brands shouldn't make any significant changes during BFCM, they may be able to adjust content here and there to help improve conversion rates.
How to follow up after BFCM
9. First, brands need to send a thank you email to build goodwill with new and existing customers. This email should be simple, sincere, and straight to the point. Brands should avoid trying to sell them something and save review requests and product recommendations for other email campaigns. Otherwise, they may come across as overly aggressive, especially when customers are already dealing with a cluttered inbox.
10. Next, brands should respond to as many reviews as possible, both positive and negative. They should show appreciation for positive reviews and ask customers for more information when they have a complaint. This is also a good time for brands to make note of any recurring issues; for example, whether a significant number of customers experienced shipping delays during BFCM.
11. They can then adjust their business and marketing strategies based on review feedback. If customers weren't getting order tracking updates, found that shipping was too slow, received damaged packaging, and so on, brands need to address and resolve these issues right away. They should also look for ways to improve their products based on customers' suggestions, such as new features, additional designs, or even complementary products.
12. Brands can also leverage user-generated content in a post-BFCM marketing campaign to demonstrate the sale's success. For example, they can include a few of the best reviews in their thank you email or turn customers' photos into a shoppable gallery to showcase their BFCM best-sellers. This creates a sense of community and shared experiences among their customers.
13. Finally, brands need to communicate with customers to nurture repeat purchases and engagement. While BFCM is the perfect time to gain new customers, customers acquired during BFCM typically have a lower lifetime value than customers acquired at any other time, meaning brands need to put in the work to keep them coming back. After sending thank you emails and any other post-purchase emails, brands should follow up with post-sale emails and retargeting ads. They can recommend related products, offer incentives for additional reviews, and promote their loyalty program. Eventually, they can turn holiday shoppers into year-round customers.
Create and optimize your reviews strategy ahead of BFCM with Stamped
BFCM can be stressful for brands of all shapes and sizes, but it doesn't have to be. With careful planning and intentional decision-making, brands can build connections with new customers and strengthen relationships with existing ones. This means having a strong BFCM offer, an omnichannel marketing campaign, and a comprehensive contingency plan in place.
With Stamped, brands can build an effective reviews strategy in preparation for BFCM and beyond. Reviews help brands win customer trust and drive new business, boosting brand awareness, engagement, and customer acquisition.
To help you get ready for BFCM, we're offering three months free on a fifteen-month term for Stamped Reviews, Loyalty, or Full Suite to help you boost sales and drive retention this upcoming holiday season. Don't miss out - this offer is available until September 15th for Business and Professional plans only.
Trust Builds Brands
Sign up to see how Stamped can help your Ecommerce brand drive growth and awareness.
Sign Up Free