Customer Retention | Jun 23, 2023
5 Reasons Why Brands Need Tiered Loyalty Programs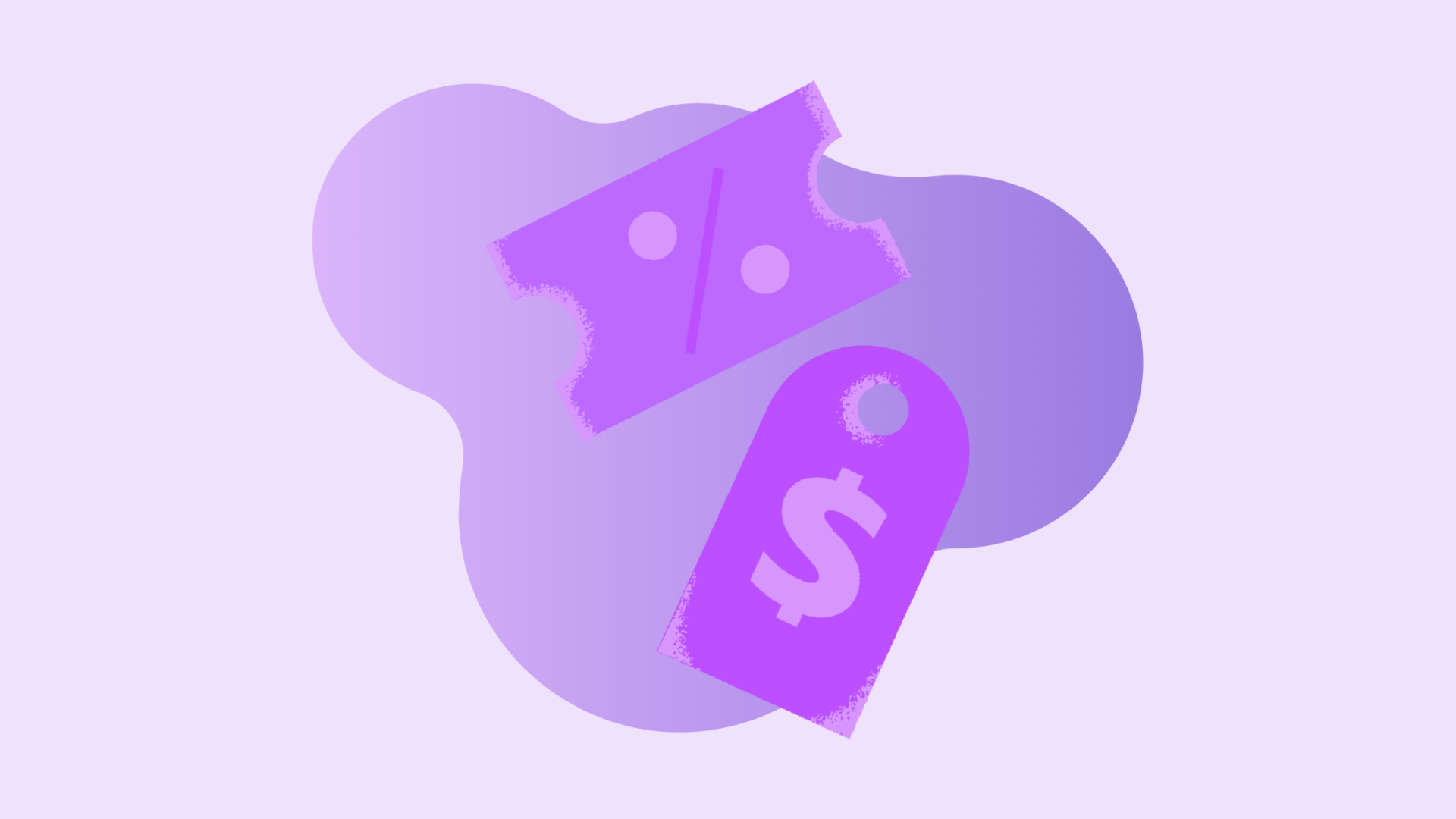 Customer loyalty can be tricky, especially in today's highly competitive ecommerce landscape. Between tight budgets and overcrowded ad spaces, brands might find it challenging to get customers to stick around. They need a loyalty program if they want to retain customers, drive repeat purchases, and boost lifetime value. However, not all loyalty programs are created equal.
The most effective loyalty programs include VIP tiers, where customers receive exclusive benefits in exchange for their dedication. This might mean spending $300 or more to earn free shipping on all future orders, accumulating 5000 points or more to gain access to exclusive sales - the possibilities are endless. What are some best practices for brands to get the most out of their tiered loyalty programs?
Why do you need a loyalty program?
Brands need a dedicated customer retention strategy to drive profits and stay competitive. Focusing solely on customer acquisition can be expensive and lead to more losses than gains: acquisition costs have risen by 50% in the past five years and brands only have a 5 to 20% chance of selling to a new customer, meaning they might end up spending significant amounts of money on customers who never make a single purchase.
On the other hand, brands that increase their retention rate by as little as 5% can gain as much as a 95% increase in revenue, and they have a 60 to 70% chance of selling their products to an existing customer. And, as any brand with a loyalty program knows, the best way to retain customers is to reward them.
Almost 70% of customers choose brands based on whether they have a loyalty program, while 4 out of 5 customers say that being in a loyalty program motivates them to spend more and buy more often. In other words, customers don't just want to be rewarded - they expect it. Brands need to incentivize customers to make purchases, refer their friends, and so on if they want to successfully gain and retain their business.
Components of an effective loyalty program
There are several types of loyalty programs that differ depending on either how they're structured or what purpose they serve. For example, in a premium loyalty program, customers pay a subscription fee to receive immediate benefits, while in a value-based loyalty program, customers earn donations to charitable organizations instead of personal rewards.
The most common type of loyalty program is the points-based loyalty program, where activities and rewards are worth a predetermined number of points. For example, customers might earn 1 point for every $1 spent, or they might redeem 100 points for a $10 discount.
Points-based loyalty programs typically include:
Activities, where customers complete an action or event to earn points, such as making a purchase or celebrating a birthday
Rewards, where customers redeem points to receive a reward in return, such as a discount code or a free gift
VIP tiers, where customers are segmented based on how much they've spent or how many points they've earned and get access to exclusive rewards
Referrals, where customers gain additional rewards by sharing the brand and its loyalty program with their friends
Limits, where customers have a limitation rule, a limited amount of time, or a limited number of rewards, such as an activity that can only be completed by purchasing a specific product, a points multiplier that only lasts for one week, or limited inventory of a free gift
Lastly, loyalty programs also have goals. Ultimately, the main goal of a loyalty program is to increase customer retention. However, brands can also leverage their loyalty program to accomplish other objectives.
For example, they can drive new business by promoting their referral program through dedicated marketing campaigns. They might drive sales of a specific product by creating a specific rule, or control inventory of a specific product by creating a specific reward. Lastly, they can increase average order value and customer lifetime value by including VIP tiers where customers get exclusive benefits by spending a certain amount or making a certain number of purchases. Brands need to set clear goals so their program will generate meaningful results.
Benefits of VIP tiers
Creates insight-driven user segments
Brands need to be able to segment their customers to identify and build strategies for both high-risk and high-value customers. With VIP tiers, they can more easily see which customers drive the most sales and have the highest AOV and LTV. They can also see which customers are the most dedicated to building relationships with them based on how many purchases they make, how many friends they refer, how many rewards they redeem, and so on.
They can also compare KPIs across VIP tiers to gain insights into how to improve their loyalty program and their overall marketing strategies. For example, determining whether average order value significantly differs between customers in their lowest VIP tier versus customers in their highest VIP tier. If their AOV is relatively even across all VIP tiers, they may need to adjust their activities and rewards so customers are motivated to spend more.
💡 Learn more about how to leverage customer insights and drive more sales, engagement, and retention.
Informs customer personalization strategies
Segmenting customers into VIP tiers also helps brands create more personalized experiences for them, leading to stronger relationships and higher chances of conversion. Brands can reward customers in direct correlation with their levels of engagement, such as incremental discounts and early access. For example, customers in their top tier might get access to an online sale one week before customers in their middle tier, or receive a permanent 10% discount on all orders compared to 5%.
Personalization also extends into other marketing strategies, where brands can send highly-targeted content and communications to customers in each VIP tier based on their program activity and interests. For example, they can create a newsletter with exclusive content for specific tiers only. They might send an occasional bonus reward to customers in their top VIP tier, such as an extra 500 points or early access to a new product release. Customers feel a stronger connection to brands that cater to their individual journeys and are more likely to keep engaging with them.
Boosts customer acquisition and retention
Segmentation and personalization strategies are key to both acquiring new customers and retaining existing ones. 76% of customers are more likely to purchase from brands with personalized communications, 78% are more likely to make repeat purchases, and 78% are more likely to recommend them to their friends. VIP tiers make it easy for brands to segment customers based on their engagement and reward them based on their interests, leading to increased levels of acquisition and retention.
Tiered loyalty programs themselves also drive new business and loyalty - as mentioned previously, most customers choose brands based on whether they have a loyalty program. When customers see that a brand will reward them for doing something they were planning to do already, like creating an account and making a purchase, they're more likely to choose them over their competitors. VIP tiers also give customers a reason to keep engaging with them so they can gain bigger and better benefits.
Drives sales and engagement
Brands typically distinguish VIP tiers by how much customers have spent or how many points they've earned. As a result, with the right incentives, tiered loyalty programs can drive significant boosts in sales and engagement. Loyalty programs with tiers are reported to result in a 1.8x higher ROI and a 2.1x higher average spend compared to loyalty programs without.
In loyalty programs without tiers, customers often feel they have fewer reasons to keep engaging and making purchases from a brand, especially if brands don't continually refresh their activities and rewards. Tier-specific benefits create exclusivity, incremental value, and a gamification element that excite customers and makes them feel more involved. For example, customers will be more interested in spending $500 or more if it means they get free shipping on every order. They'll be more motivated to refer their friends and accumulate points if they can get a 20% discount code with every successful referral. VIP tiers give customers a goal to work towards and in turn, lead to more engagement and sales.
💡If your loyalty program isn't driving the sales and engagement rates you're looking for, read our article on common pitfalls and how to solve them.
Strengthens customer relationships and brand advocacy
Loyalty programs help brands build stronger relationships with customers and make them feel valued. Customers feel especially appreciated when they move up to a higher VIP tier, achieving a special status where they get access to exclusive benefits that few other customers have. These mutually beneficial relationships lead to an emotional connection between the customer and the brand that increases the customer's sense of commitment.
Customers who are emotionally invested in a brand will also feel more motivated to create their own content and recommend the brand to their network: 80% of emotionally engaged consumers will promote brands they're loyal to. For example, they might regularly post about new purchases on social media or send referrals to their friends. Brands can take advantage of this by implementing relevant rewards into their tier structure, such as giving customers in their top tier double the amount of points for every successful referral or every photo review.
💡 Check out this article to discover the benefits and best practices of referral marketing.
Best practices for creating effective VIP tiers
Keep it simple, attainable, and valuable
When developing VIP tiers, brands might be tempted to make a few common mistakes:
Add lots of exclusive benefits to appeal to as many customers as possible
Set high barriers to tier entry to drive bigger and more frequent purchases
Create activities and rewards solely based on their business goals
However, brands need to start by making their program valuable for customers or they won't want to participate in the first place. Approximately 70% of millennials and 50% of baby boomers think loyalty programs make it too difficult to join, and VIP tiers that seem too complex, too unrealistic, or too boring can prevent customers from engaging.
Brands should start by creating a few key tier-specific benefits, then slowly build on their program from there. Not only does this prevent customers from feeling overwhelmed, but it also gives the program more room to grow. For example, they can start by offering tier entry points, points multipliers for purchases, and birthday gifts. Eventually, they can add more incentives like exclusive content, early access to sales, and points multipliers for other activities.
They also need to be cautious about how much customers need to spend or earn in order to move up to the next tier. If it feels impossible, customers won't be motivated to participate. For example, brands shouldn't ask customers to spend $1000 to join their top VIP tier if their average purchase frequency and/or order value doesn't typically generate that level of spend. They need to take their product value and customers' lifetime value into account when developing their tier structure.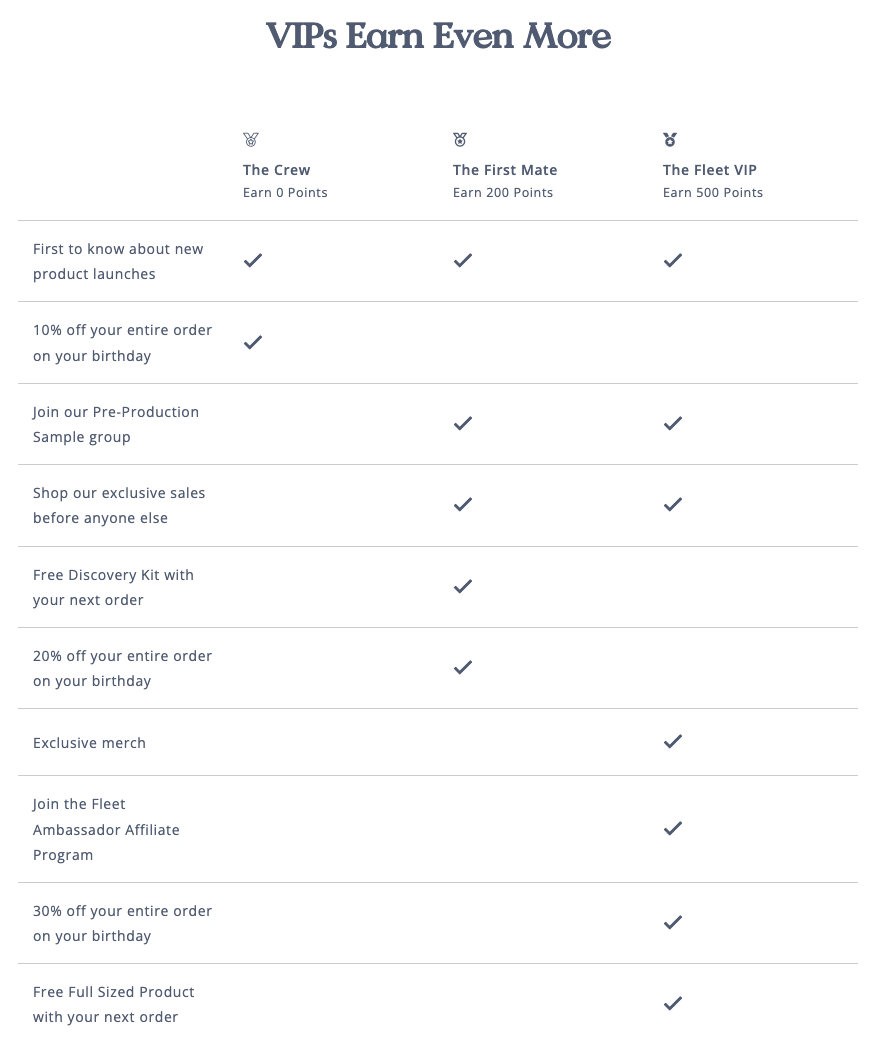 Lastly, brands need to strike a balance between their customers' interests and their own business goals. Are the activities interesting enough to incentivize participation? Are the rewards appealing enough to drive engagement? If customers can only earn points by making purchases or only get free shipping in the highest VIP tier, that might not be enough to interest them. Stamped customer Three Ships Beauty keeps its program interesting by allowing customers to earn points for making purchases, leaving reviews, engaging on social media, and so on. Program members get discounts, free products, and early access to sales and product launches in return.
Create on-brand content and personalized experiences
Brands need memorable content and experiences to make their loyalty program stand out from the rest. Customers don't want to see a generic landing page or a static list of activities and rewards - they want new and personalized experiences unique to their favorite brands and their own journeys.
To start, brands should customize their loyalty program in a way that relates back to their brand language. For example, they can give the program, points, and VIP tiers a unique name, such as Three Ships Beauty's "Crew", "First Mate", and "Fleet" tiers. They also need to effectively promote their loyalty program and educate customers on what to expect, with special emphasis on VIP tiers so that customers know how their program experience can get even better over time. This might be a social media campaign explaining the different tier-specific benefits or an automated email when customers are only 100 points from moving into the next tier. These tactics improve brand recall and program engagement.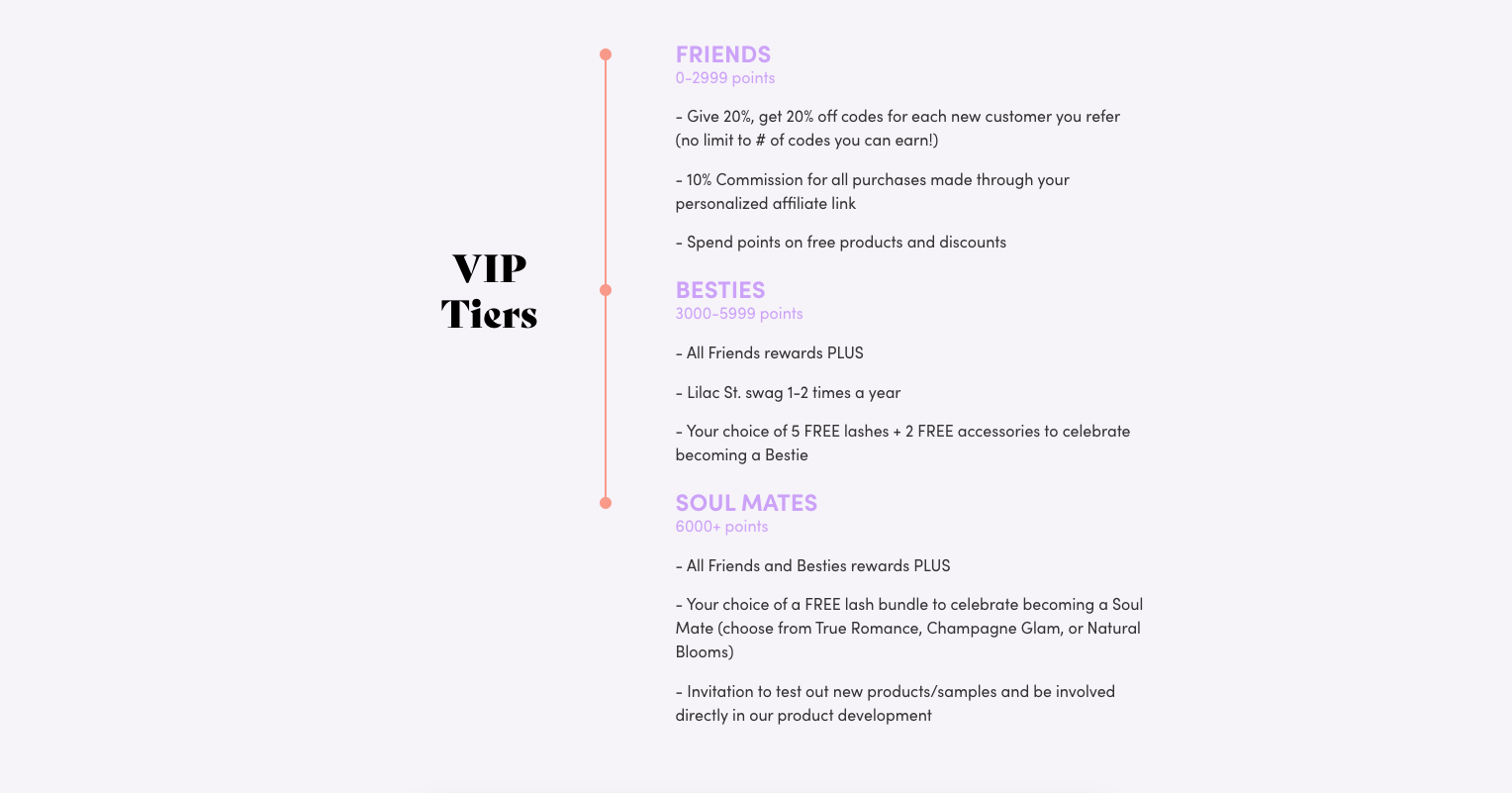 Brands should also create personalized experiences for each individual VIP tier. In addition to typical benefits like points multipliers and incremental discounts, they should create additional rewards that relate to their brand mission and values. For example, a beauty brand might offer a $50 spa gift certificate to customers when they first enter the program's top tier. A supplement brand can ask its most valuable customers to vote on what protein powder flavor they want to see next. Stamped customer Lilac St. offers its top customers a free product bundle and the opportunity to test new products. These efforts make customers feel more valued and more invested in continuously engaging with the brand and its loyalty program.
💡Read our latest case study to learn how Stamped helped Lilac St. boost their AOV by 37% with referrals.
Offer non-monetary and experiential rewards
Customers don't always want to make another purchase or receive another discount code no matter how much they love the product. This is especially applicable for brands offering products like jewelry and electronics that aren't purchased as frequently as products like food and makeup.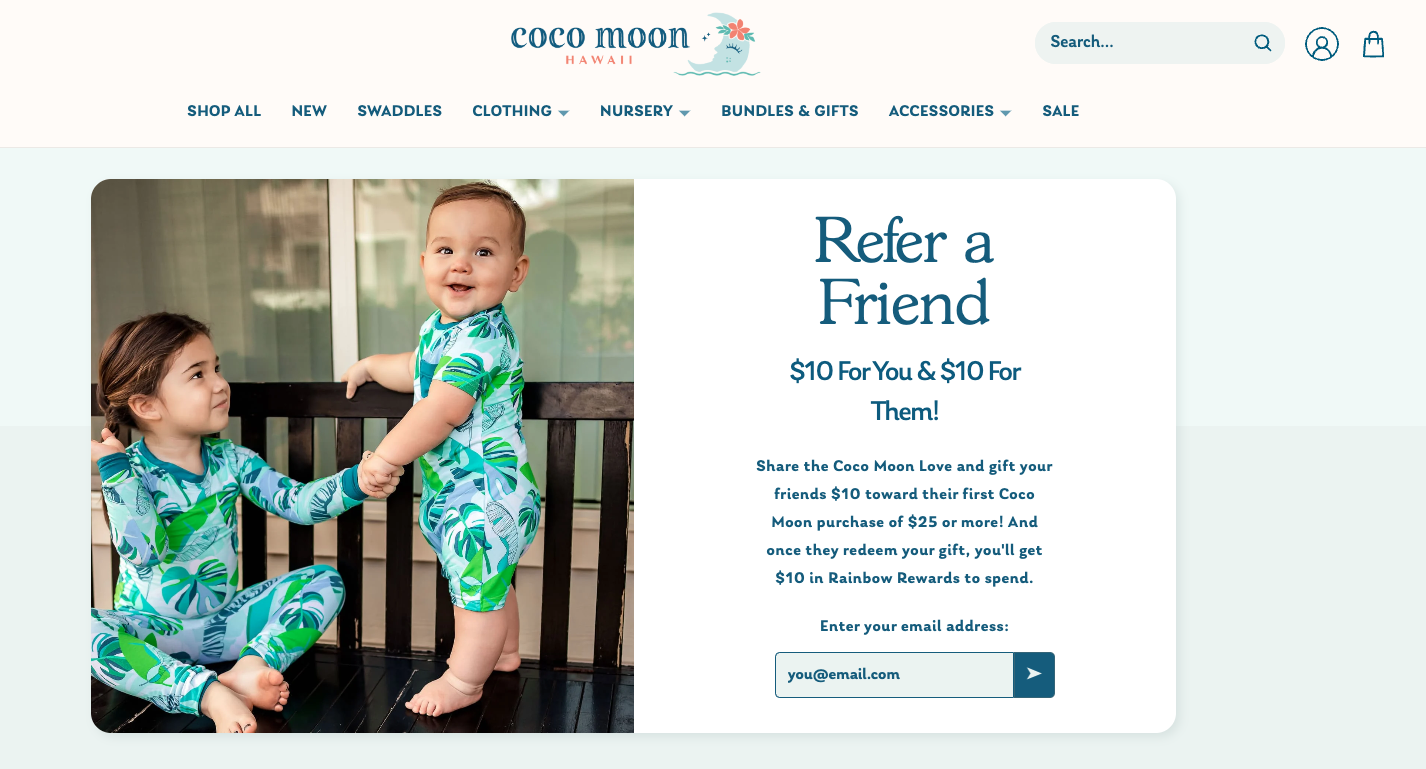 Brands need to provide options for non-transactional activities and non-monetary rewards. For example, rewarding customers for leaving reviews and referring friends help them build stronger relationships with their favorite brands. It also gives brands the opportunity to improve important KPIs like customer satisfaction and acquisition rates. Stamped customer Coco Moon Hawaii rewards customers for leaving reviews and subscribing to its newsletter, and offers a $10 discount for every successful referral.
Experiences and experiential rewards are also important when creating appealing VIP tiers. Since customers don't always want to make another purchase, they don't always want discounts and free shipping. They want other ways to engage with brands and form deeper connections with them. For example, as mentioned previously, Stamped customers like Three Ships Beauty and Lilac St. give customers the opportunity to test new products in advance and be part of the development process. Brands can also offer other tier-specific rewards like event invites and exclusive content.
Non-transactional activities and non-monetary rewards not only incentivize loyal customers, but also drive new business through improved brand reputation and word-of-mouth. 91% of customers see brands more positively after participating in events and experiences, and 74% are more likely to make a purchase.
Monitor and improve program performance
Customer insights are crucial for identifying potential gaps and opportunities, especially when optimizing loyalty programs. Brands need to keep a constant eye on key metrics like breakage rates, redemption rates, average order value, and tier membership to make sure that both they and their customers are getting the most out of their program.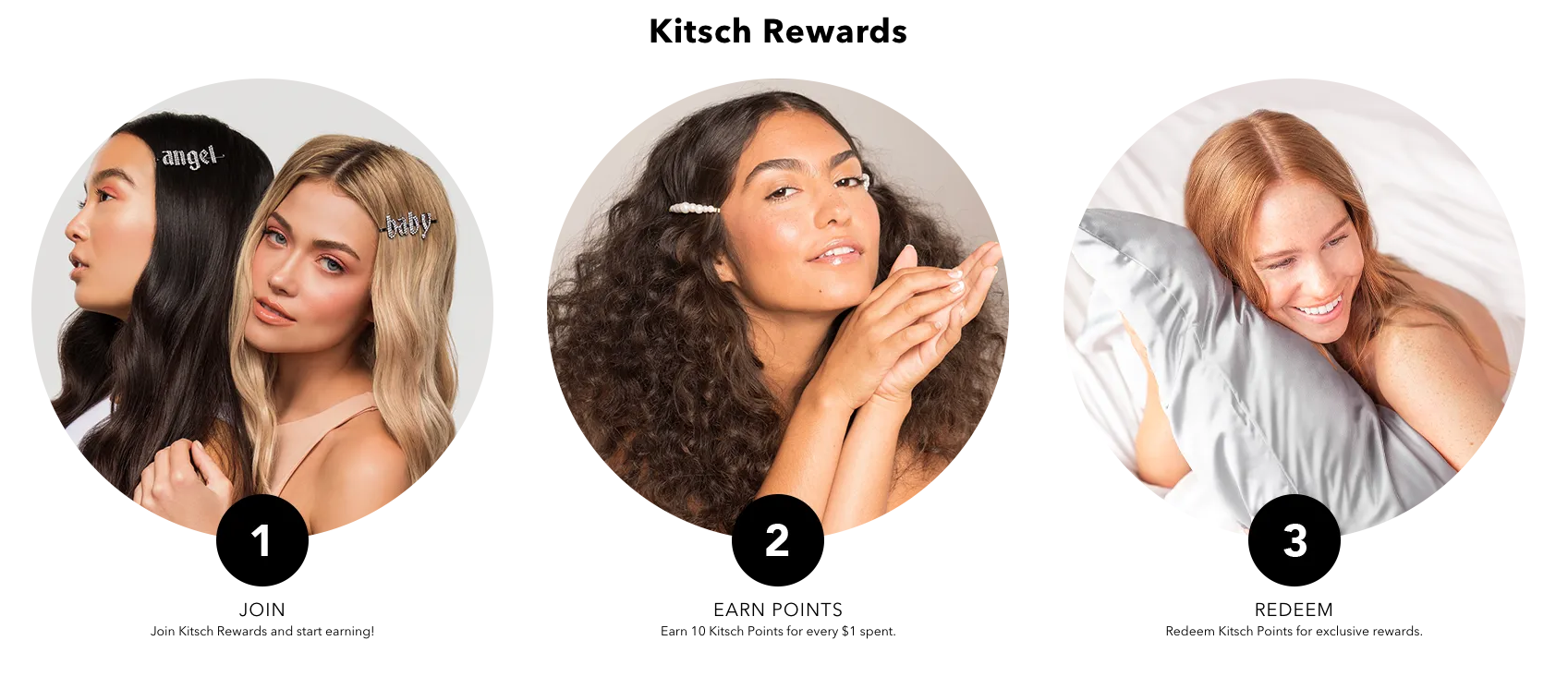 Loyalty program data helps brands enrich their retention strategies and improve other areas of their business. Data plays a major role in personalization strategies, leading to significant impacts on customer acquisition, engagement, and sales. Brands that leverage data-driven marketing are six times more likely to be profitable than those that don't, and those that leverage data-driven personalization efforts generate 40% more revenue. For example, Stamped customer Kitsch plans to continually leverage customer insights to improve its loyalty program:
"At Kitsch, innovation is important to us not only from a product perspective but also from a digital experience perspective. With that in mind, we want to evolve our loyalty program as we gain more learnings from our customer base."
Samantha Patten, Director of Retention Marketing at Kitsch
💡 Discover how Stamped helped boost Kitsch's basket size by 50% and average order value by 30% in our latest case study.
With VIP tiers specifically, brands should compare their performance between tiers to identify any issues or significant differences. For example, if customers in their top program tier are consistently engaging more with their content or making more frequent purchases, that can inform their communication and reward strategies. They may even find that a large percentage of customers are spending more or earning more points than expected, leading to the creation of new VIP tiers with higher thresholds and driving more engagement and sales as a result.
Engage and empower your customers through tiered loyalty programs with Stamped
Loyalty programs are the key to a successful customer retention strategy, rewarding customers for continually engaging with their favorite brands and making repeat purchases. VIP tiers take loyalty programs one step further and motivate customers to earn more, spend more, and engage more. When brands keep best practices in mind, VIP tiers can boost their retention rates and accelerate business growth.
With Stamped, brands can create customized loyalty programs with VIP tiers, personalized activities and rewards, customer insights, and more. Book a demo with one of our sales reps to learn how.
Trust Builds Brands
Sign up to see how Stamped can help your Ecommerce brand drive growth and awareness.
Sign Up Free