Customer Retention | Mar 31, 2023
6 Common Loyalty Program Pitfalls (And How To Solve Them)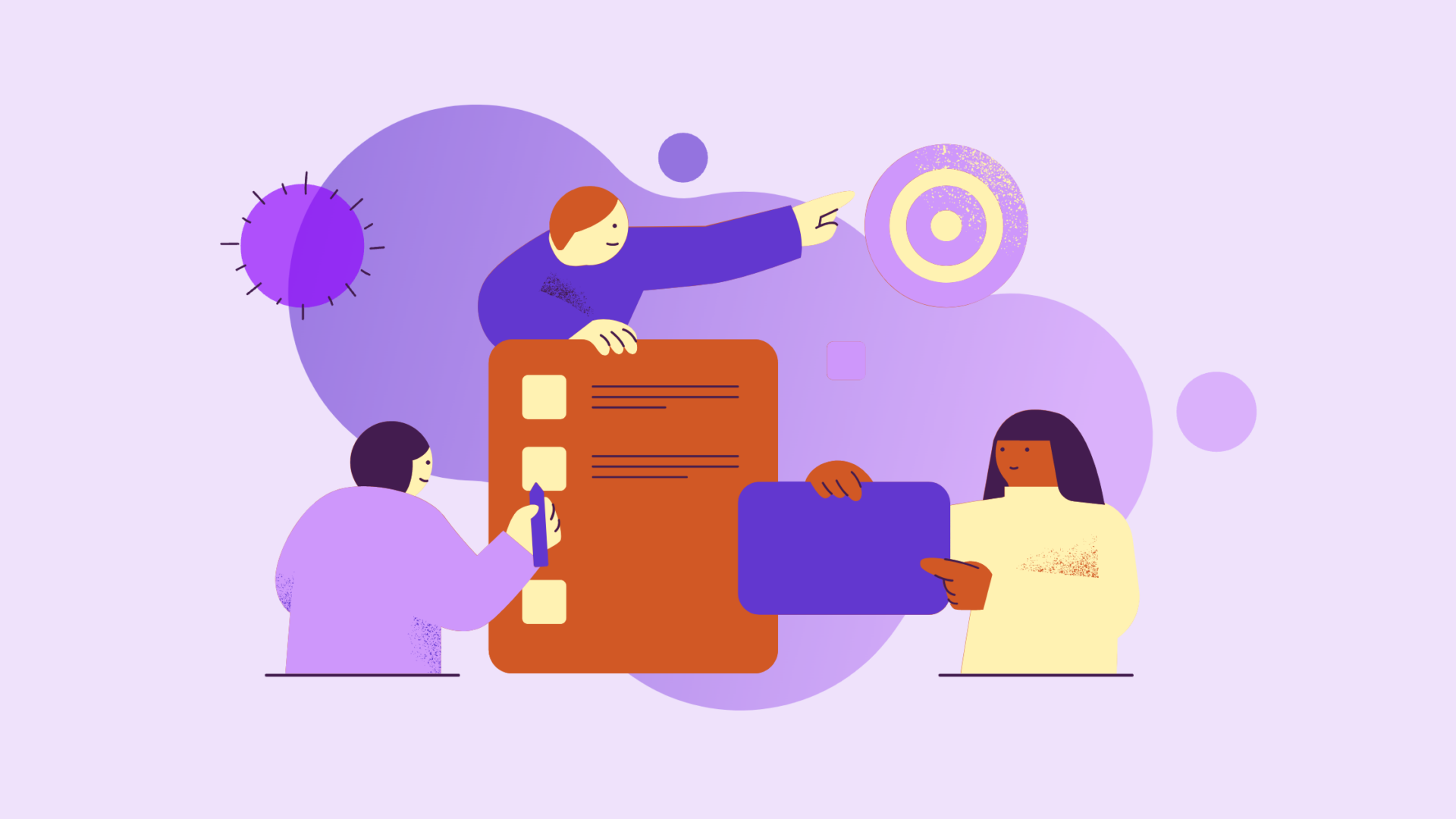 Whether your brand has been around for years or is only just getting started, all ecommerce businesses have one thing in common: the constant pressure of competing in the online marketplace. Brands of all sizes struggle to get the resources, revenue, and retention needed to grow their business. So, what exactly do they have to do to be successful?
The key to driving new business and customer lifetime value is customer retention. Even a 5% increase in retention rate can lead to a 25% to 95% increase in revenue. Existing customers can spread the word about their favorite brands, spend more and purchase more often, and offer feedback that leads to better products and strategies. But first, they need a reason to do so - and this is where loyalty programs come in.
Currently, over 90% of brands have some type of loyalty program. This could be a simple program where points are earned and redeemed at purchase or a more comprehensive program with rewards, VIP tiers, and a dedicated brand community.
However, the existence of a loyalty program doesn't always lead to high engagement and conversions. In fact, the average consumer belongs to 14.8 loyalty programs but only participates in 6.7 of them. This can be for a number of reasons, from flawed logistics to poor communication to unappealing rewards. What are some best practices for avoiding common pitfalls and running a successful loyalty program that you need to know about?
What is a loyalty program?
Loyalty programs are a type of marketing strategy focused on driving customer retention through activities and rewards. Customers complete a desired activity, such as registering for an account or making a purchase, to earn a reward in return.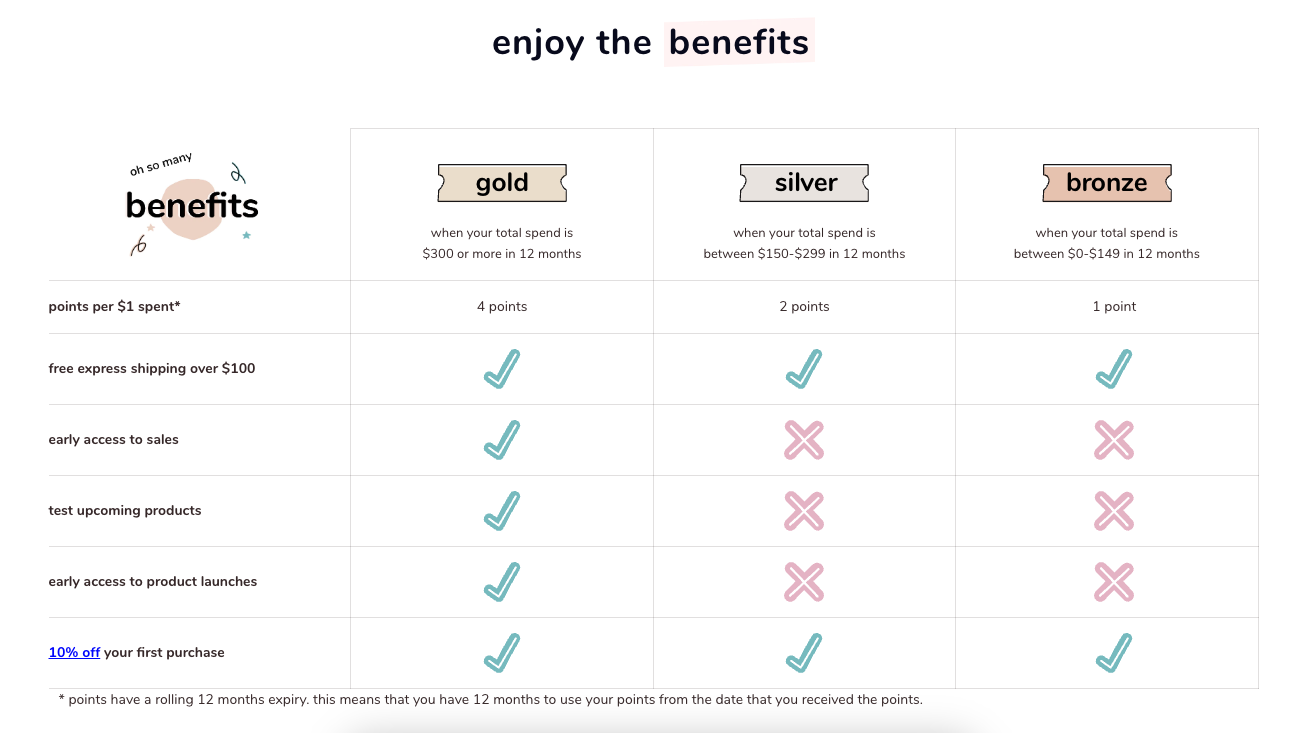 There are several different types of loyalty programs, either based on how they're structured or what purpose they serve. The most common type is the points-based loyalty program, where activities and rewards are worth a predetermined number of points. These programs might also include VIP tiers, where customers receive better benefits when they spend more and/or earn more points.
Other types of loyalty programs include:
Cashback: in a cashback or spend-based loyalty program, customers spend a specific amount to earn a specific amount of store credit in return. For example, they might earn $1 for every $10 spent. These programs are easy to implement but usually lack the stronger incentives that customers are looking for.
Value: in a value-based loyalty program, customers use their points to make charitable donations. For example, they might redeem 500 points to make a $10 donation to one of the brand's non-profit partners. These programs help brands and their customers show support for causes like gender equality and animal welfare.
Premium: in a premium or subscription-based loyalty program, customers pay a monthly or annual subscription fee to receive immediate benefits. While these programs have the highest barrier to entry, they also help brands identify their most high-value customers who are usually willing to spend more and buy more often.
Loyalty programs can be implemented across most marketing channels. Brands might offer a physical card for use in brick-and-mortar stores, create a dedicated landing page or add loyalty widgets to their website, and include a rewards section in their mobile app. They can also spread the word about their loyalty program through email, SMS, and social media.
💡 Check out this blog article for a step-by-step guide on how to build and implement your loyalty program.
Loyalty Activities
Activities are actions that brands want their customers to complete. The most common activities include creating an account, making a purchase, writing a review, answering a survey, referring a friend, and engaging with a brand's social media. Activities can also include special events, such as a milestone or birthday.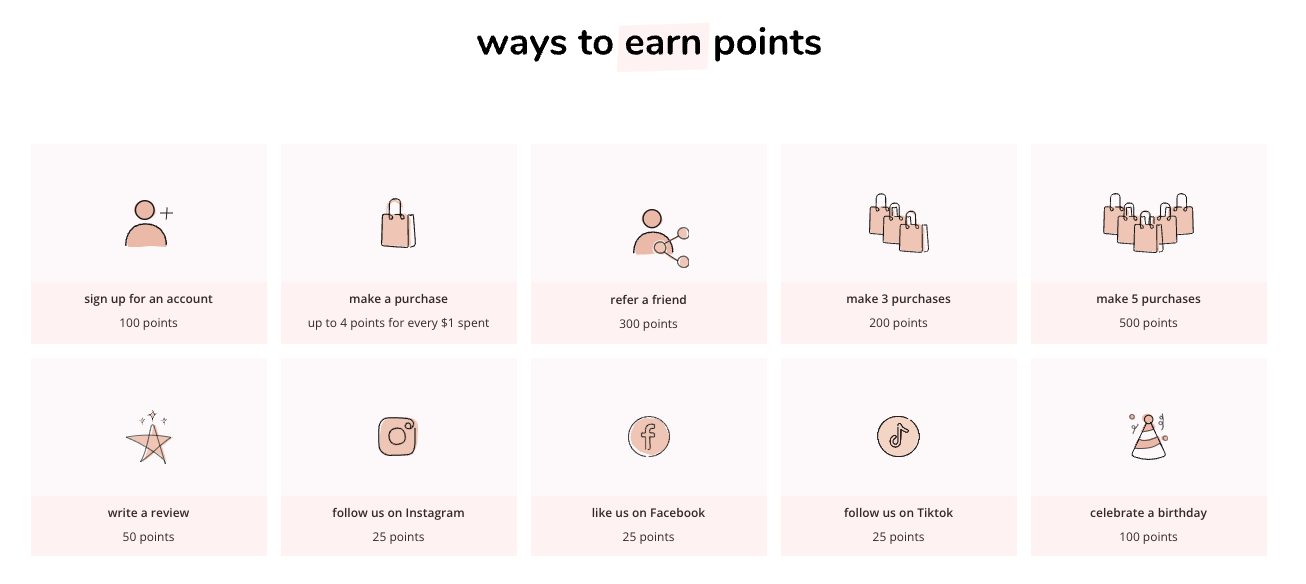 With Stamped, brands can personalize their loyalty program with custom activities. For example, they can offer points for newsletter registrations or offer double the number of points to celebrate a new product launch. These activities can also be limited to a specific timeframe, which adds a sense of urgency. Personalized efforts keep their program fresh and create opportunities to continuously communicate with their customers and nurture repeat purchases.
When it comes to planning program activities, brands need to strike a balance between their goals and their customers' interests. For example, while they may want to drive more social engagement, are their customers active on social media to begin with? If they want to increase their average order value, how much is the average customer willing to spend? Answering these questions early on can reduce churn rate and lower the risk of disengaged or unhappy customers.
Loyalty Rewards
Rewards are incentives that brands want their customers to earn. The most common rewards include discounts, gift cards, and free products. For example, a customer might redeem 250 points to earn $10 off their next purchase or redeem 500 points to receive a free item.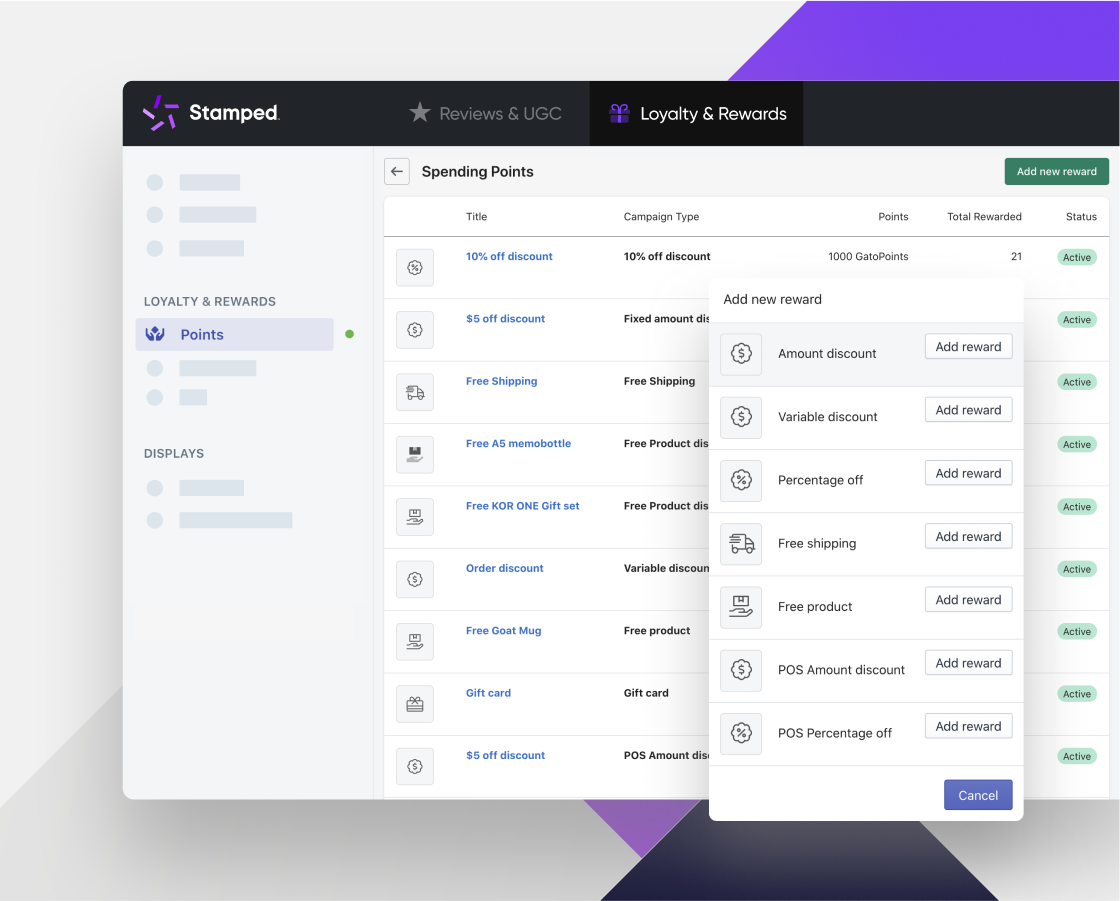 Similar to activities, when it comes to loyalty rewards, brands need to strike a balance between what they're willing to offer and what customers are willing to work for. If free shipping or a $5 discount code isn't enough of an incentive, customers won't be motivated to make a purchase or complete other activities to earn the required number of points.
Brands also need to find a balance when determining the value of their rewards. One common misconception is that low redemption rates will "devalue" the program's worth and negatively impact revenue. For example, brands might think that customers earning $5 off every time they make a purchase will hurt their bottom line. However, these quick and easy rewards can actually lead to a significant sales boost, as they motivate customers to increase the frequency and size of their purchases. One leading accessories brand saw a consistent 28% uplift in their average order value when they offered $5 rewards in their loyalty program with Stamped.
Best practices for loyalty programs
Boost reach and registrations
Problem #1: Customers don't know that my loyalty program exists.
One of the most common pitfalls of loyalty programs is a lack of marketing, which leads to a lack of awareness. While brands usually announce their loyalty program at launch, they often fail to promote it on a regular basis in favor of promoting new products and sales instead.
Brands need to create a clear communication strategy to ensure that new and existing customers know what the loyalty program is and how they can benefit from it. This can include a dedicated landing page, a call-to-action in every email newsletter, an ongoing social campaign, and a marketing video explaining how the program works and the value proposition it offers.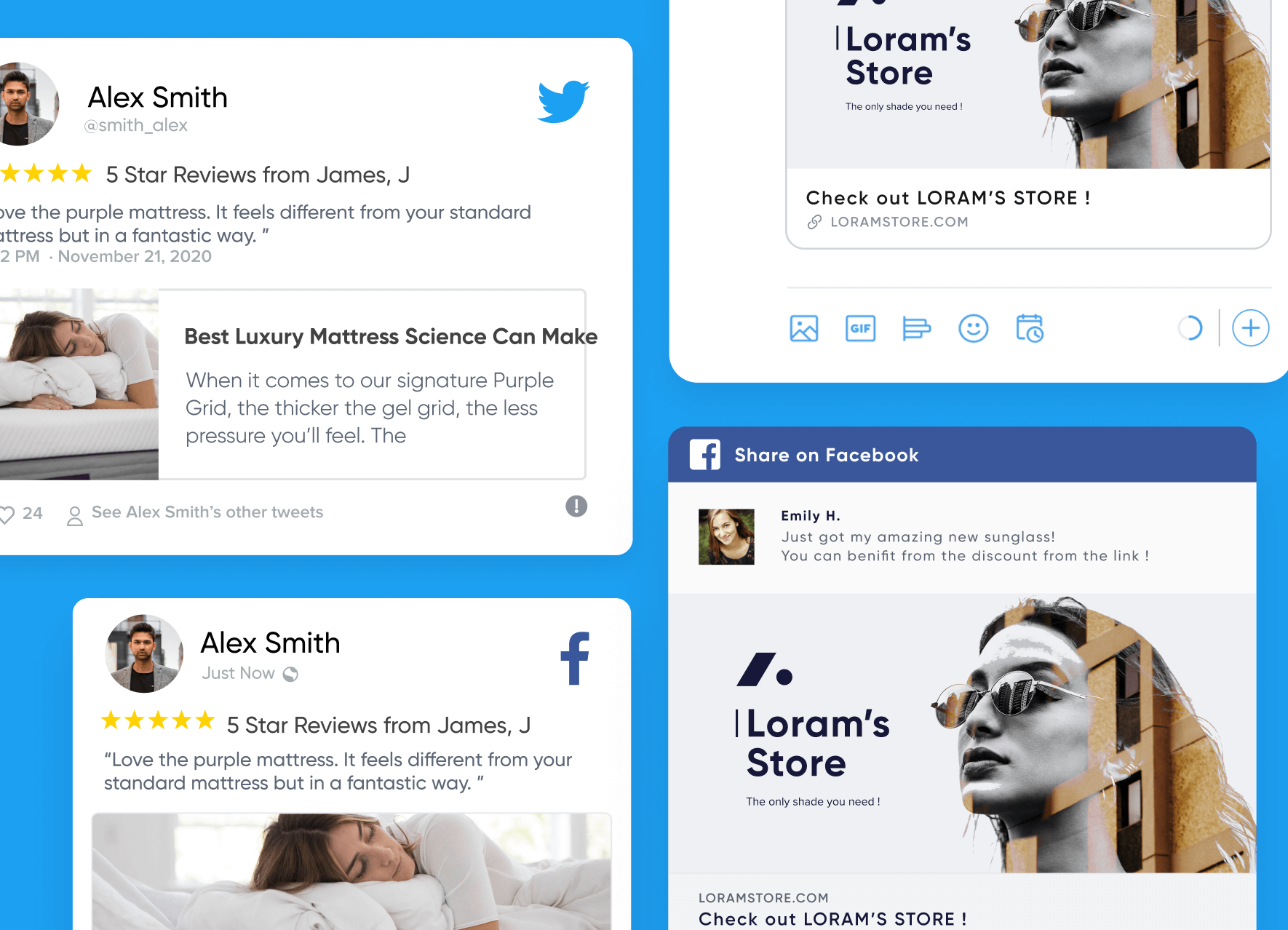 They should also leverage partnerships to promote their loyalty program. This can include influencers, advocates, and their existing brand community. Social proof is known to be more effective than a brand's own advertising: influencer content earns more than 8 times the engagement rate of brand content.
💡 Looking for more ways to leverage your customers? Check out our article on four different social proof experiments that help boost engagement and sales.
Problem #2: Customers think joining my loyalty program takes too much work.
Approximately 70% of millennials and 50% of baby boomers state that loyalty programs make it too difficult to join. To mitigate this, brands need to keep their program's barriers to entry as low as possible. Customers should be able to join the program without needing to complete an activity or make a purchase beforehand.
Brands should also avoid asking for too much information during account registration, as this can overcomplicate the process and turn customers away. They should only require basic information like their name and email address, then collect things like their payment details and shipping address only when necessary. This practice of progressive profiling reduces friction and improves registration rates.
Lastly, brands need to meet customers where they're at, rather than asking customers to come to them. Customers should be able to register and participate on their computer, tablet, or phone, in the brand's mobile app, and in physical stores. This omnichannel approach helps brands communicate with customers through their preferred channels and build better relationships right from the start.
Drive actions and engagement
Problem #3: Customers are registering, but they aren't actively participating.
Another common problem is a lack of customer participation. While customers earn points for making purchases they were already planning to make, they might not be completing other activities that require a little extra work. This can lead to frustration for brands trying to drive other types of conversions, such as more newsletter registrations or more product reviews.
To start, brands need to identify the cause of inactivity. Are they failing to explain how customers can earn points? Are customers aware of their options, but disinterested in completing them? Lastly, are the instructions or parameters too complicated to follow or confusing to understand? For example, if customers aren't given a clear explanation on how to answer a survey or how many referrals they need to earn points, this may explain the lack of engagement.
Loyalty programs should be direct, accessible, and unambiguous. Brands need to offer a diverse range of activities to appeal to a diverse range of customers, but they should also avoid creating an overly complex program with too many options and too many variables.
They can start small by offering a few different activities with clear explanations and simple rules. Then, they can slowly add program tiers, referral systems, and new activities over time. This not only prevents customers from feeling overwhelmed, but also helps them feel as if they're being continuously rewarded for their ongoing investment in the program.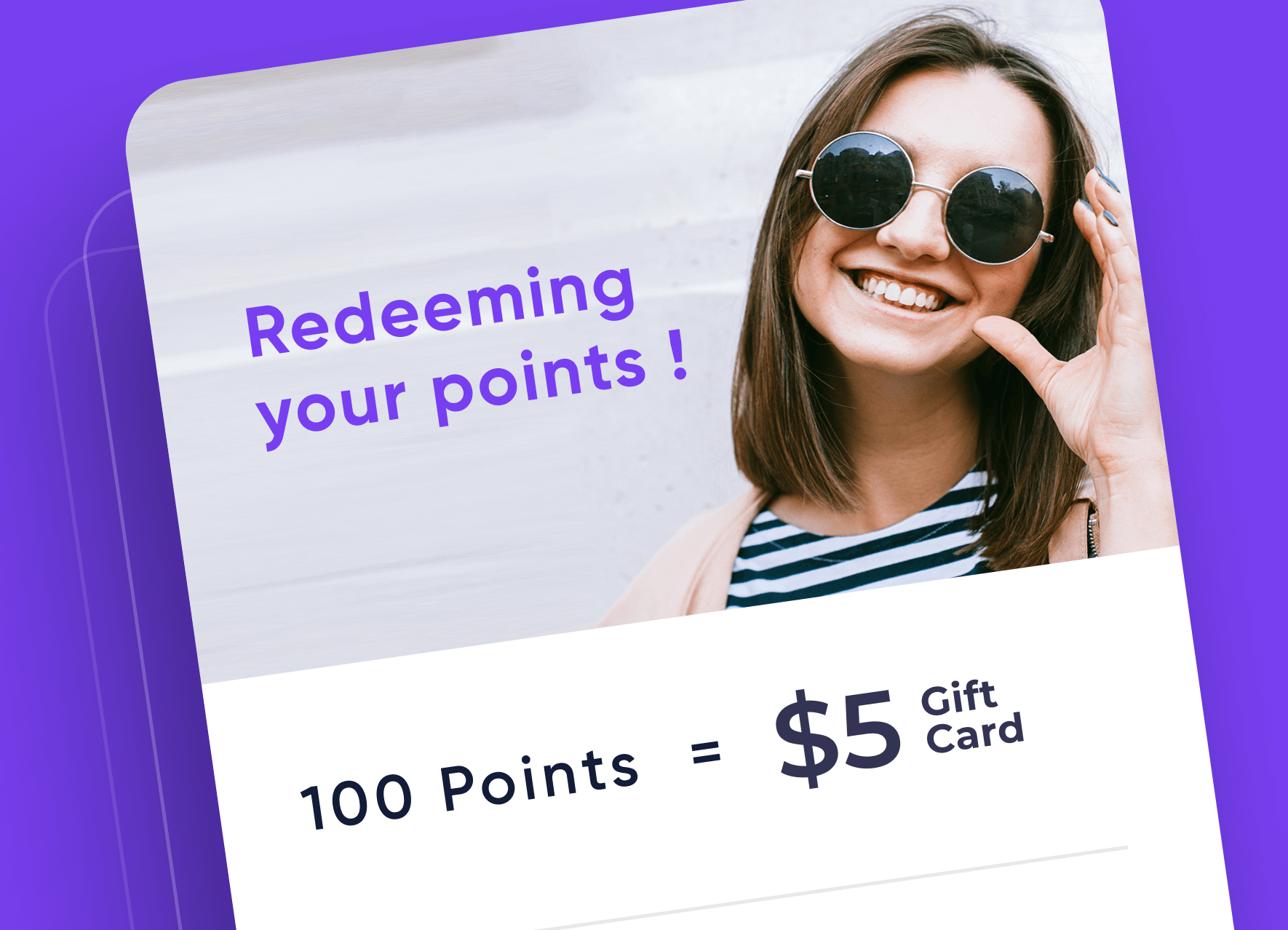 Another way to keep their program simple and easy to understand is to use liquid variables. With Stamped, brands can leverage the Klaviyo integration to convert points to dollars so customers have a better understanding of their monetary value. For example, rather than saying "you currently have 1,000 points to spend", they can say "you've earned a $10 discount" instead.
Lastly, brands should reward customers for non-transactional activities, too. Customers don't always want to make another purchase, no matter how much they love the product. Reviews and referrals give customers more ways to participate without spending money and help them build closer relationships with their favorite brands. Other activities include birthdays, milestones, and social follows and engagement. With Stamped, brands can also create custom activities that fit their brand's feel. For example, one pet brand gives customers additional points on their pet's birthday. These activities also increase a brand's reach, resulting in new business and opportunities.
Problem #4: Customers are earning points, but they aren't redeeming them.
Alternatively, customers might be engaging with the program, but aren't doing anything with their accumulated points. This negatively affects a brand's breakage rate, which is the percentage of points issued that aren't being redeemed. Common causes for high breakage rates include "issues with redeeming points, members forgetting they're enrolled in a program, unappealing or less relevant rewards, and unachievable or expensive reward thresholds".
Similar to low engagement rates, brands should start by identifying the cause of high breakage rates. Are customers unaware of the rewards available or the number of points they've earned? Are their points not valuable enough or expiring too quickly? Lastly, are the rewards boring or too repetitive?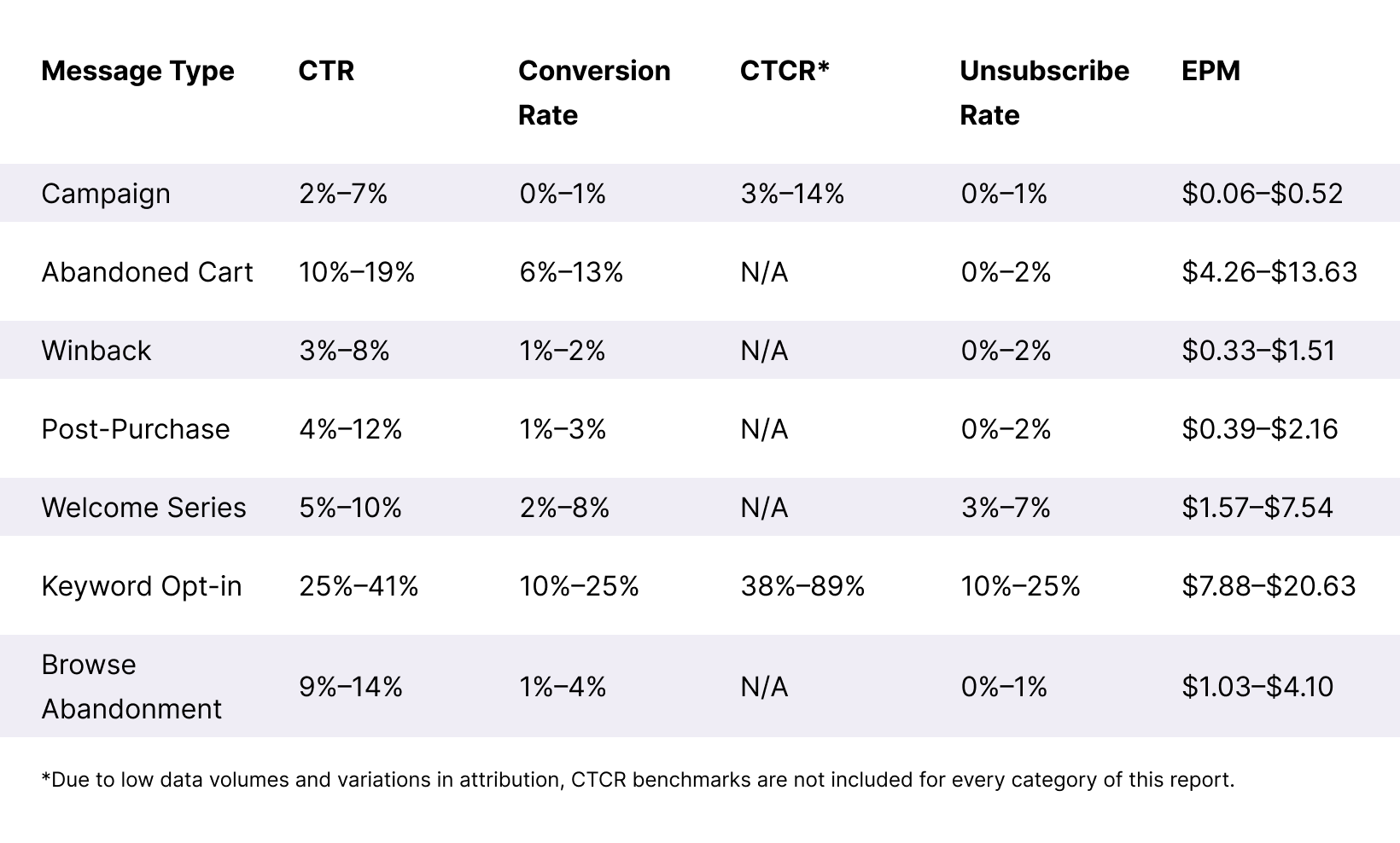 First, brands need to remind customers about how many points they have and what rewards they can redeem. The best way to do this is through a targeted email and/or SMS campaign. According to Postscript, abandoned cart flows can increase a brand's clickthrough rates by 10-19% and conversion rates by 6-13%. Brands can take advantage of this by including an incentive in these campaigns, i.e. "get $5 off when you complete your purchase". Next, they need to look at the value of their points and rewards, then adjust as needed. For example, do points expire in less than three months? Do customers need to spend 500 points to earn something as small as a $5 coupon?
Lastly, brands need to evaluate the rewards themselves. Though a $10 discount might be motivating enough at first, customers will eventually get bored if brands never offer anything new. 96% of millennials say brands need to create new strategies for rewarding them for their loyalty. Brands should find ways to generate ongoing excitement and interest with new rewards and new types of rewards.
For example, instead of only offering percentage or dollar-based discounts, they can reward customers with early access to sales, exclusive invitations to events, and free samples of their best-selling products. They should also consider incorporating elements of value-based loyalty programs by rewarding customers for donations. Over 60% of millennials prefer to donate their loyalty rewards to a good cause instead of redeeming them for personal use.
Increase revenue and retention
Problem #5: Customers aren't spending enough for my loyalty program to be profitable.
One of the most common concerns with loyalty programs is their profitability. Brands often worry that their rewards are worth too few points and will result in high redemption rates and low average order values. But, as mentioned previously, these short-term incentives lead to long-term gains. When customers know they can earn rewards without too much additional effort and/or in a relatively short period of time, they're more likely to engage with the program, make repeat purchases, and tell their friends about the brand.
However, this doesn't mean that all brands have to do to be successful is to offer easy rewards. They need to create a profitability model based on their goals. Then, they should consistently monitor, iterate, and adjust their loyalty program as needed. This might mean changing activity or reward values, adding or removing program features, or reassessing their marketing strategy. Customers also need to set realistic expectations for their loyalty program, as they don't result in immediate returns and are meant to boost LTV and profitability over time. Compared to initial customer acquisition costs (CAC) through other means, loyalty programs are a more cost-effective way to expand revenue growth in the long term, provided brands invest the time and resources needed to get there.
Another way to boost program profitability is through audience targeting. Though brands want to nurture loyalty in as many customers as possible, segmentation helps create personalization strategies that ultimately drive more engagement and purchases. Behavioral segmentation in particular can result in as much as a 20% increase in customer acquisition, 15% in customer retention, and 30% in customer satisfaction and engagement.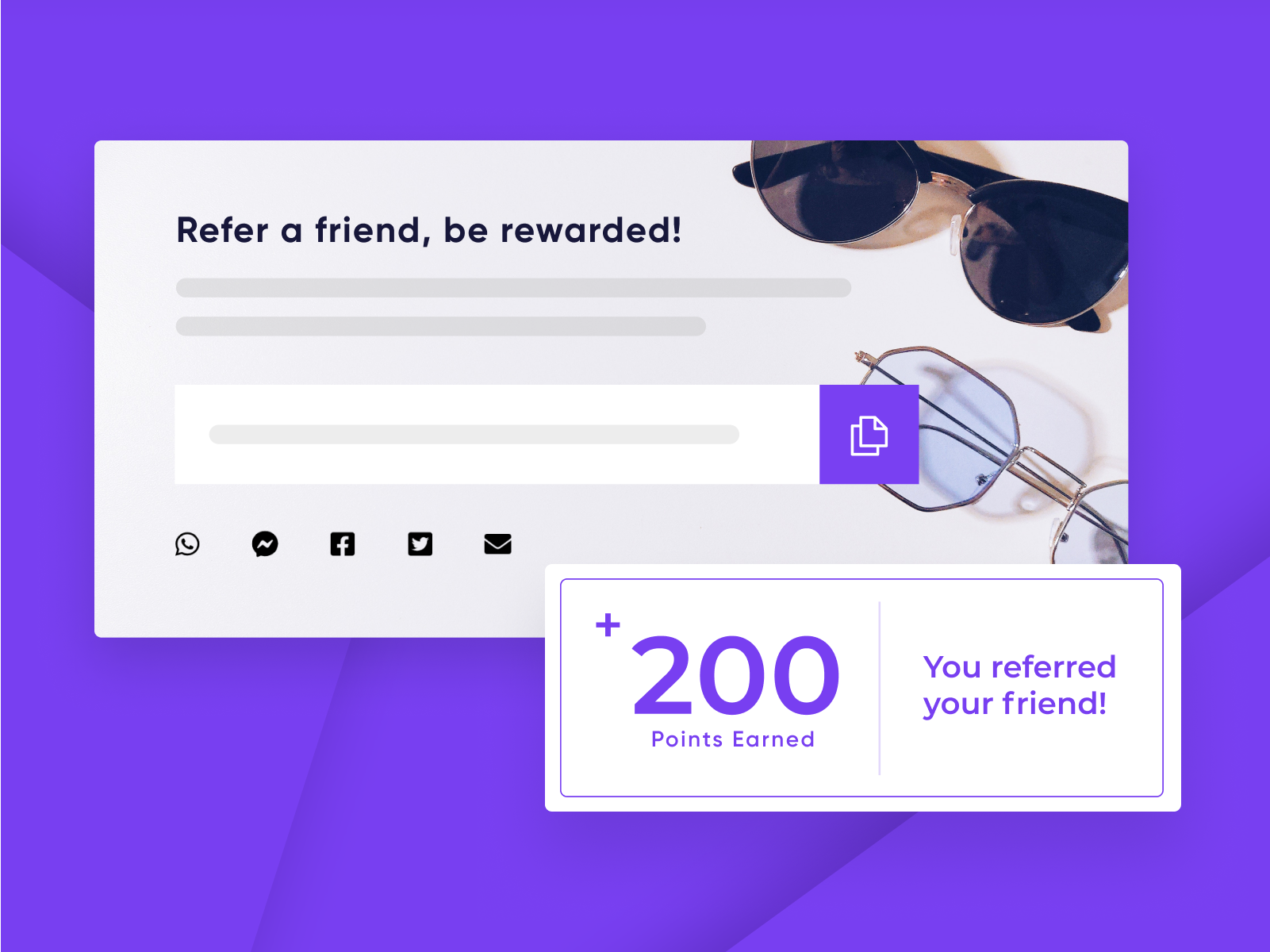 To start, brands can reward their most valuable customers with exclusive benefits through VIP tiers. They can reward customers who frequently talk about their brand by creating a referral program. Lastly, brands should also reach out to customers who spend less than the average order value. For example, they can create a targeted email campaign to encourage them to spend at least $50 on their next purchase and earn a free gift in return. 81% of millennials say that being a loyalty program member encourages them to spend more on their favorite brands.
💡 Profitability isn't the only thing you should think about - read our article on the top five loyalty program metrics you need to be aware of.
Problem #6: Customers are leaving my loyalty program or switching to my competitors.
Last but not least, brands often worry about customers leaving their loyalty program for a competitor's, and with good reason. 78% of customers would switch to a different brand if they offered a better loyalty program, while 55% think they belong to too many loyalty programs. Customers are also becoming increasingly disloyal overall: over 71% of them switched brands at least once in the past year, while 54% reported abandoning their favorite brands after just one bad experience.
So, how do companies prevent brand switching and nurture brand loyalty? Ultimately, they need to combine many (or all) of the strategies mentioned above. First, they should create a profitability model, targeting strategy, and omnichannel approach so that the right customers are getting the right message at the right time. They need to make sure customers understand the value of the program and keep the registration process simple. If the program's benefits aren't clear or if the system is too complicated, customers will move on to something else.
Brands should also start small with a few easy, but valuable activities and rewards to avoid overwhelming customers and overcomplicating their own workflow. Then, they should slowly expand their program over time to keep the excitement going. This might mean VIP tiers, referral programs, and more activities and rewards. If a loyalty program never changes, customers are likely to switch to a more dynamic competitor.
Most importantly, brands need to focus on clear and consistent communication with their customers. This includes sending emails about their point balances, sharing new program features on social media, and running targeted campaigns based on their preferences and behaviors. With Stamped, brands can leverage integrations like Attentive, Klaviyo, and Drip to seamlessly connect their loyalty program's activities and rewards with their existing marketing communications. If customers aren't getting the information they need to participate in the program, they will either disengage, leave, or fail to realize they were registered in the first place.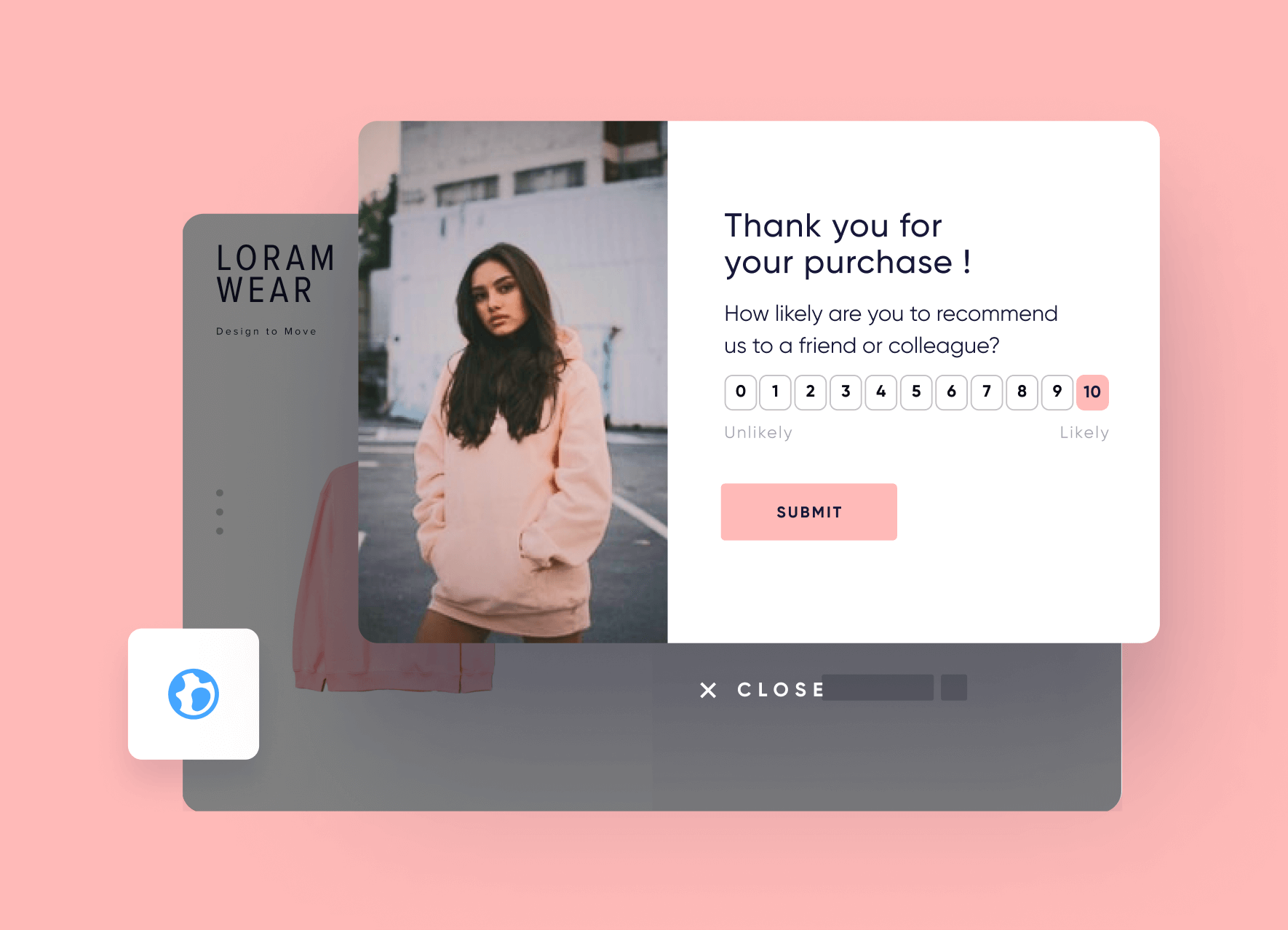 Lastly, brands should also create opportunities for customers to share comments, questions, and concerns in return. For example, they can send out NPS requests, add a feedback form to their program landing page, or even create a community discussion forum. When customers feel like they're being seen and heard, they're less likely to switch to another brand.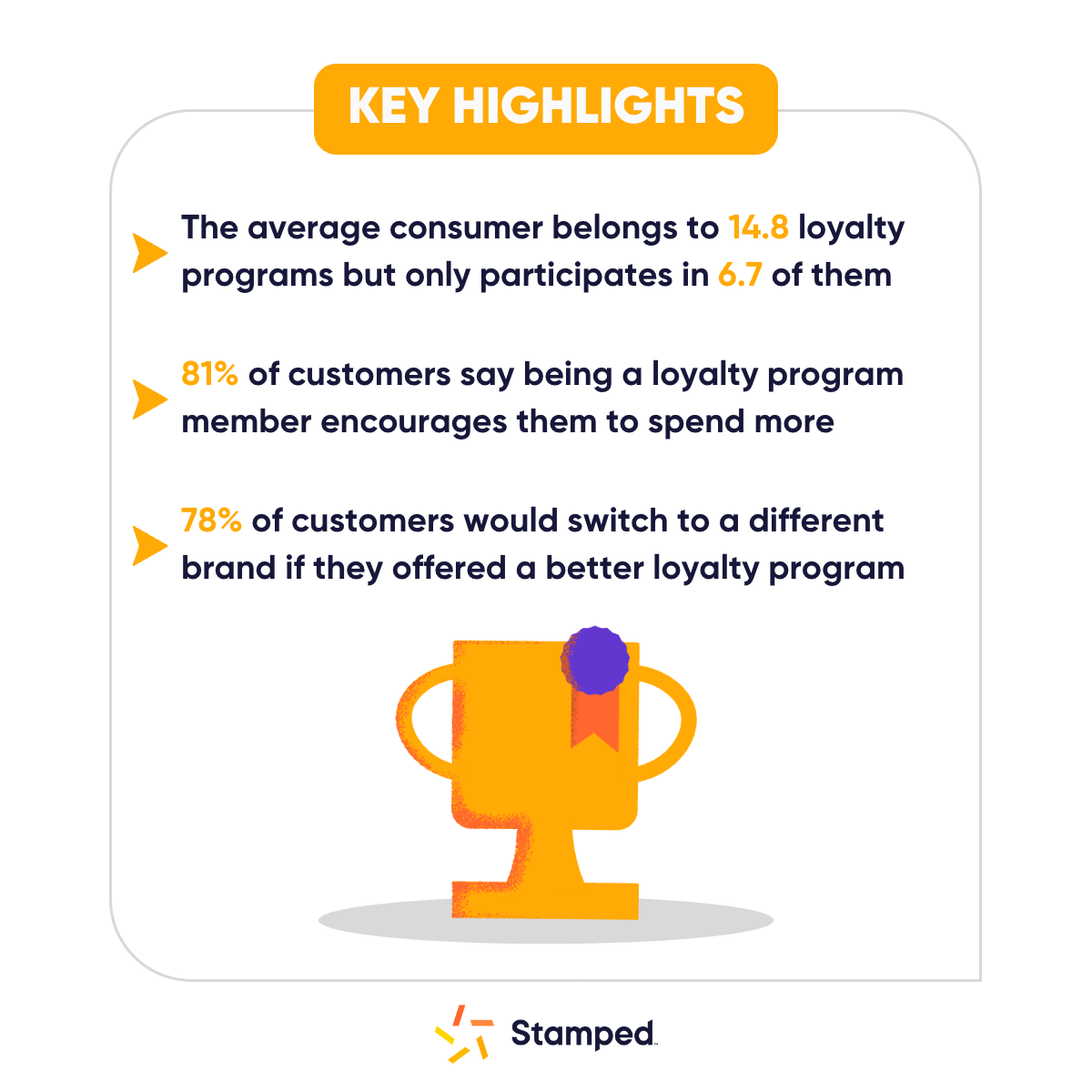 Nurture engagement and sales with Stamped Loyalty
Loyalty programs are crucial for increasing average order value, driving repeat purchases, and boosting customer lifetime value. However, they consist of a lot of moving parts that can go wrong if brands don't know how to create and manage them. With Stamped, brands can trust that they're implementing loyalty best practices for increased engagement and customer retention. We offer custom activities and rewards, VIP tiers and referral programs, and more to help your loyalty program be the best it can be. Book a demo with one of our sales reps to get started today.
Trust Builds Brands
Sign up to see how Stamped can help your Ecommerce brand drive growth and awareness.
Sign Up Free