Review Management | Aug 4, 2023
8 Ways To Use Positive (and Negative) Customer Reviews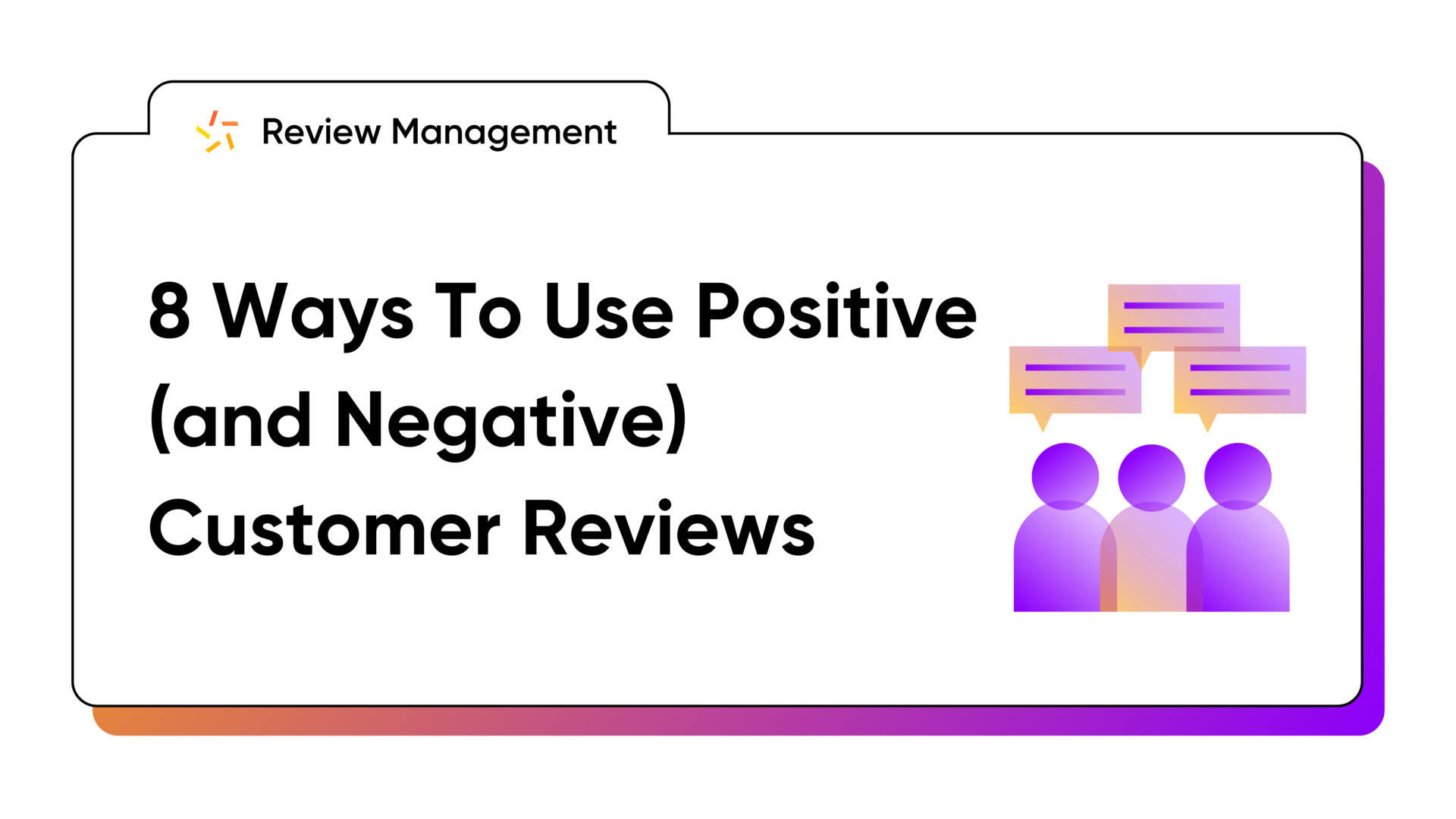 Whether they're shopping for a small, common item or making a large, one-time purchase, most customers have one thing in common: they read reviews. Reviews are an essential part of every customer's shopping journey because they want to learn from other customers' experiences and determine if the product is right for them.
Overcrowded markets and increasing consumer skepticism have made reviews more important than ever for brands looking to acquire new customers. 72% of customers won't take any action until they've read reviews, and 49% of customers trust reviews as much as personal recommendations. Furthermore, reviews make customers 71% more comfortable purchasing a product and will spend an average of 31% more when a brand has positive reviews.Brands not only need to collect reviews, but they also need to use them in their business and marketing strategies, from product development to customer service to social media and more. It's especially important for them to learn how to leverage positive and negative reviews. What are some ways that brands can use reviews to drive acquisition, sales, retention, and business growth?
Benefits of customer reviews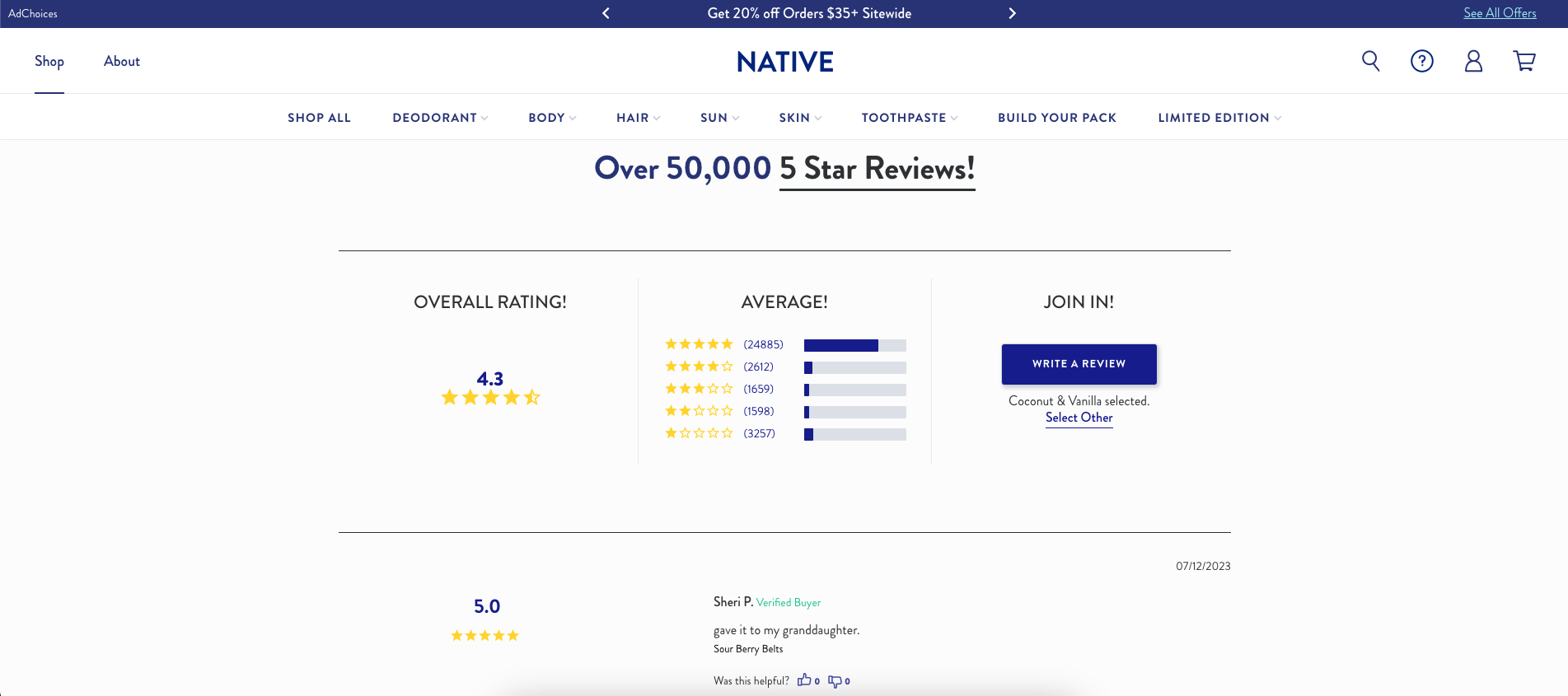 Increases brand awareness and reach
When customers don't have a specific product or brand in mind, they usually start with a generic search term like "cruelty-free makeup" or "vegan protein powder". Reviews bolster a brand's SEO and help customers discover brands they haven't heard of before, whether it's via the brand's own website, search engine product listings like Google, social commerce platforms like Instagram and TikTok, or review syndication with retailers like Walmart and Target. Brand advocates and influencers that post reviews on social media or their own websites help spread the word even further by directly addressing their audience and telling them why they should buy something.
Boosts brand credibility and consumer trust
Without reviews, brands may appear unfamiliar or even unreliable, where their marketing campaigns and product claims potentially come across as false advertising. This reduces the chances of customers engaging and making a purchase. Reviews give customers more context about a product's performance and help confirm whether the brand can be trusted.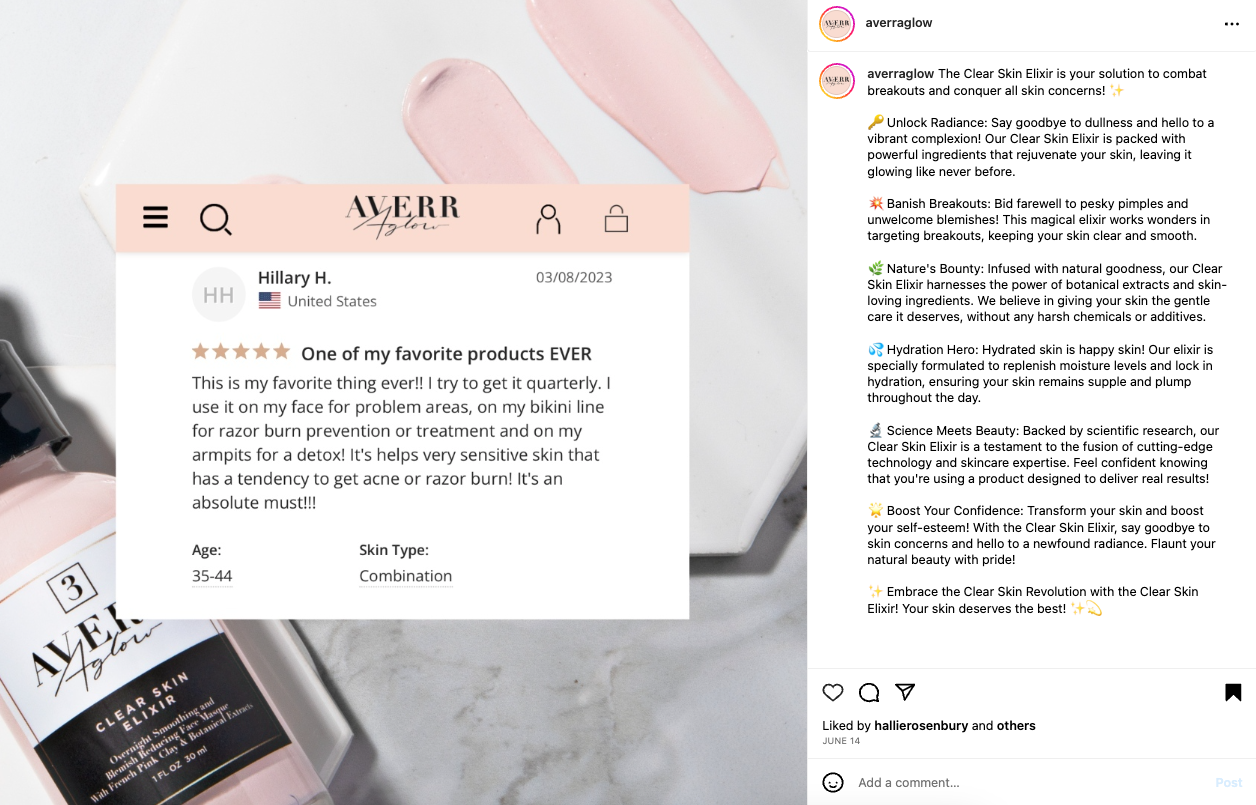 Acts as a form of social proof
Social proof, or informational social influence, is the idea that customers want to copy other people's behavior and own the same products that they do. Positive reviews make brands and their products feel more desirable, especially when customers describe how much something has improved their habits, impacted their lifestyle, and so on. For example, customers might talk about how much a skincare product gave them confidence or how many compliments they received on a new swimsuit, which other customers will then want to experience, too.
Drives sales and conversions
As mentioned previously, customers feel more confident making a purchase once they've read reviews because they understand whether a product will address their needs or solve their problems. This is especially true for brands with reviews containing specific details about why something worked for them, such as whether a clothing brand is petite and plus-size friendly or if a pet food brand's products work for different dietary needs. Increased confidence and context lead to increased chances of conversion.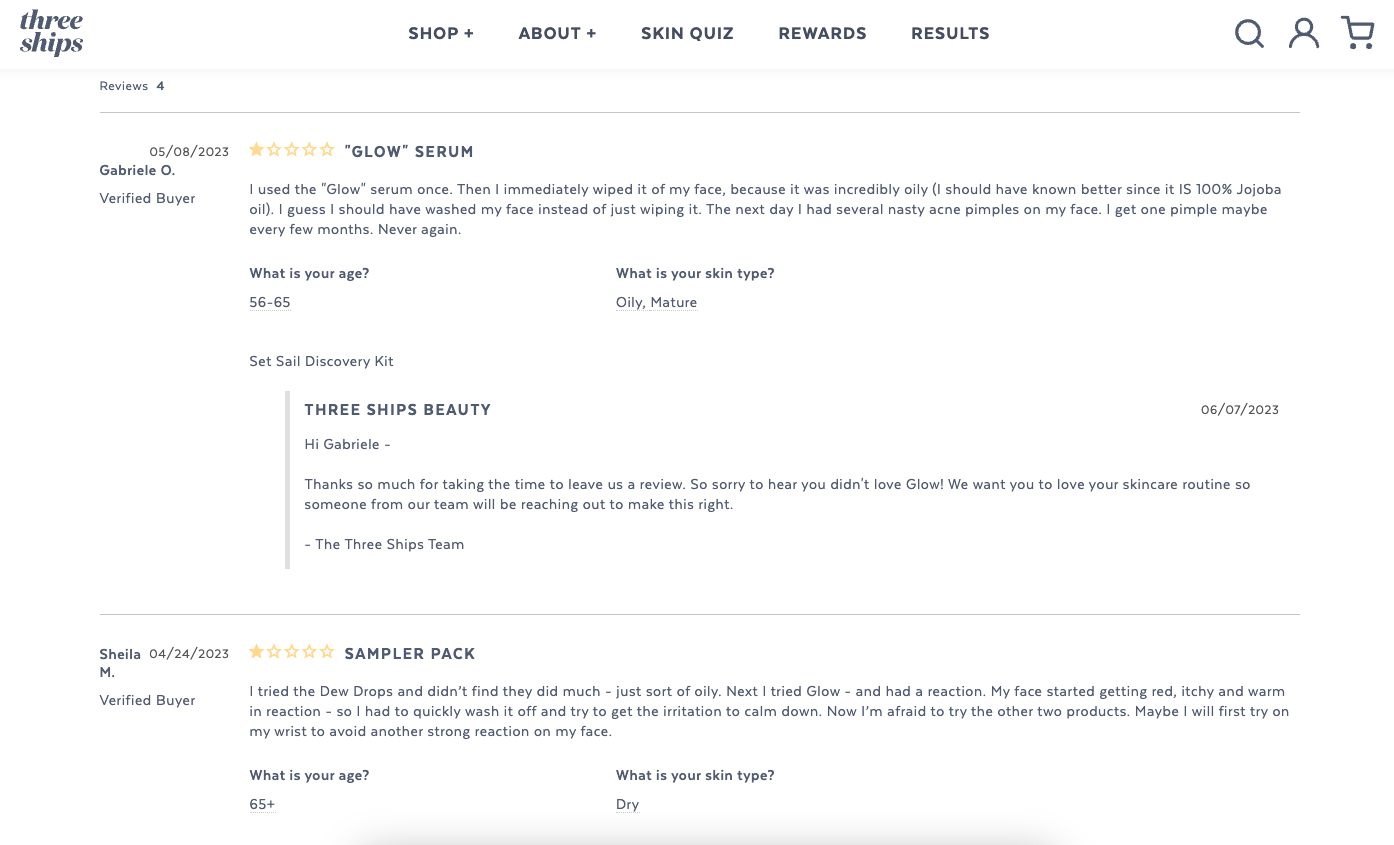 Supports customer service and product development processes
Reviews help brands understand what customers want and whether the product fulfilled their expectations or missed the mark. Brands should reach out and either thank them for the review or follow up for further details if something didn't work for them, then take their feedback into consideration. Reviews also give brands an overall impression of customer satisfaction and whether they need to address any issues on a greater scale to prevent churn and increase retention.
How to ask customers for reviews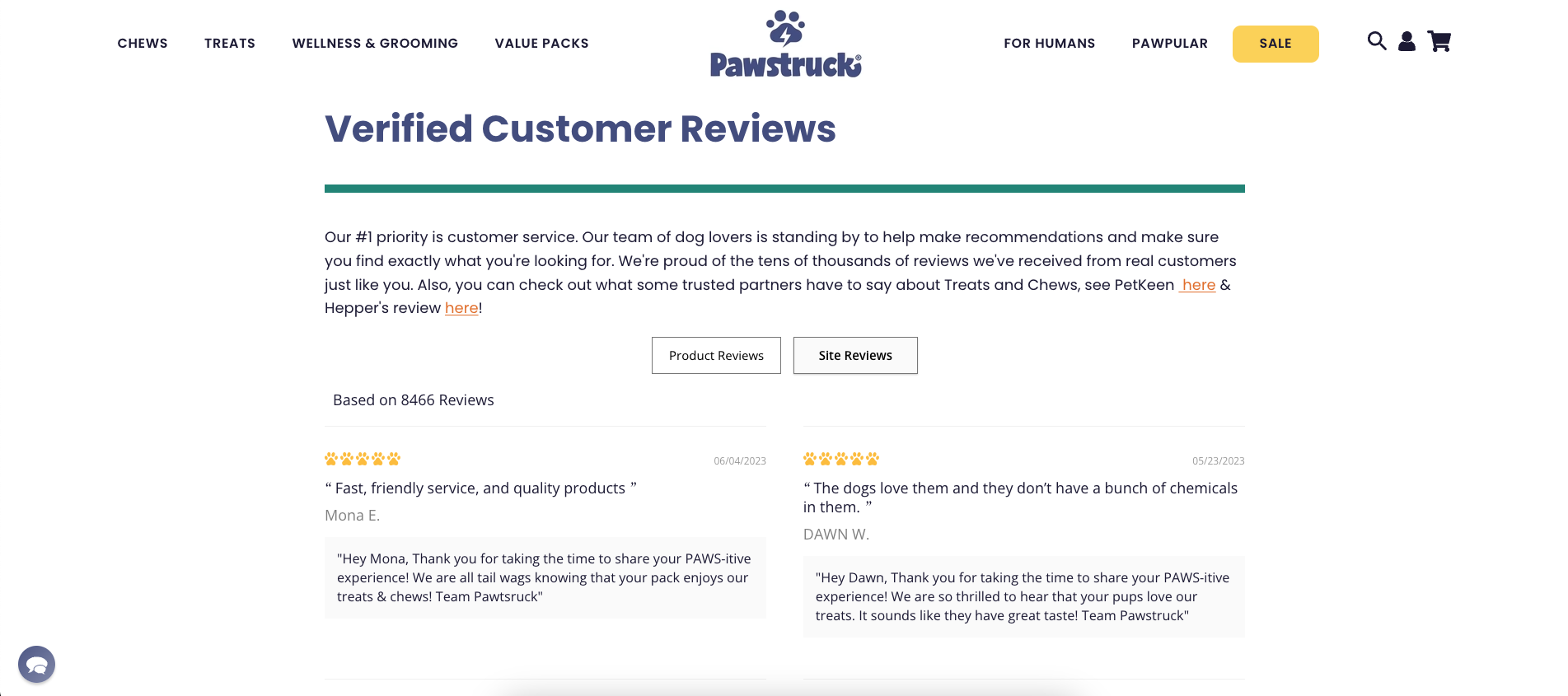 Brands typically ask customers for two different types of reviews: product reviews and site/business reviews. The first type of review is for the customer's experience with a specific product, while the second type of review is for the customer's overall experience with the brand. This might include shipping, customer support, and other user touchpoints.
The best way to ask for reviews is to send customers a review request via email or SMS after they make a purchase. With Stamped, brands can also ask customers to submit a review during checkout by answering the question, "why did you purchase this?" to get immediate feedback. Brands need to be careful about the timing of their review requests; if they contact customers before they've received their order and/or before they've had enough time to experience the product, it can come across as overly aggressive. Customers don't want to feel like they're being rushed or pressured to leave a review.
Brands should also give customers the option to remain anonymous, as some may be wary of sharing personal information, such as their name, age, and location. Allowing customers to write anonymous reviews increases trust and gives them the space to be honest without fear of judgment, leading to more accurate and detailed reviews.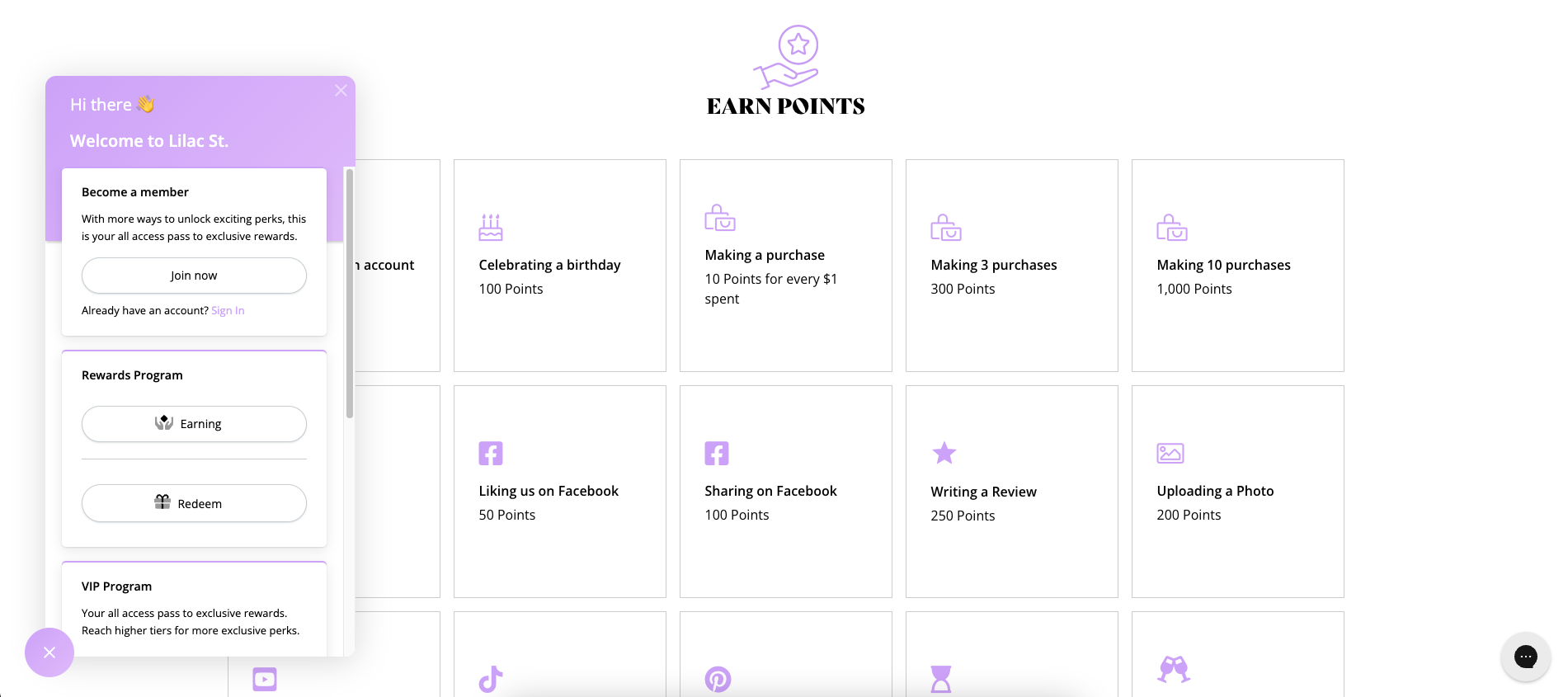 Though some customers are willing to submit a review without getting anything in return, brands should also include some kind of incentive to increase their chances of receiving a review. This can be a coupon code, a free sample, or loyalty program points that can be used to redeem a reward of their choice. Review incentives lead to a mutually beneficial relationship and increase the chances of customers making repeat purchases in the future.
Some customers may also need to be reminded to leave a review, whether they missed the initial request, didn't have enough time with the product, or simply forgot. Brands should send reminder emails to prompt customers and remind them of the potential incentive they can earn. They should also follow up with a thank you email to build additional goodwill with customers.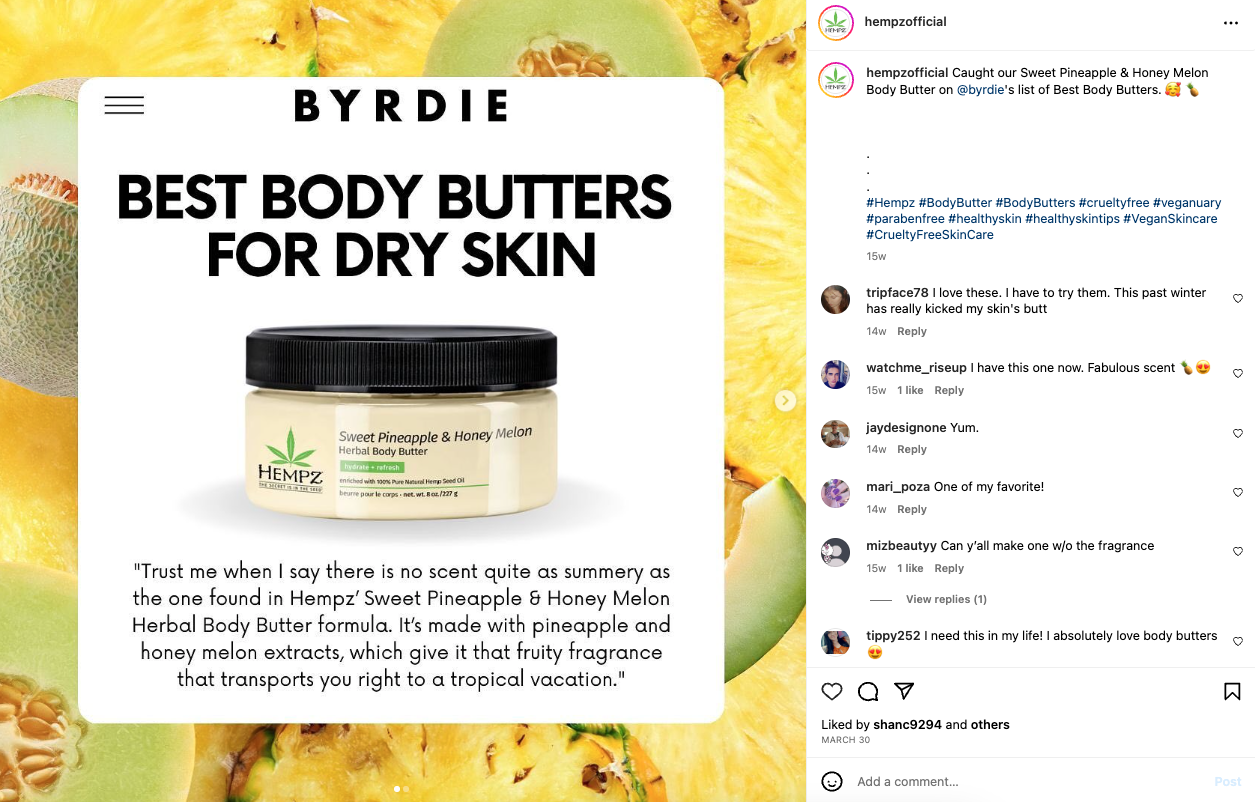 In addition to sending review requests via post-purchase email or SMS message, brands can also ask for reviews in a few other ways. They can send a targeted blast to specific groups of customers or customers who purchased a specific product. For example, if they want reviews for a new product line to include in an online publication, they can focus on those products.
Brands can also run a contest or giveaway where customers enter by submitting a review. This is especially useful for collecting photo and video reviews, where brands can ask customers to include media for their review to qualify. They might offer prizes like a gift card or free product, or give customers the chance to have their photo or video featured somewhere in their marketing campaigns.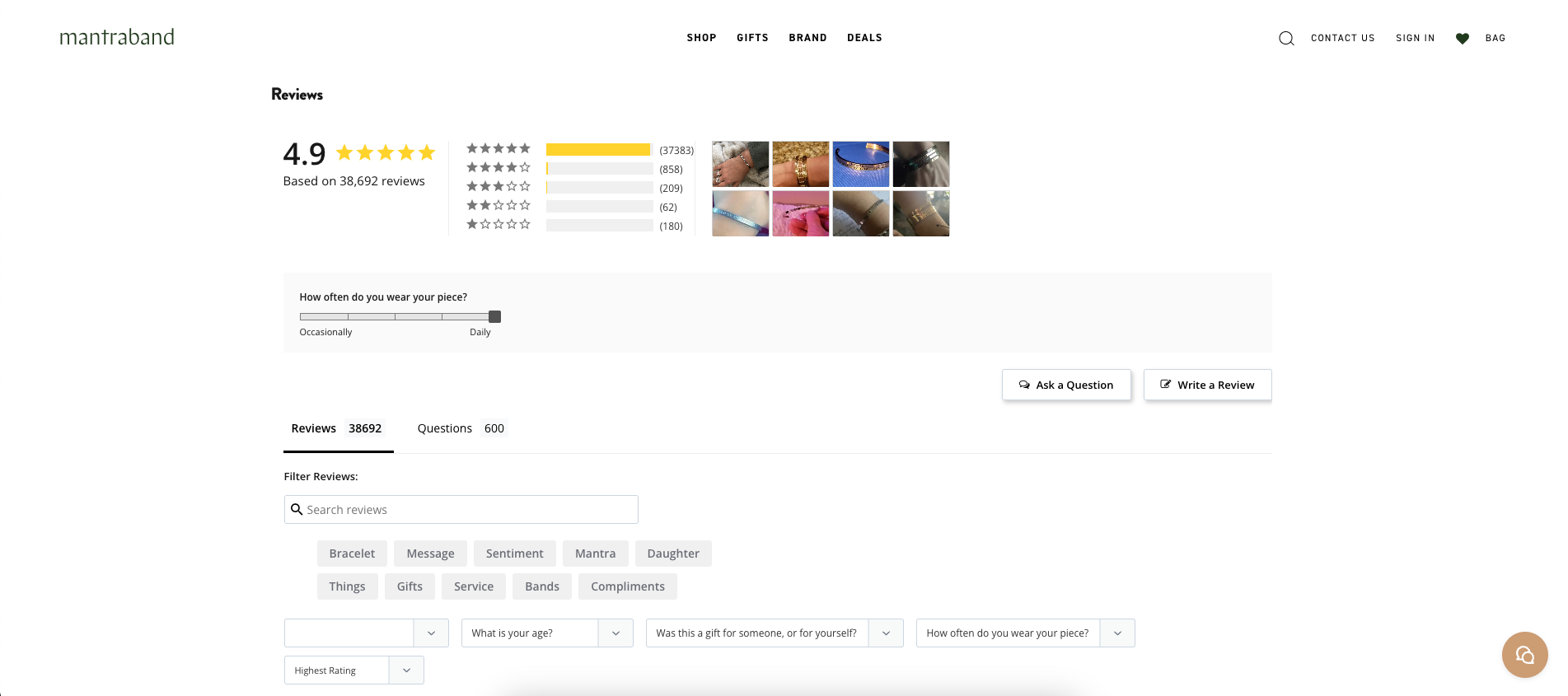 Finally, brands need to be specific about what they want customers to include in their reviews. In addition to the standard rating on a five-star scale, what other information should customers provide to help shoppers make a purchase decision and help brands measure satisfaction?
Brands need to include multiple-choice and fill-in-the-blank questions where possible to increase the review's value. For example, a clothing brand might ask if an item was too big, too small, or true to size. A jewelry brand can ask whether their purchase was for everyday use or special occasions. Finally, a drink brand might ask why they chose the flavor they did and if there are other flavors they'd like to see. Custom questions make reviews more useful for both the brand and for potential customers looking for specific context about a product.
How to use positive customer reviews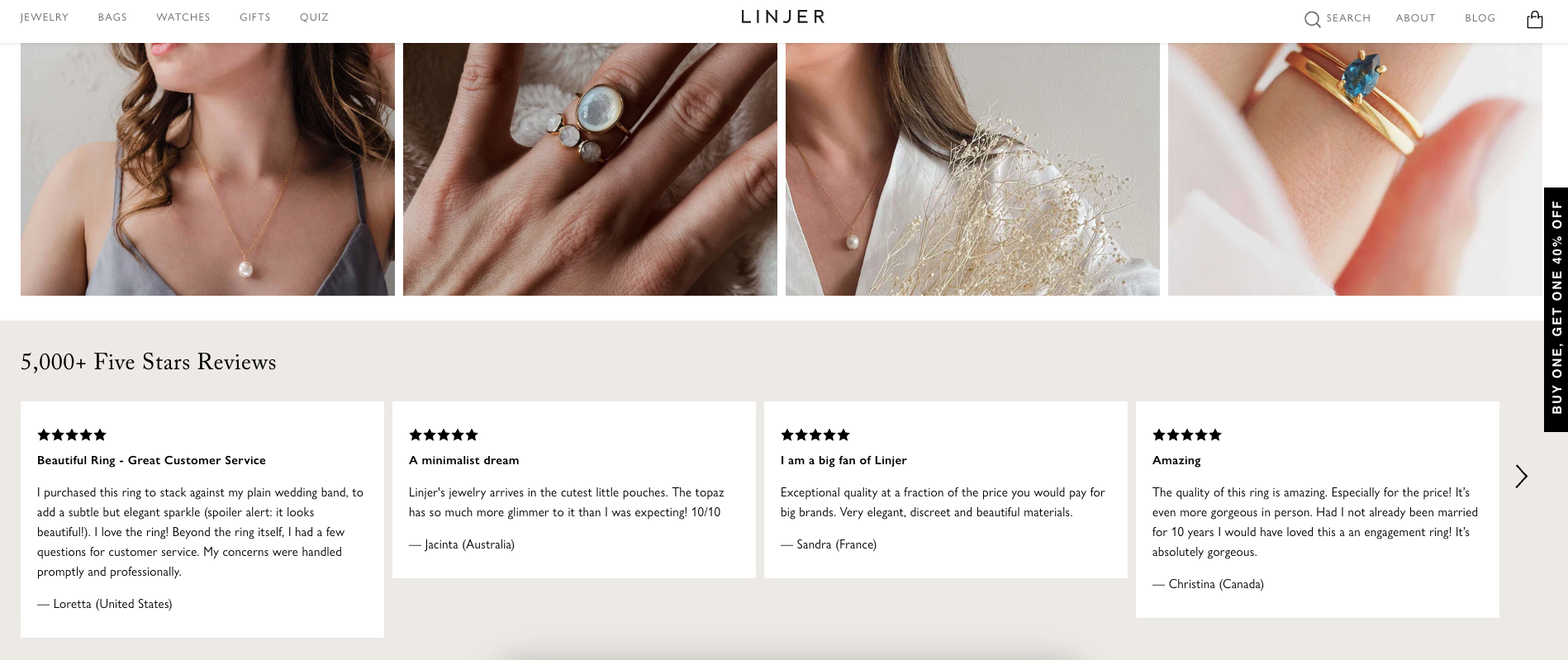 Most brands place reviews on product pages to convince potential customers to make a purchase. Reviews usually go below the product details so brands can communicate the necessary information before customers read their reviews, though some brands use one of their best reviews near the top of the page to get their attention before they scroll further. Some brands also feature their best reviews on their homepage and about page to increase visibility.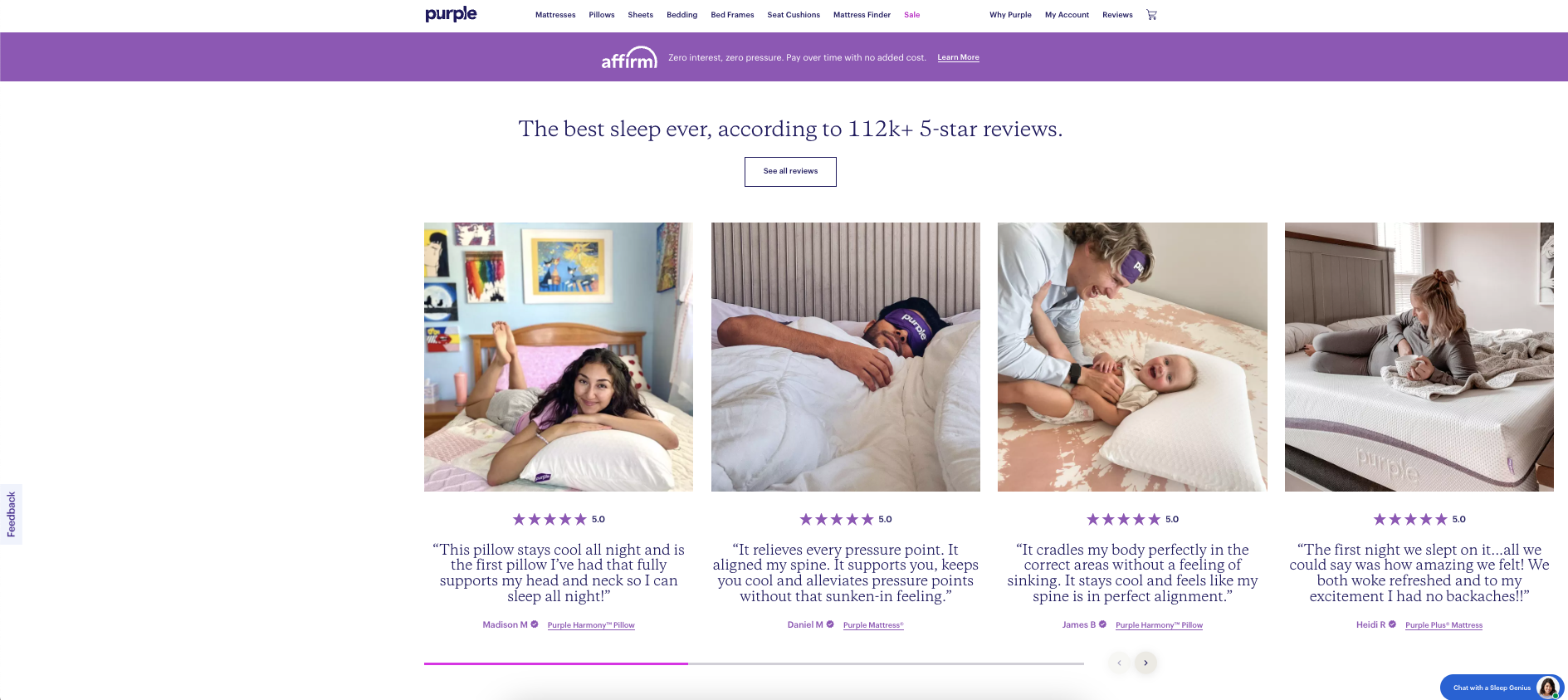 With Stamped, brands can create a dedicated reviews landing page where customers get a complete overview of their product and site reviews without needing to navigate to a specific product page. Stamped also offers different types of review widgets like carousels, side drawers, and badges so brands can showcase their reviews anywhere on their website. These widgets help brands nurture customers throughout their buyer's journey and drive more purchases.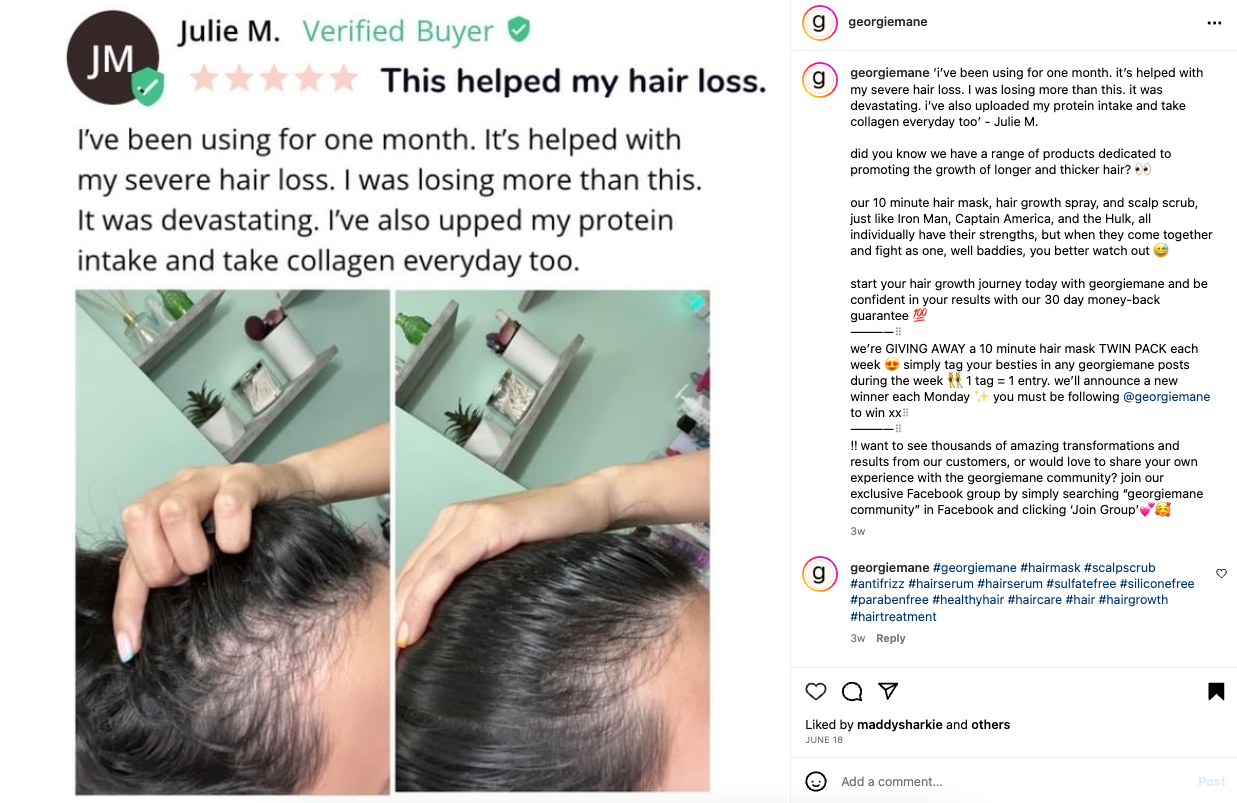 Reviews can also be used in advertising campaigns to encourage customers to visit their website and make a purchase. User-generated content like reviews can be more effective than brand-created assets: 79% of customers say user-generated content highly impacts their purchasing decisions and 31% of customers say ads that feature UGC are more memorable than ads without. Brands can include customers' photos and videos and use the review itself in their ad copy. They can link the ad to the specific product being reviewed to create a more seamless shopping experience for the customer.
💡 Discover why brands need user-generated content to drive acquisition, sales, and retention.

Brands also need to recycle reviews into marketing content for social media, blogs, and emails. Similar to ad campaigns, brands can reshare customers' photos and videos with their social followers. They can include some of their favorite reviews in a blog post or an email blast to promote specific products. Brands can even incorporate reviews into their abandoned cart workflows to convince customers to complete their purchase. Finally, with Stamped, brands like Treehut can turn reviews into social banners and shoppable visual galleries, where customers can see and shop from other customers' content from their own social feeds without needing to navigate back and forth. This reduces friction and leverages the power of social proof to drive sales.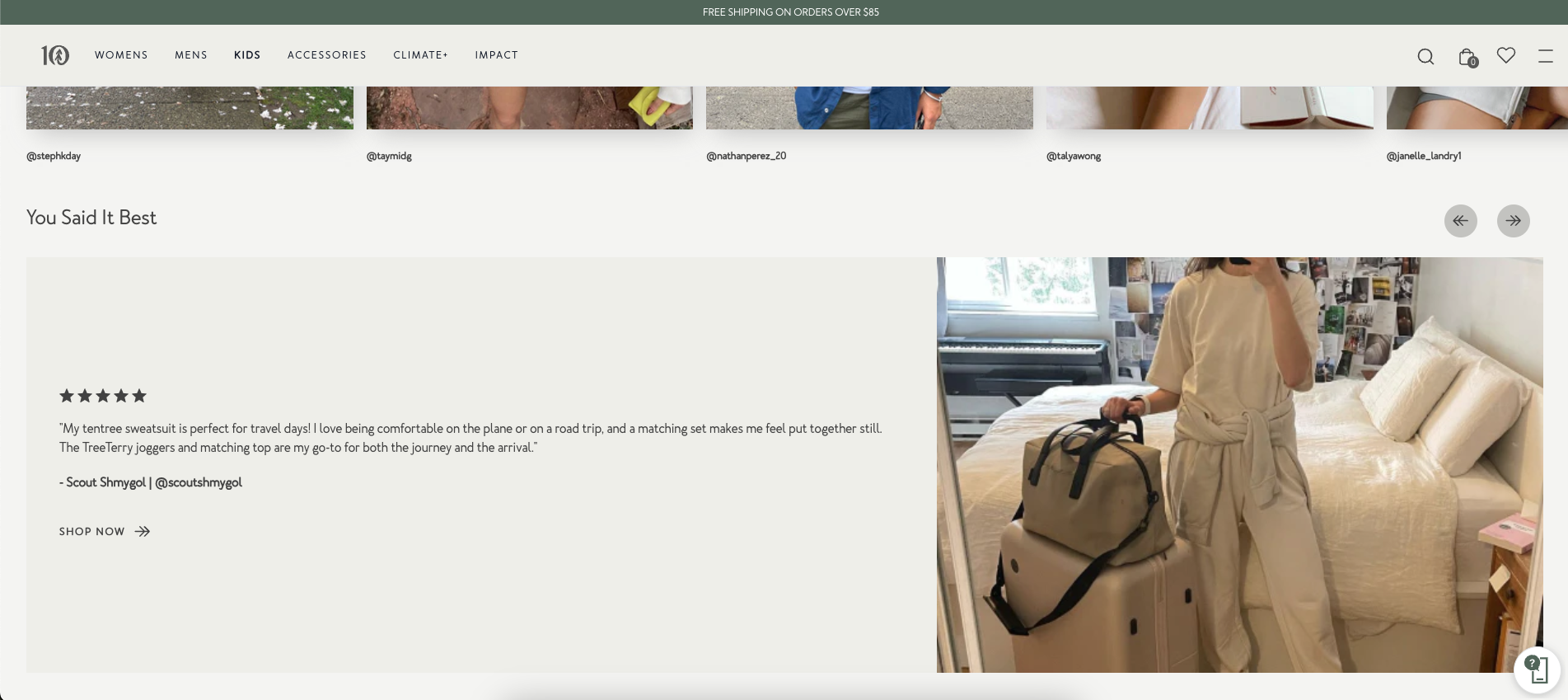 Lastly, brands can use reviews as an opportunity to talk directly with customers and build deeper connections with them. They should reply directly to thank customers for leaving a great review and offer a bonus reward to those who leave multiple reviews. Not replying to reviews increases a brand's churn risk by 15%, while customers spend 49% more with brands who reply to reviews compared to those who don't. Brands should also consider asking for testimonials to solidify their relationship with their best customers and potentially turn them into brand advocates. Reviews can be an opening line to an ongoing conversation with customers who genuinely care about the brand.
How to use negative customer reviews
Brands are often tempted to ignore or even remove negative reviews to appear perfect and avoid calling attention to criticism. However, this can actually negatively impact their reputation and customer trust, leading to decreases in sales and conversions. 95% of customers are suspicious of a brand's credibility if it doesn't have any negative reviews and 82% of customers actively seek out negative reviews. Furthermore, "the likelihood of purchase peaks at a star rating of 4.0 to 4.7, then decreases as the rating gets closer to 5.0".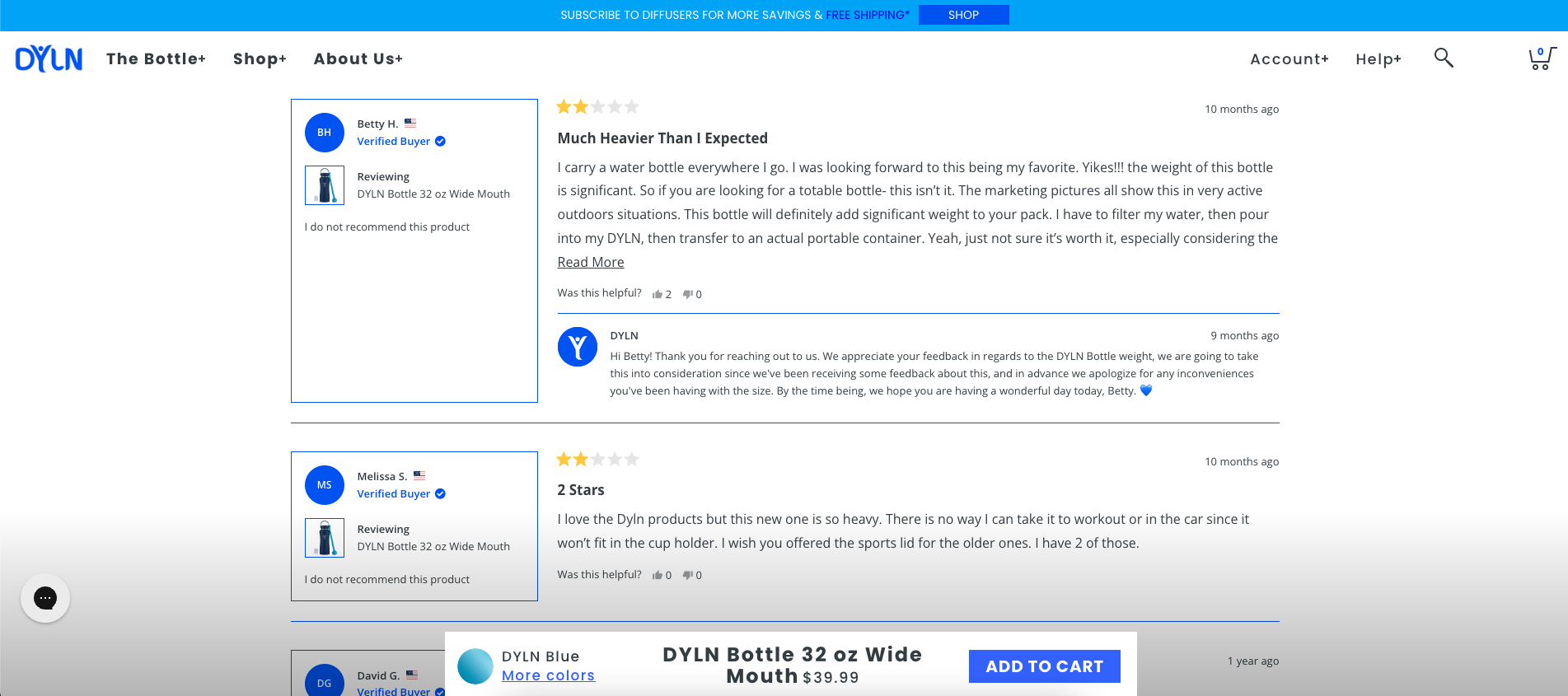 The best way to use negative reviews is to treat them as a feedback loop and an opportunity to communicate directly with customers. Brands should respond to negative reviews as soon as possible to demonstrate trustworthiness, reliability, and authenticity. When possible, they should offer solutions or ask for more information, then take the conversation to a direct message or email.
Brands can also use negative reviews to identify recurring issues like faulty products and poor packaging. They should address these common problems and/or issue resolutions with their entire customer base, such as through an email or a social post, so customers know they're being seen and heard. This typically strengthens a brand's reputation and increases customer trust. Customers feel more confident about making a purchase because they know the brand will address any issues they might encounter in the future.
Lastly, some brands may even go out of their way to highlight negative reviews to help customers decide whether their product is right for them. For example, a haircare brand might use negative reviews to emphasize that their products are best suited for curly hair, not straight hair. This helps brands appear more honest and reduces the chances of similar negative reviews in the future.
Collect, curate, and leverage customer reviews with Stamped
Reviews are key to building customer trust and brand credibility, giving customers the confidence they need to make a purchase. Brands need to not only collect reviews but to create and optimize a strategy for how to use them. This can include social content, advertising campaigns, and customer communications. A dedicated reviews strategy will boost a brand's reach, engagement, sales, and retention.
With Stamped, brands can easily collect and leverage customer reviews. They can send review requests, display reviews in various areas of their website, and turn reviews into marketing content like shoppable galleries and smart banners. Book a demo with one of our sales reps to learn how.
Trust Builds Brands
Sign up to see how Stamped can help your Ecommerce brand drive growth and awareness.
Sign Up Free