Announcement | May 18, 2023
Introducing Stamped Loyalty 2.0: What it means for ecommerce brands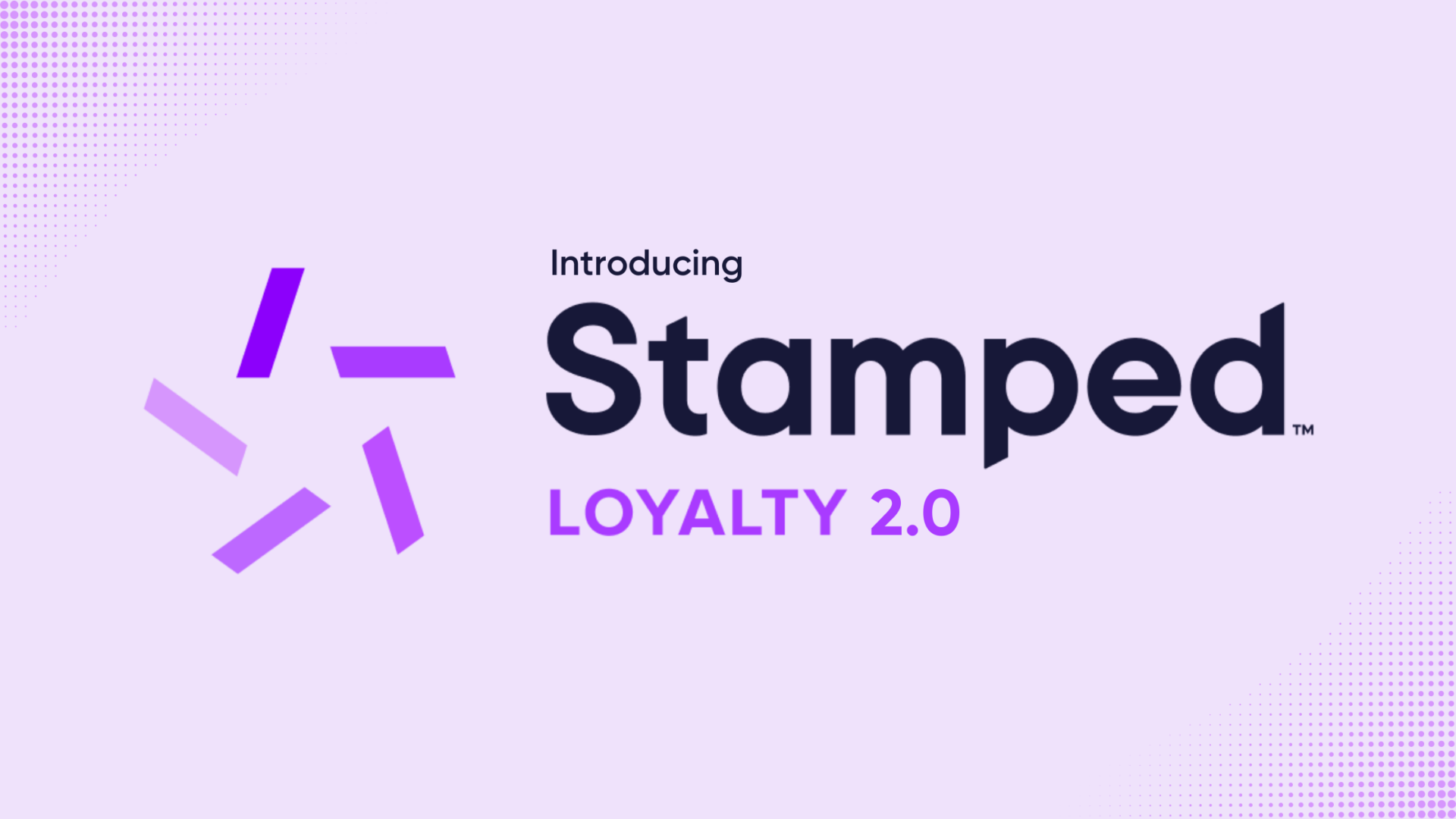 Today at Stamped, we're announcing our biggest update yet: Loyalty 2.0.
We've rebuilt our loyalty product from the ground up and we're excited to introduce a new set of tools to help you create amazing loyalty experiences for your customers.
📢 No action required: While Loyalty 2.0 will introduce significant new functionality for program setup and on-site widgets, it will have no impact on your existing setup or settings upon release. The main difference you'll see immediately following release is an upgraded Stamped Dashboard experience.
Over the past year, we've seen ecommerce brands move their primary focus from acquisition to conversion and retention. Driven by a combination of an uncertain advertising environment and a return to normalcy after the COVID-fueled ecommerce boom, brands placing a priority on site conversion and incentivizing repeat business have been rewarded with sustainable growth and improved profitability. Loyalty 2.0 is our next step in supporting brands as they build their overall retention strategy.
With Loyalty 2.0, you can look forward to:
A simpler, faster, and more intuitive dashboard that's optimized for desktop and mobile users
Custom iconography and other tools for creating an on-brand loyalty experience
Additional rule options for tailoring your program to you and your customers' needs
Expanded V3 API for brands adding custom functionality (Note: There will be no impact to V2 API functionality or support at this time)
Here's a sneak peek at the new Dashboard - we will be rolling out the new Dashboard experience to existing accounts throughout June and July.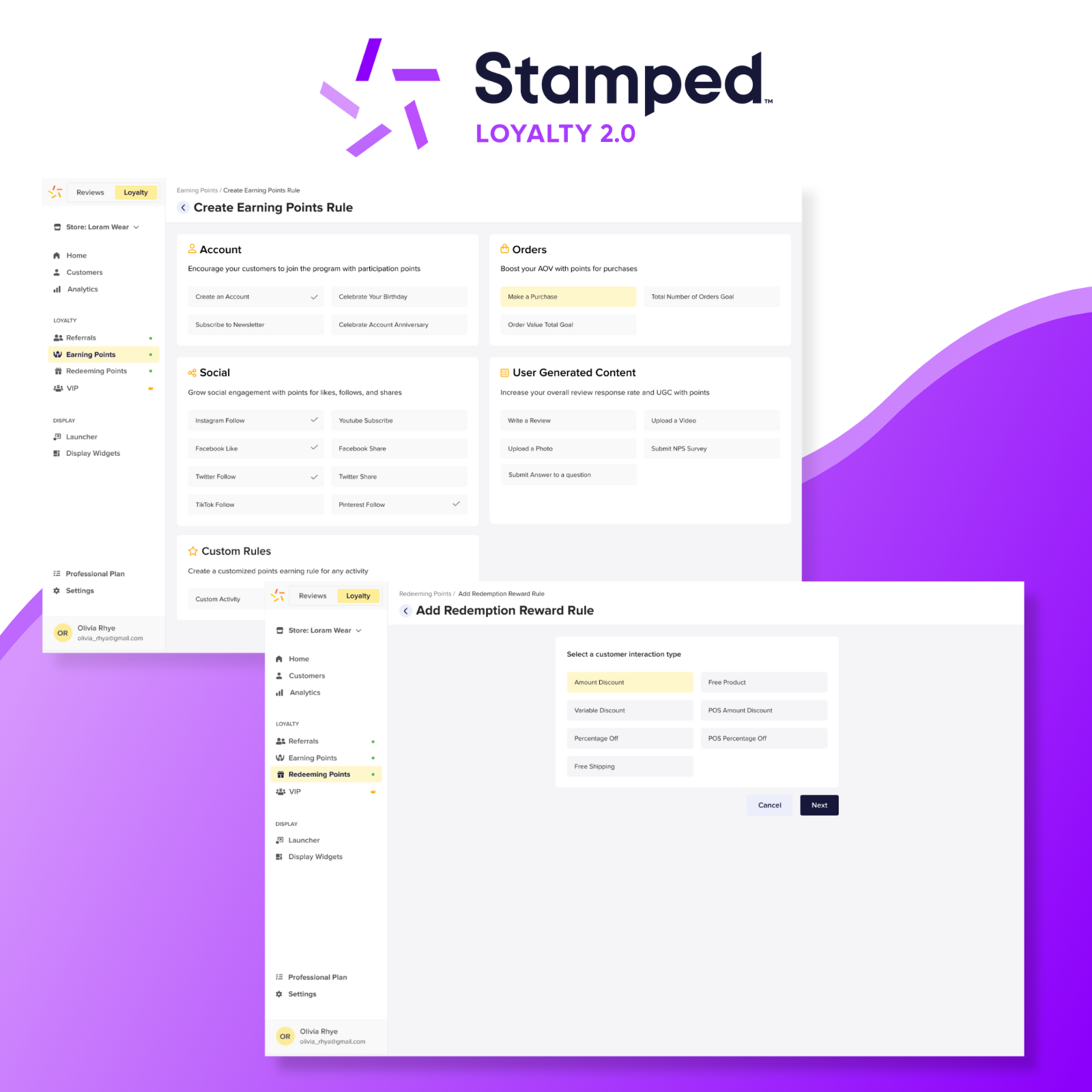 What's new in Loyalty 2.0?
Here's an overview of everything you can look forward to:
Upgraded dashboard experience & improved navigation
The new Stamped Loyalty Dashboard has been fully redesigned with UX best practices in mind. From navigating the menu bar to creating new program rules to adding new VIP tiers, it will be easier than ever to set up and optimize your loyalty program.
Custom icons to keep your storefront experience on-brand
You can now customize your icons on your dedicated Loyalty landing page and in your on-site Loyalty launcher. Maintaining consistent branding across your storefront drives a better customer experience and results in both higher conversion rates and increases in returning customers.
Mobile-friendly design
We know that 14% of users access the Stamped Dashboard from their phones. If this is you, you'll now be able to complete your work in Stamped from your mobile device with our optimization improvements.
Expanded points & earning rules
We've expanded points and rewards functionality by making settings easier to access. We've also added new rule conditions where you can reward customers for purchasing specific products or reaching a minimum order amount. This helps you generate interest in new releases, gain better control over profit margins, and drive sales of select inventory.
Need inspiration? Here's some examples of how to use these new rule conditions:
Apparel brands limiting their free shipping reward to accessories that don't cost very much to ship, making it easier on their budgets
Beauty brands limiting their $20 off reward to customers who spend $50 or more in a single purchase, preserving their profit margins
Supplement brands limiting their free collagen gift-with-purchase to customers who purchase protein powder, driving personalized journeys and future purchases
VIP tier improvements
VIP programs can drive a 1.8x increase in ROI and a 2.1x increase in average order value, generating more value for you and your customers. Creating, editing, and updating your program tiers is now easier with custom icons and improvements to the referral coupon functionality.
When can I expect to see the changes?
We will be rolling out Loyalty 2.0 to existing accounts throughout June and July. You'll be notified 7 to 10 days in advance, so keep an eye on your inbox. No action is required from your side - you do not need to update or change anything.
Why are we making this update?
Major shifts in the ecommerce landscape have brought the importance of both site conversions and customer lifetime value into greater focus over the last 12 months. At Stamped, we believe we can best support brands through a flexible, customizable Loyalty offering that can be tailored to their specific industry, brand values, and product categories.
While our initial Loyalty 2.0 release will bring exciting changes to our Dashboard with upgraded customizability and increased controls, we're most excited about what this foundation will bring in the second half of 2023:
Full no-code storefront customization for all Loyalty elements
New and upgraded tech partner integrations across point-of-sale, subscription, and mobile apps
Major innovations in our referral offering to power new business
We can't wait to share more information in the coming months.
Questions? Connect with our team.
We understand you may have additional questions about which changes will impact you. For further clarity, we will share a detailed breakdown of exactly what to expect when your shop is switched to Loyalty 2.0 in June or July. You can also reach out to our support team or get in touch with your Customer Success Manager for additional details.
Trust Builds Brands
Sign up to see how Stamped can help your Ecommerce brand drive growth and awareness.
Sign Up Free