Announcement | Jul 14, 2023
Stamped Loyalty 2.0: What's New in VIP Tiers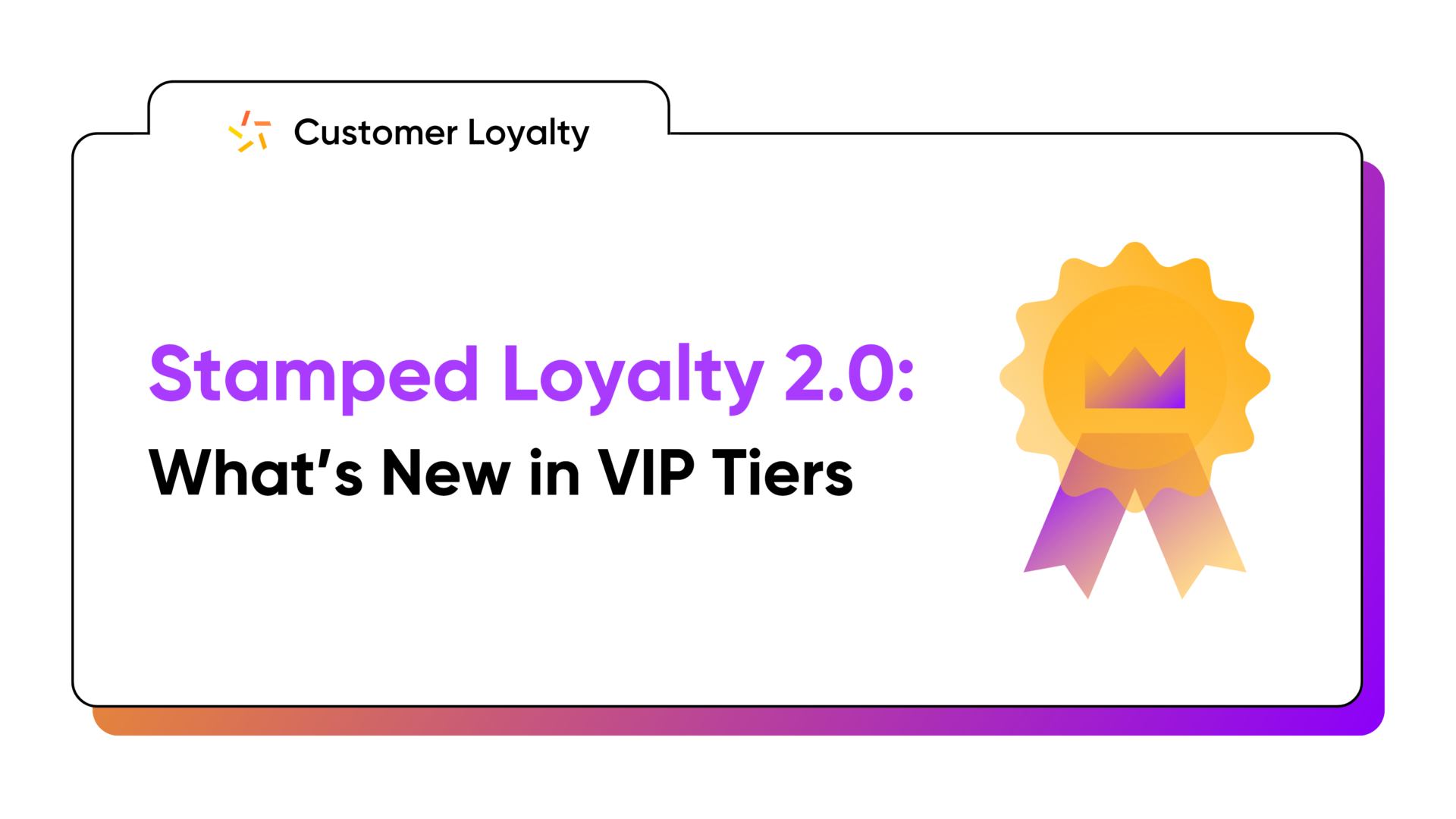 Two months ago, we announced our biggest update yet: Loyalty 2.0.
We've rebuilt our loyalty product from the ground up and we're excited to introduce a new set of tools to help you create amazing loyalty experiences for your customers. Today, we'll be providing a more detailed look at how Loyalty 2.0 will enhance your VIP program.
📢 No action required: While Loyalty 2.0 will introduce significant new functionality for program setup and on-site widgets, it will have no impact on your existing setup or settings upon release.
For a complete overview of what's new in Loyalty 2.0, check out our previous announcement for more information.
What's new in Loyalty 2.0?
In addition to an upgraded dashboard experience, improved navigation, and better mobile optimization, we've added more functionality to help you customize your loyalty program and VIP tiers to fit your brand's goals.
Increased controls for tier entry conditions
Whether you're looking to segment your VIP tiers by the number of points earned, amount spent, or purchases made, Stamped now offers all three options to help you better tailor your program toward your goals. Boost program engagement by asking customers to earn more points, increase average order value by asking them to spend more, or drive repeat purchases by asking them to buy more frequently - the choice is yours.
Increased flexibility for tier perks & rewards
Get specific with how you'd like to reward customers and make each VIP tier stand out by creating unique earning, redemption, and custom rules. Offer incremental value that motivates customers to move up through your loyalty program's VIP tiers to increase lifetime value and retention rates.
Need inspiration? Here's some examples of what you could do:
Earning: Reward your Platinum customers with two points for every dollar they spend, then increase the reward by one point as they move up to a higher tier
Redemption: Curate a collection of free products for your Silver customers to spend their points on, then offer increasingly valuable gifts as they move up to a higher tier
Custom: Provide early access to upcoming sales, new releases, and product testing opportunities for your Gold customers to make them feel more valued
Increased control for tier timing restrictions
Encourage your customers to engage with your loyalty program and don't let their points go to waste. Maintaining a low breakage rate is key to running a successful, revenue-generating loyalty program. You can now get more specific with tier terms and qualification periods to ensure customers have time to take advantage of all the amazing VIP benefits you have to offer. Boost engagement and reduce breakage rates with these precise controls.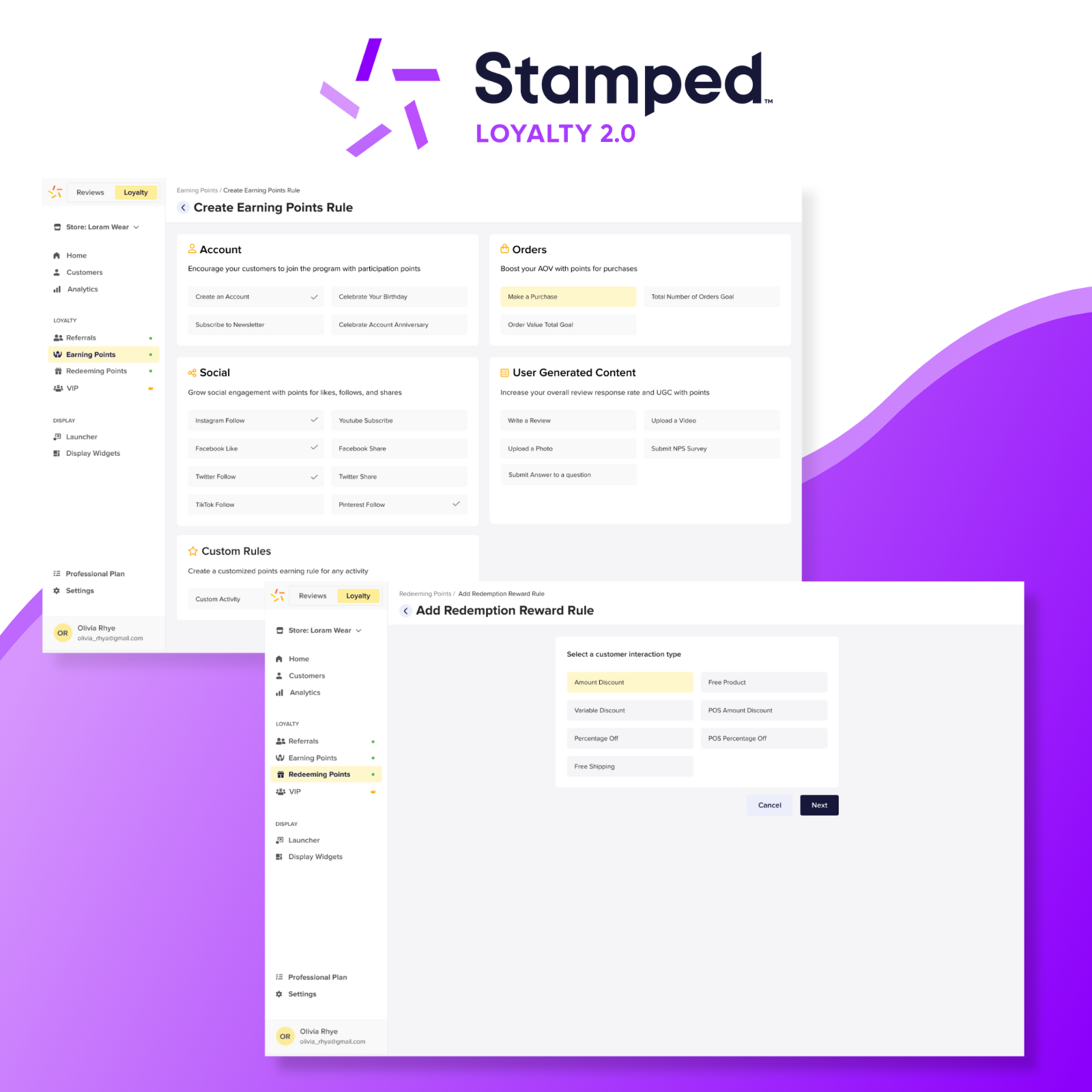 Why are we making this update?
Major shifts in the ecommerce landscape have brought the importance of both site conversions and customer lifetime value into greater focus over the last 12 months. At Stamped, we believe we can best support brands through a flexible, customizable Loyalty offering that can be tailored to their specific industry, brand values, and product categories.
While our initial Loyalty 2.0 release will bring exciting changes to our Dashboard with upgraded customizability and increased controls, we're most excited about what this foundation will bring in the second half of 2023:
Full no-code storefront customization for all Loyalty elements
New and upgraded tech partner integrations across point-of-sale, subscription, and mobile apps
Major innovations in our referral offering to power new business
We'll be sharing more information in the coming months - look out for future announcements!
Benefits of VIP tiers
If you don't already have VIP tiers in your loyalty program, here are five reasons why you should:
Creates insight-driven user segments: Identify and build strategies for both high-risk and high-value customers, then optimize your program to meet your target KPIs
Informs customer personalization strategies: Reward your customers according to their level of dedication with tailored experiences, increasing chances of conversion
Boosts customer acquisition and retention: Give customers a reason to choose and keep engaging with your brand by offering bigger and better benefits
Drives sales and engagement: Create a sense of exclusivity and incremental value to encourage customers to make repeat purchases
Strengthens customer relationships and brand advocacy: Show appreciation for your most loyal customers and develop a powerful emotional connection
And if you still aren't convinced, keep this in mind: loyalty programs with tiers are reported to result in a 1.8x higher ROI and a 2.1x higher AOV compared to loyalty programs without.
💡Check out this article for a detailed deep-dive into why brands need to have a tiered loyalty program.
Best practices for VIP tiers
If you're new to running a VIP program and aren't sure where to start, here are some tips for how to make the most of the features available in Loyalty 2.0:
Keep it simple, attainable, and valuable: Be careful about creating a VIP program that's too complicated, too difficult, or too boring. Start simple with a few amazing ideas, then gradually expand your program over time. This will keep things fresh for your customers and easy to manage for your team. With Stamped, adding, customizing, and launching new program rules only takes a few clicks of a button.
Create on-brand content and personalized experiences: Stand out from your competitors and make your program memorable with custom branding. Stamped gives you the option to personalize your program, points, and VIP tier names. You can also upload custom icons, add liquid variables to your emails, and design your program widgets to perfectly suit your brand's look and feel.
Offer non-monetary and experiential rewards: Customers don't always want to make another purchase or earn another discount no matter how much they love your brand. Consider rewarding them for leaving reviews and referring friends, or offering early access and event invites. With Stamped, you can easily set up custom activities and include custom rewards that satisfy your customers' needs.
Monitor and improve program performance: Data helps enrich your marketing efforts and makes sure that both you and your customers are getting the most out of your VIP program. Stamped's analytics dashboard can help you learn more about your customers and inform your strategies for optimizing sales, engagement, retention, and lifetime value.
💡 Check out this article to see how Stamped customers like Kitsch, Lilac St., and more are putting loyalty best practices to work.
​​Questions? Connect with our team.
If you have any additional questions about how VIP tiers work or Loyalty 2.0 in general, including how it will impact your existing loyalty program with Stamped, please reach out to our support team or get in touch with your Customer Success Manager so we can help you make the most of this exciting new update.
Trust Builds Brands
Sign up to see how Stamped can help your Ecommerce brand drive growth and awareness.
Sign Up Free