Announcement | Oct 5, 2023
Stamped Loyalty 2.0: What's New in Analytics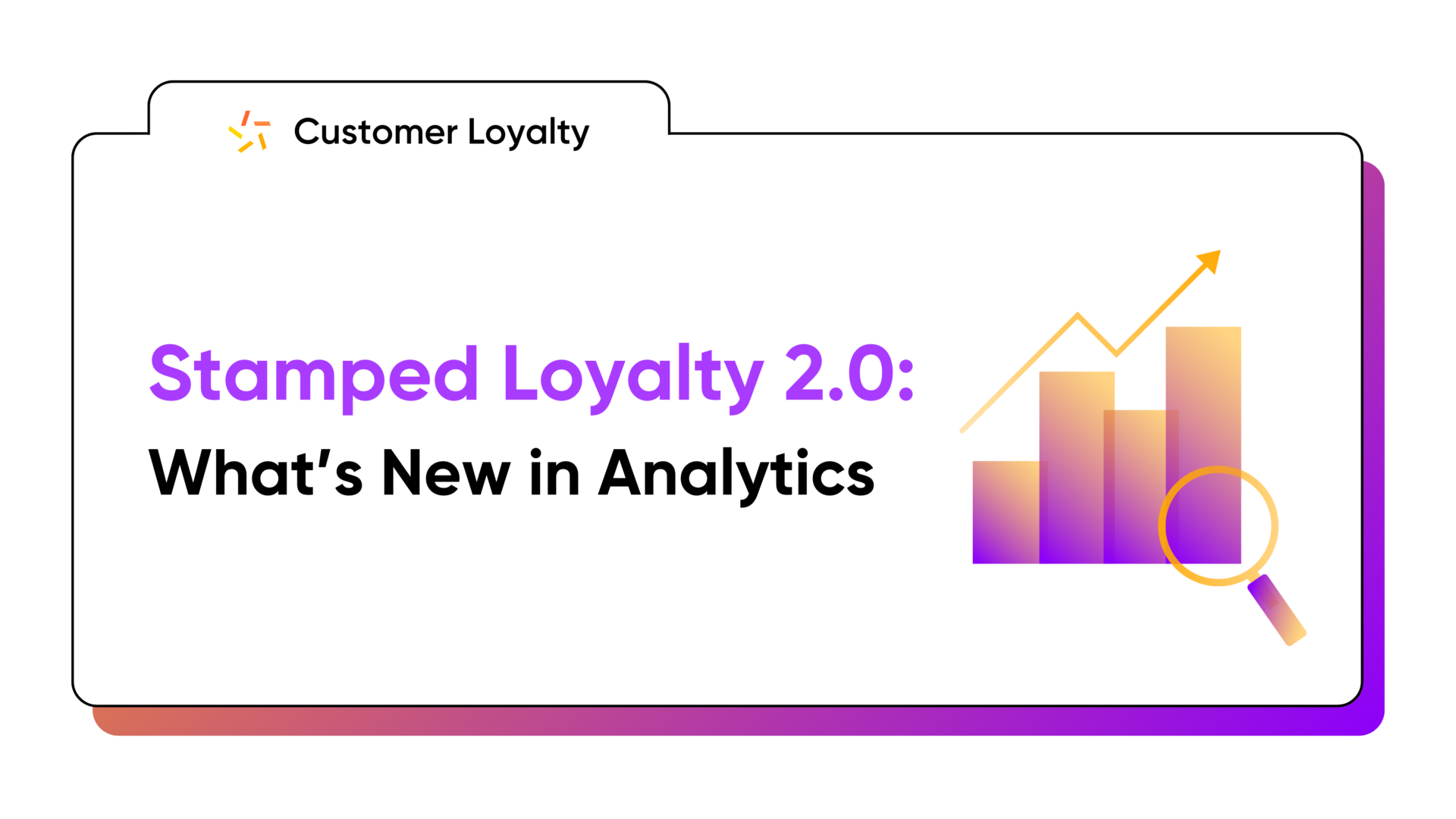 Earlier this year, we announced our biggest update yet: Loyalty 2.0.
We've rebuilt our loyalty product from the ground up and we're excited to introduce a new set of tools to help you create amazing loyalty experiences for your customers. Today, we'll be providing a more detailed look at our brand-new Analytics dashboard and how it will help you better measure and optimize the success of your loyalty program.
📢 No action required: While Loyalty 2.0 will introduce significant new functionality for program setup and on-site widgets, it will have no impact on your existing setup or settings upon release.
For a complete overview of what's new in Loyalty 2.0, check out our previous announcement for more information.
What's new in Loyalty 2.0?
In addition to Stamped Loyalty 2.0's upgraded experience, improved navigation, and better mobile optimization, we've revamped our analytics dashboard to help you track your results, measure your program's effectiveness, and optimize your retention strategy.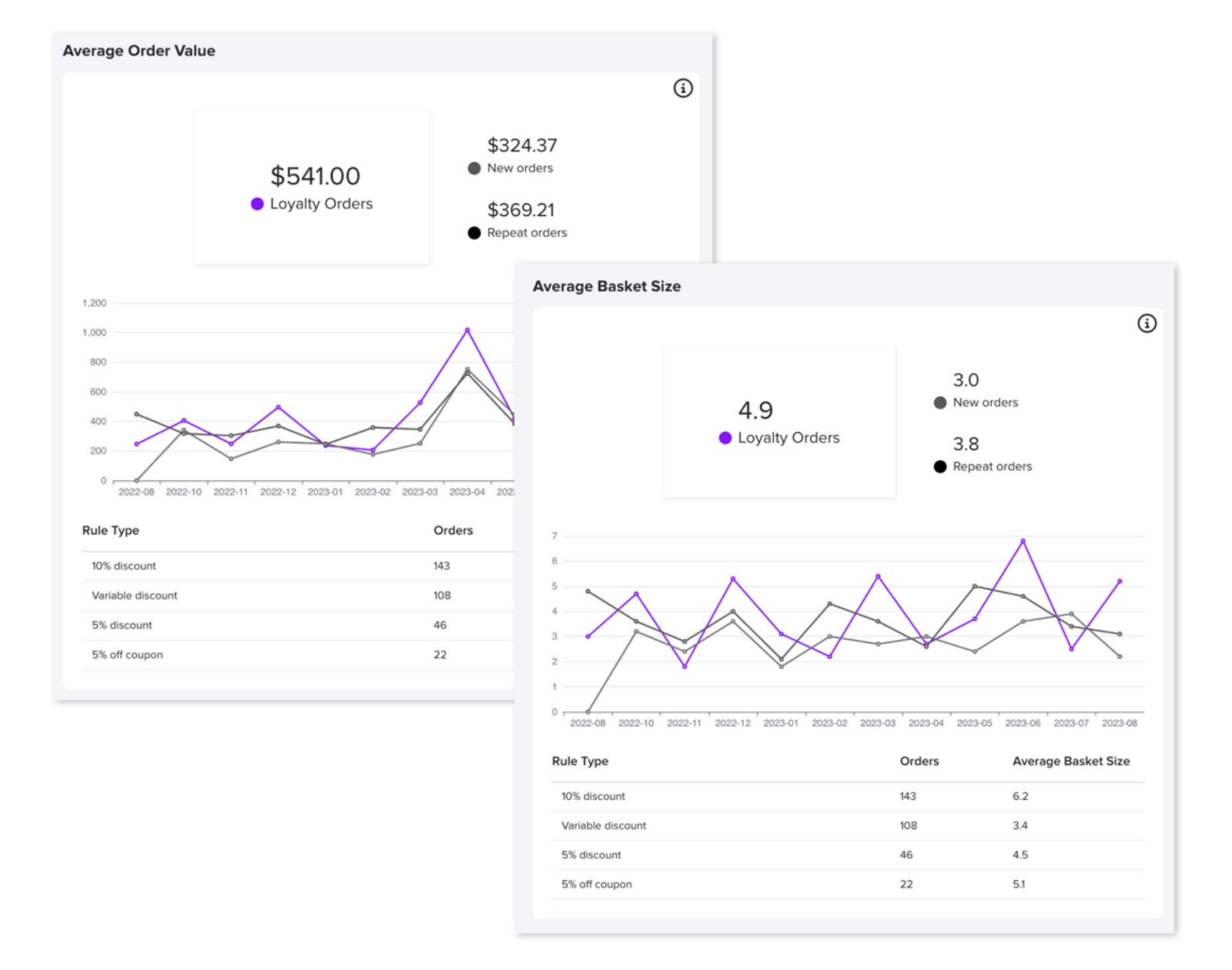 Program Performance
In the Performance section of your Analytics dashboard, you will be able to review the performance of your loyalty program and gain insights into its overall results and outcomes to measure your return on investment (ROI). This will help you determine your loyalty program's effectiveness and success, as well as identify areas of improvement.
Loyalty Program Revenue
This graph shows trends in loyalty-attributed revenue over time, meaning your net revenue (after discount) of purchases made with loyalty points, VIP redemptions, or referrals. It also identifies your best Revenue Sources, which are your top-performing Points & Rewards rules.
Average Order Value & Average Basket Size
Average order value (AOV) is your total revenue divided by your total number of orders, while average basket size is the number of products purchased by a customer in a single transaction. These graphs track the average order value and average basket size of new orders, repeat orders, and orders with a loyalty redemption. You will also be able to identify which program rules drive the highest average order value and largest basket size.
Loyalty Revenue as a % of Total
This graph shows the total percentage of loyalty-attributed revenue, meaning purchases made with point redemptions, VIP tiers, and referrals.
Repeat Rate
This graph shows the percentage of customers who have made more than one purchase. Repeat rate is also known as customer retention rate.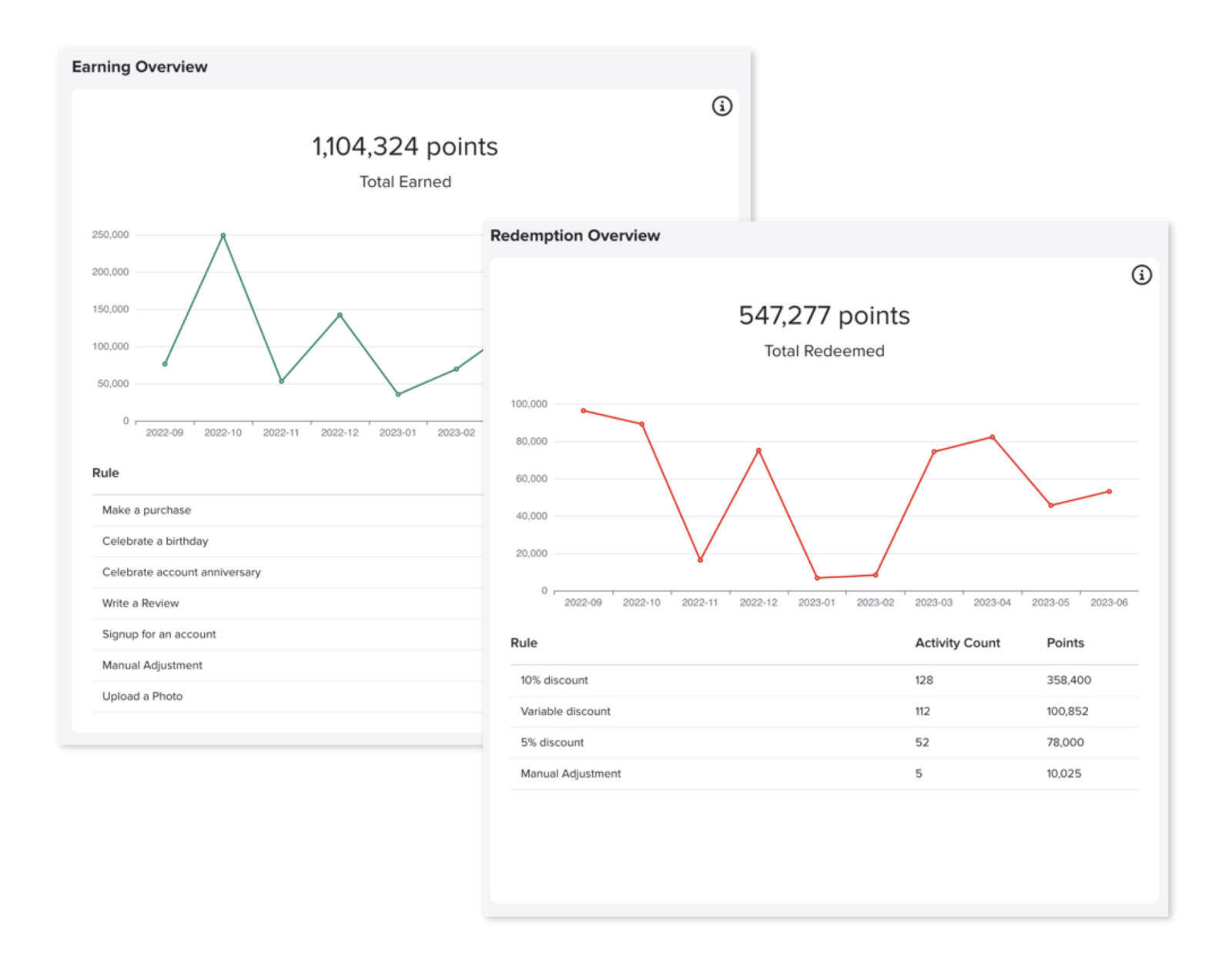 Program Health
In the Program Health section of your Analytics dashboard, you will be able to get an in-depth analysis of the health of your loyalty program and its effects on your business. This will allow you to gain valuable insights and make data-driven decisions to drive growth and improve customer engagement.
Points Overview
This graph shows your overall loyalty program activity and health by volume of points earned, points redeemed, and point balances. You can use this graph to calculate your points breakage rate, which is the number of points earned divided by the number of points redeemed.
Earning & Redemption Overviews
Earning Overview shows the total number of points earned by customers and highlights which program activities result in the most points earned. Redemption Overview shows the total number of points redeemed by customers and highlights which program rewards result in the most points redeemed.
New Customers
This graph shows the total number of customers who have created loyalty program accounts.
Why are we making this update?
Major shifts in the ecommerce landscape have brought the importance of both site conversions and customer lifetime value into greater focus over the last 12 months. At Stamped, we believe we can best support brands through a flexible, customizable Loyalty offering that can be tailored to their specific industry, brand values, and product categories.
While our initial Loyalty 2.0 release will bring exciting changes to our Dashboard with upgraded customizability and increased controls, we're most excited about what this foundation will bring in the second half of 2023:
Full no-code storefront customization for all Loyalty elements
New and upgraded tech partner integrations across point-of-sale, subscription, and mobile apps
Major innovations in our referral offering to power new business
We'll be sharing more information in the coming months - look out for future announcements!
Why do you need an analytics dashboard?
Data and customer insights are key to driving more sales and more conversions, regardless of your brand's size, products, and industry. Brands that leverage data-driven marketing are six times more likely to be profitable than those that don't, while optimizing strategies based on data can increase conversion rates by 160% or more.
Here's a quick rundown of the benefits of customer data and business analytics:
Reduces mistakes, assumptions, and overreliance on industry standards, leading to smarter decisions tailored to your brand and your customers
Identifies gaps and opportunities for developing agile marketing strategies that drive consistent revenue growth
Provides insight into purchase intent and customer sentiment, resulting in better experiences that lead to increased conversion and retention rates
Informs personalization efforts and builds stronger relationships, incentivizing customers to make repeat purchases and refer their friends
In short, the Analytics dashboard will help you optimize your loyalty program and make stronger, more well-informed decisions, leading to increased acquisition, conversion, and retention rates.
💡Check out this article to learn best practices for leveraging customer insights, including strategies for other ways to collect data in every stage of the funnel.
How can you use your analytics dashboard?
If you're new to running a loyalty program or leveraging your program's analytics, here are a few ways to make the most of the information available to you in our Analytics dashboard:
Measure the effectiveness of your loyalty program and its rules: Take a closer look at which program rules drive which desired behaviors and whether they're changing over time. For example, which discount results in the highest average order value, 5% or 10%? Are more customers redeeming points for coupons or free shipping? You should also compare your loyalty orders to new and repeat orders to see if your program is making a significant difference.
Track your loyalty program's trends and opportunities: Look for significant increases and decreases in your loyalty program revenue, repeat rate, and registration rate. For example, is your lifetime value increasing over time? What percentage of customers are coming back to make more than one purchase? How many new customers joined your loyalty program this month compared to last month? You can use this information to iterate your program and make it more valuable for both you and your customers.
Identify and correct issues affecting your loyalty program's performance: Notable drop-offs may indicate that something is wrong with your program or one of your program's rules. For example, has the number of new customers declined significantly over the past few months? Did your 10% discount go from your best-performing redemption rule to your worst? Our new Analytics dashboard makes it easy to spot any program issues that need troubleshooting.
💡Looking for examples of brands driving significant growth with Stamped Loyalty? Check out our case studies on Kitsch, Lilac St., and Georgiemane.
​​Questions? Connect with our team.
If you have any additional questions about our newly revamped Analytics dashboard or Loyalty 2.0 in general, including how it will impact your existing loyalty program with Stamped, please reach out to our support team or get in touch with your Customer Success Manager so we can help you make the most of this exciting new update.
Trust Builds Brands
Sign up to see how Stamped can help your Ecommerce brand drive growth and awareness.
Sign Up Free