Customer Retention | Jul 21, 2023
Why Brands Need User-Generated Content To Drive Sales & Retention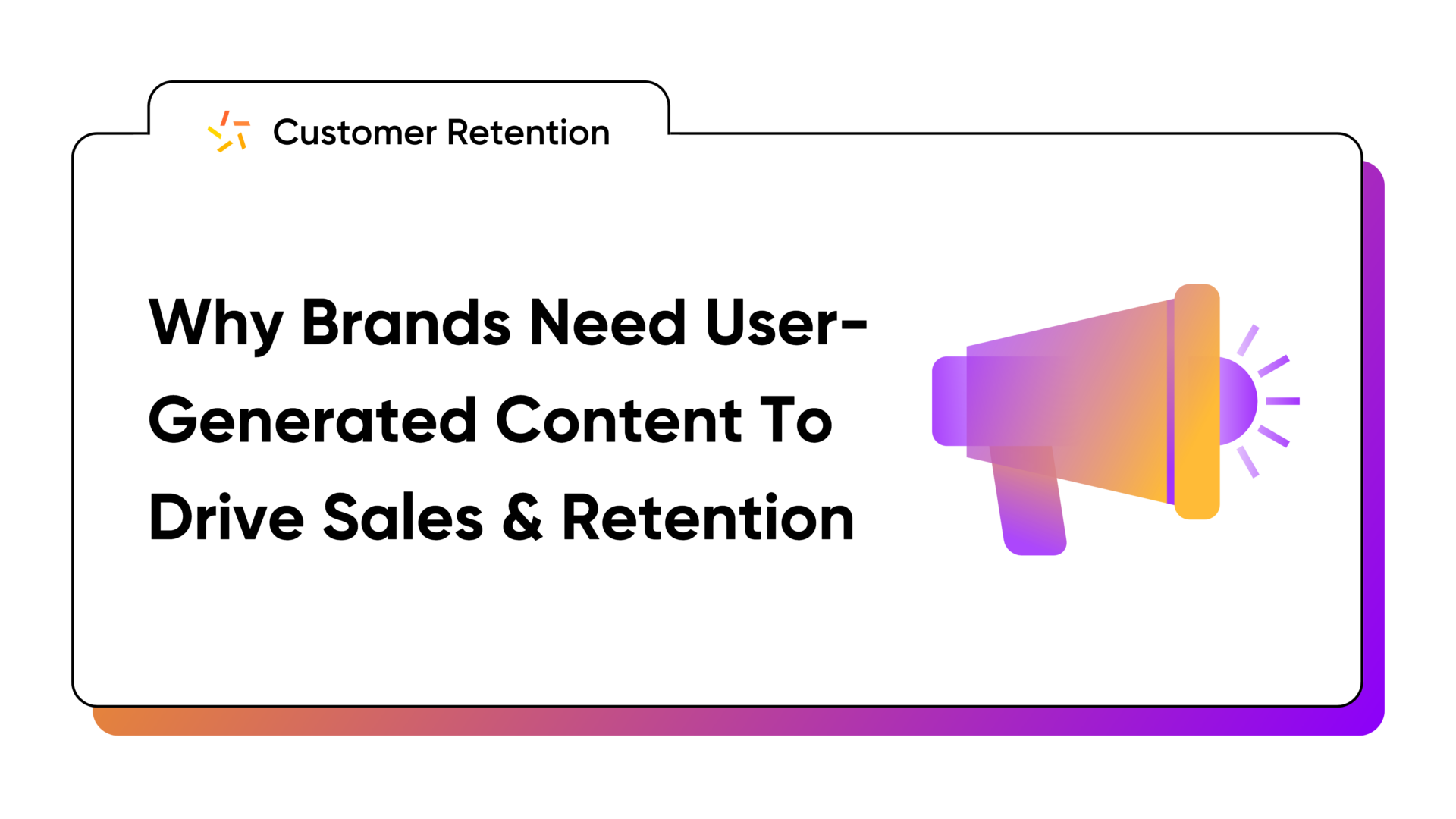 With costs rising and budgets shrinking, ecommerce brands are finding it more difficult than ever to create content that drives engagement and sales. Planning, executing, and promoting valuable content takes time, resources, and money that many brands, especially small businesses, just don't have. However, there is one long-term solution that brands need to consider: user-generated content.
By collecting, curating, and sharing user-generated content, brands can build better relationships with their customers. This leads to more engagement, more purchases, and more referrals, as well as increased awareness and loyalty. 79% of consumers say user-generated content highly impacts their purchasing decisions and find it 9.8x more impactful than influencer content. Why and how should brands leverage user-generated content to boost sales and retention?
What is user-generated content?
User-generated content (UGC) is any type of content about a brand that wasn't created by the brand itself. This can include photos, videos, reviews, or even more long-form content like blogs and podcasts. UGC is typically shared on social media and other marketing channels, such as product pages and newsletters.
The majority of user-generated content is created by a brand's customers, whether it's leaving a review on their website, posting an unboxing video on YouTube, or spreading the word on social media. Brand advocates are a subset of customers who are especially loyal and frequently talk about the brand without prompting. This sets them apart from influencers, who are paid to promote brands, usually over a relatively short and specific period of time. Lastly, user-generated content can also be created by a brand's employees. While brands often create employee-centric content, such as interviewing them about their roles or showing them on the job, employees can also independently create their own. For example, a beauty brand employee might post a video of their makeup routine featuring their employer's products on their own social media accounts.
Benefits of user-generated content
Improves brand awareness and recall
The ecommerce landscape is becoming increasingly crowded, with more and more brands popping up every day. This makes it unlikely for customers to see and remember specific brands, and even less likely that they'll be interested enough to engage and convert. This issue is also heightened by the sheer number of marketing campaigns out there, where customers find it difficult to distinguish between different brands, products, and offers.
With user-generated content, customers see people with similar interests sharing their love for a brand, rather than the brand promoting itself. While they might scroll past an Instagram ad featuring a flashy product photo, they may stop to watch a brand advocate talk about why people should buy a specific product. User-generated content gets their attention and improves brand recall: 31% of customers say ads that feature UGC are more memorable than ads without.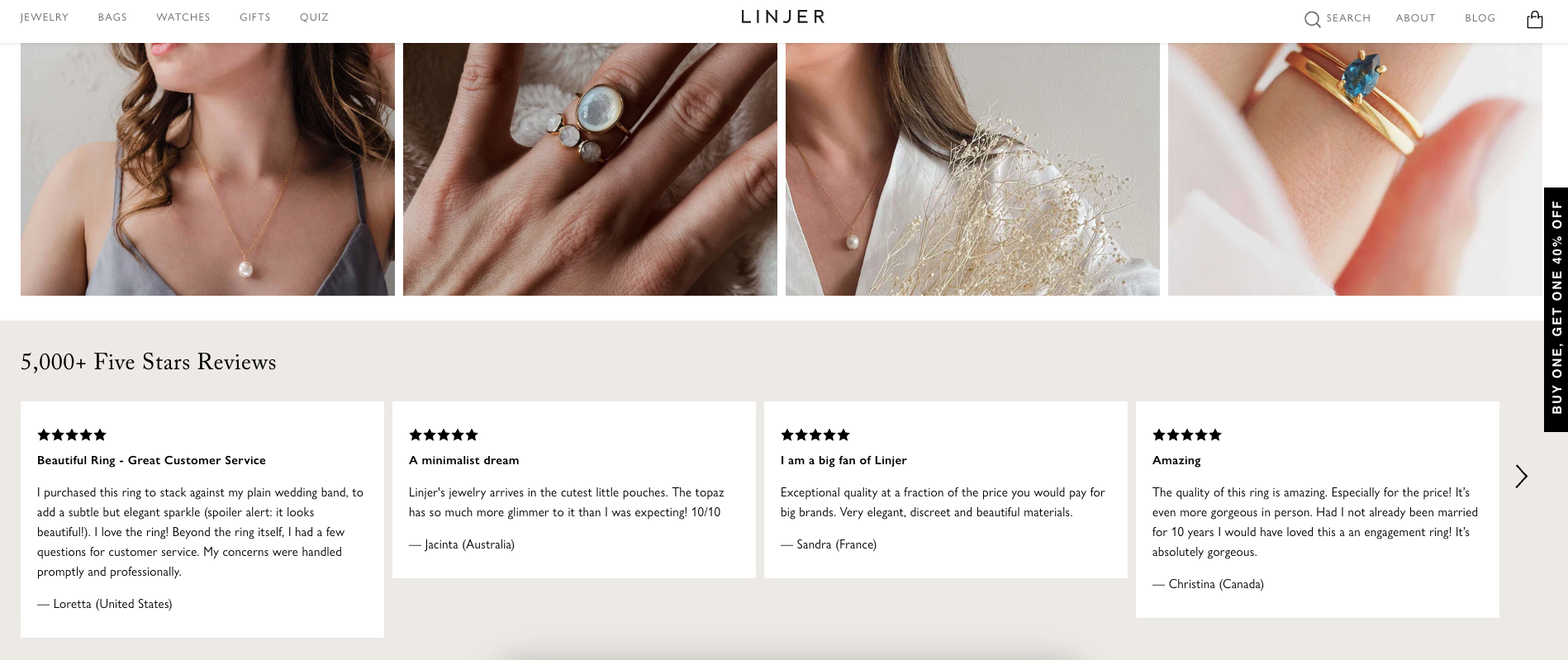 User-generated content also increases a brand's reach organically, where customers share brands and products that their followers might not know about otherwise. Or, while using search terms like "affordable jewelry" and "cruelty-free makeup", they might discover brands that highlight reviews with those specific keywords. For example, Stamped customer Linjer features its best reviews on its homepage with praise like "exceptional quality at a fraction of the price" and "beautiful quality for affordable prices".
Increases consumer trust and authenticity
Today's customers are highly skeptical about brands and their claims, leading to the increased importance of social proof. Also known as informational social influence, social proof is the idea that people model their opinions and behaviors based on those around them in order to fit in with everyone else. In a marketing context, people often ask friends for product recommendations or look to influencers for inspiration. The vast majority of customers also read reviews before making a purchase: almost 100% of customers read reviews while shopping online, while 72% won't take any action until they've read at least one review. Customers trust the opinion of other customers and want to own the same products they do.
User-generated content also creates a sense of authenticity, further increasing consumer trust. UGC is typically perceived as more genuine and spontaneous than a brand's own marketing campaigns, where customers are free to express their opinions and talk about the brands they care about. It's also less polished, making it feel more relaxed and sincere. Consumers are 2.4x more likely to say UGC is authentic compared to brand content, and 75% of marketers believe it feels more authentic than other types of content.
Reduces advertising costs and enriches marketing strategies
Marketing costs are on the rise, with brands constantly competing for ad space, sponsorships, and of course, customers' attention. User-generated content is cost-effective because it often doesn't cost anything. Customers willingly post photos and leave reviews without needing any encouragement from the brand, as they want to share their experiences and connect with others who have similar interests. UGC helps significantly reduce the costs associated with in-house content creation or working with an agency, boosting ROI in return.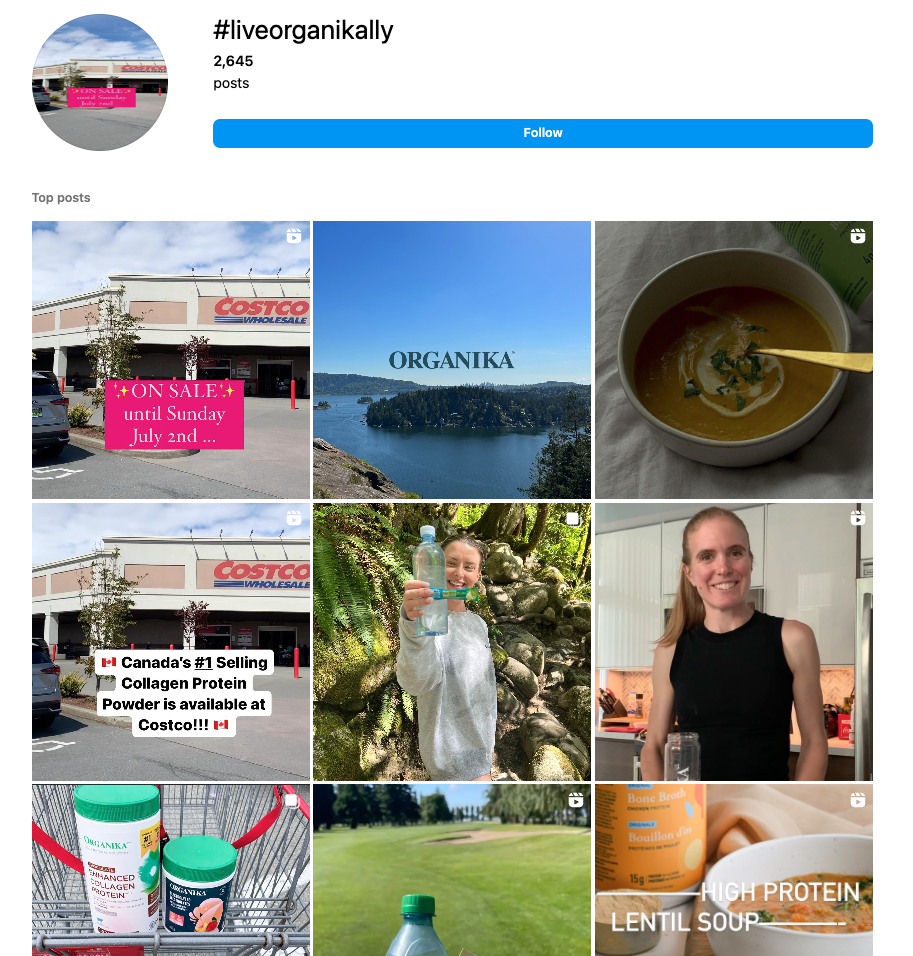 Brands can also run low to no-cost marketing campaigns that encourage user-generated content. For example, they might ask customers to submit a review to enter a product giveaway or request demo videos for the chance to be featured on their Instagram. One of the easiest ways to generate a consistent stream of customer content is by creating a branded hashtag. Stamped customers like Frankies Bikinis and Organika use hashtags to find UGC and leverage it in their marketing content. They can reshare customers' posts, create shoppable galleries, and feature user photos and videos on their product pages to drive engagement and sales.
Drives sales, engagement, and conversions
Heightened awareness, recall, and trust increase the likelihood that customers will make a purchase. Whether they received a recommendation from a friend, looked at product reviews, or watched a video by a brand advocate, user-generated content largely influences customers' purchase decisions. Customers who interact with UGC are 100.6% more likely to convert than those who don't due to the power of social proof.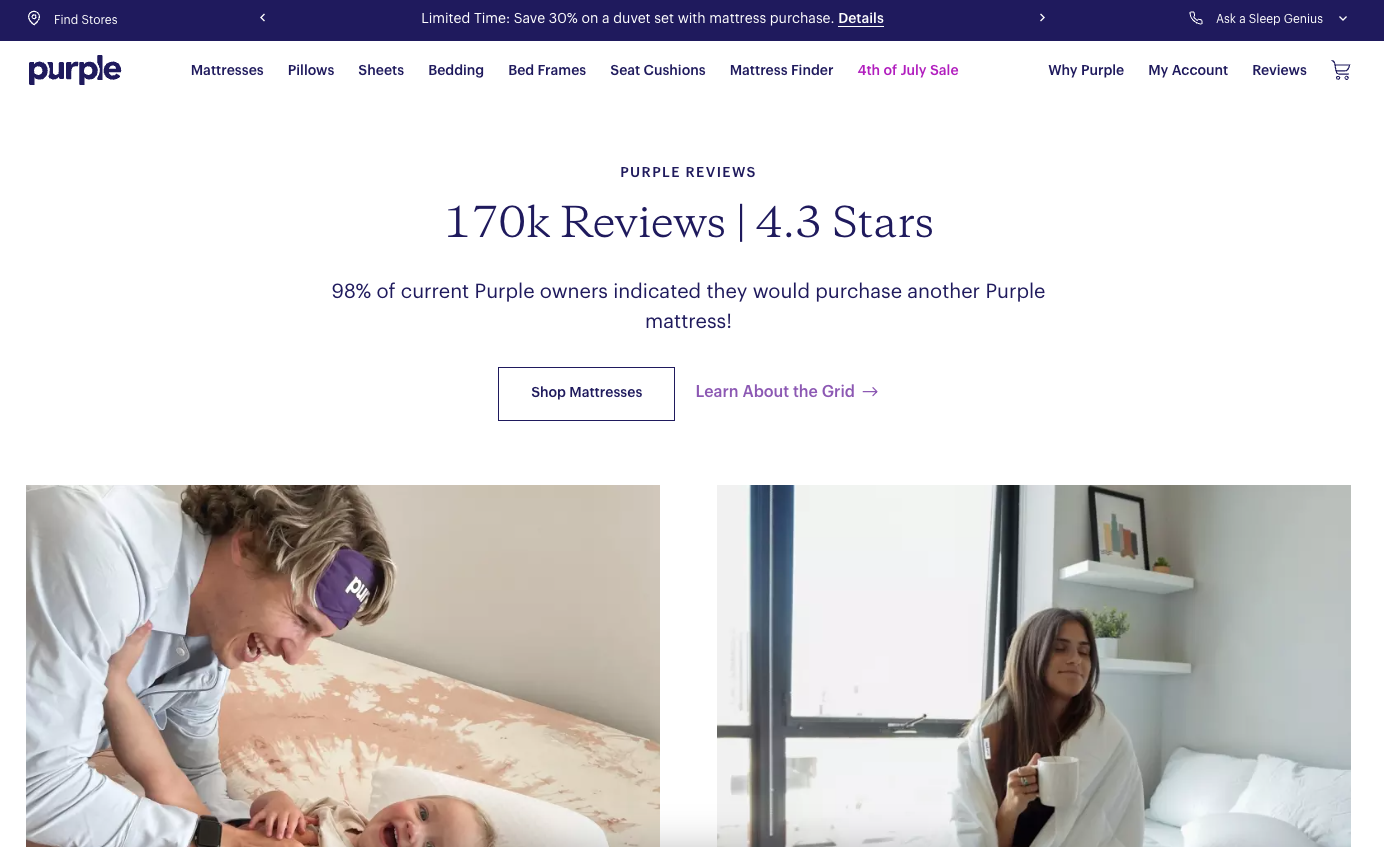 In addition to sales and conversions, user-generated content also drives more engagement. Customers are more likely to like, comment, and share content featuring other customers because they trust them more than they trust the brand and its own content. UGC-centric spaces like review pages and discussion forums are also great for nurturing conversations and increasing time spent interacting with brands. Brands like Stamped customer Purple include user photos and testimonials on a dedicated landing page to increase credibility, boost conversion rates, and encourage existing customers to leave reviews at the same time.
Nurtures customer retention and brand communities
When brands encourage and share user-generated content, customers feel more emotionally invested in a brand's success. Stronger brand-customer relationships lead to repeat purchases, long-term engagement, and customer loyalty. Customers that feel seen and heard by their favorite brands are more likely to make more purchases, interact with their content, and refer them to their friends.
User-generated content also helps brands build communities of dedicated customers who are exceptionally loyal to them. Customers not only form better relationships with the brand, but they also develop connections with each other, deepening their emotional attachment to the brand. Brand communities are proven to increase brand recognition and credibility, drive customer retention and satisfaction, and lead to better business decisions. User-generated content gives customers an easy way to find and interact with a brand's community.
💡 Learn more about brand communities and how to build one in our latest article.
User-generated content best practices
How to collect user-generated content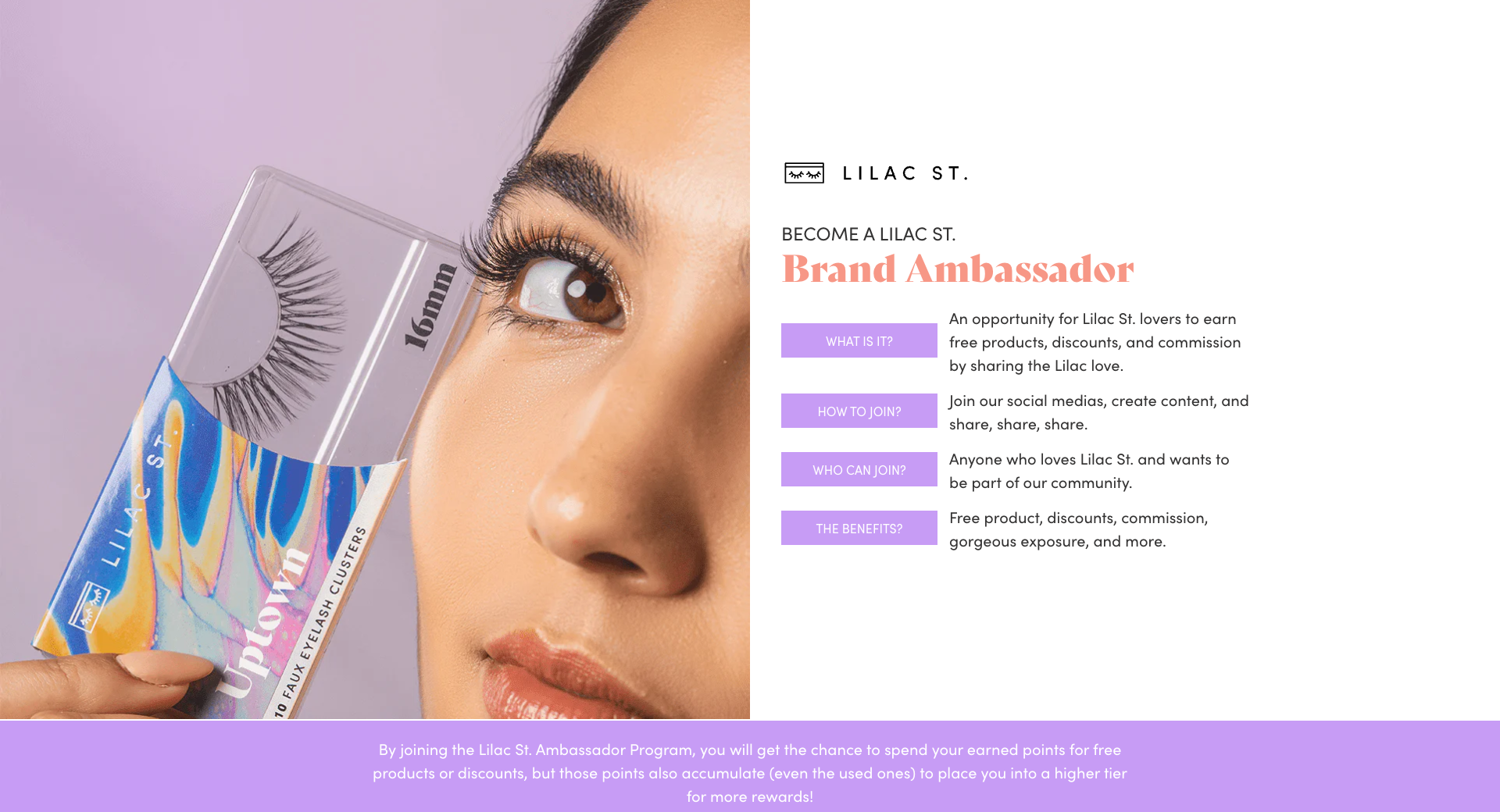 To start, brands should create and optimize their reviews strategy to generate content creation from existing customers. Reviews boost awareness and credibility while driving acquisition and conversion rates. Brands should also ask customers to include photos and videos in their reviews so they can repurpose them in their content marketing strategies.
While some customers are willing to write reviews on their own, brands should also provide some type of incentive. For example, they can offer a coupon code or a free sample in exchange for a review. Brands like Stamped customer Lilac St. generate user-generated content via their loyalty program by rewarding customers for writing reviews and including photos and videos. Reviews are also an opportunity for brands to directly respond to customer feedback, such as addressing issues or thanking them for their suggestions, which may motivate them to leave more reviews in the future.
💡Check out our latest case study to learn how we helped Lilac St. boost their average order value by 37% with referrals.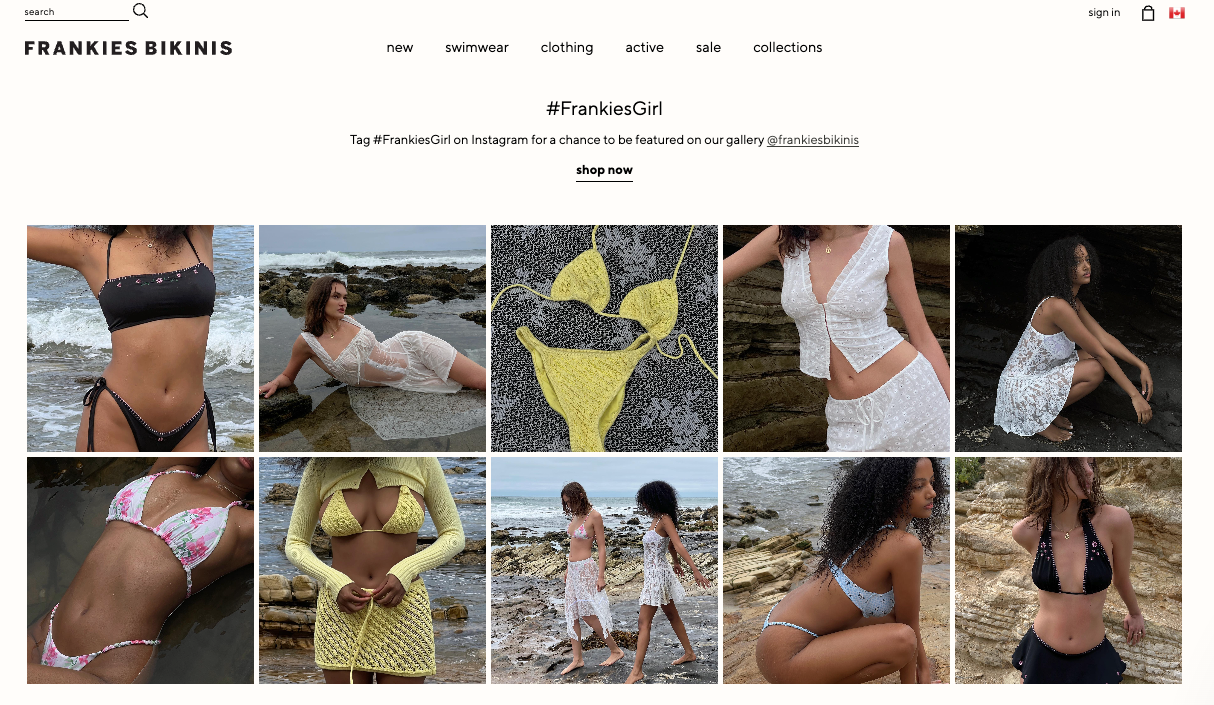 As mentioned previously, brands should also create a dedicated hashtag where customers can share and find user-generated content. This hashtag can be used across different social media platforms and help brands curate marketing campaigns and visual content like landing pages and media galleries.
They can also create multiple hashtags for different types of user-generated content or different marketing campaigns. For example, a brand might create different hashtags for separate product lines and specific brand events. This not only makes it easier to create highly-curated content campaigns, but it also helps brands track their performance and attribution.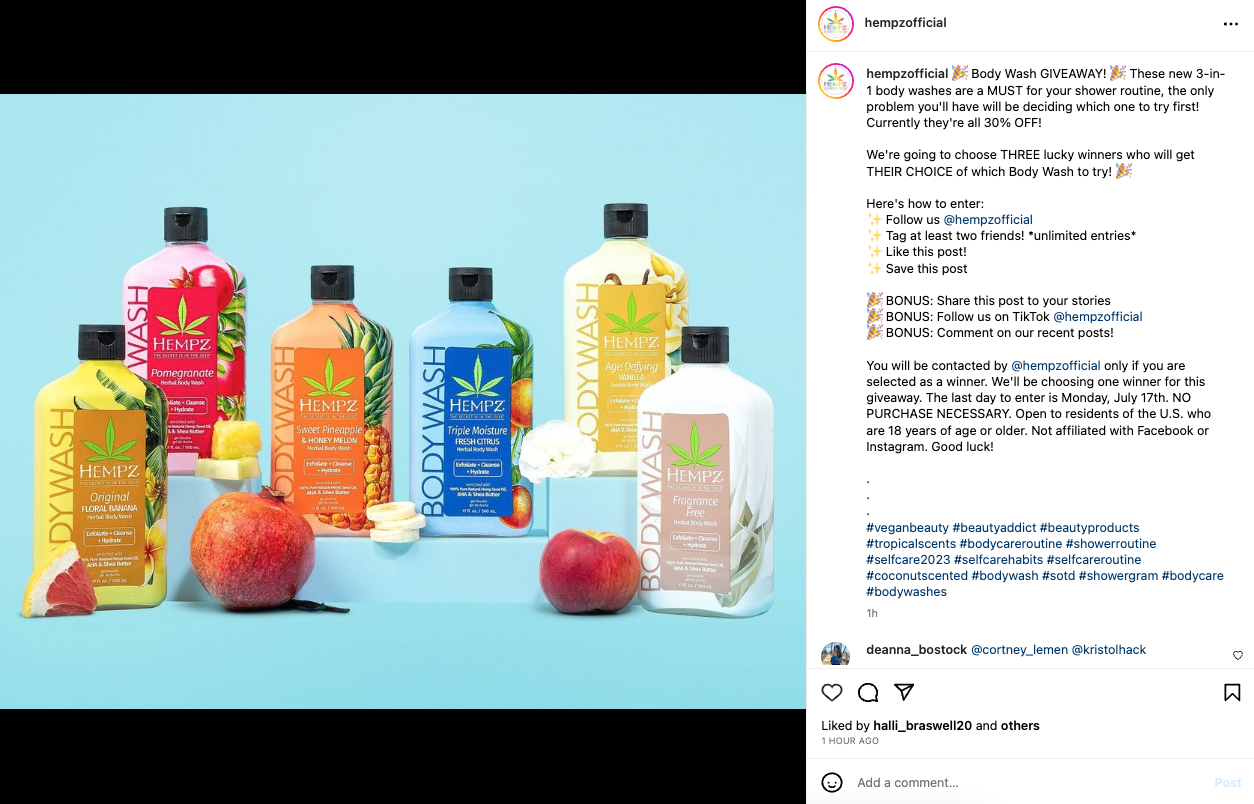 Lastly, brands can run a contest or giveaway where customers participate by submitting user-generated content. Customers don't necessarily always want to make a purchase to engage with a brand, so brands can ask them to write a review, share a photo, or answer a survey in exchange for a contest entry. They can then reward them with free products, gift cards, or even access to things like exclusive events and product testing opportunities.
For example, brands like Stamped customer Hempz frequently run giveaways where they ask followers to share and comment on the associated post to participate. Brands can also ask customers to answer a question as part of their entry, such as "what is your favorite product?" or "what product do you want to see from us next?". These types of contest entries are not only useful for creating future marketing content but can also double as research in the product development process.
How to leverage user-generated content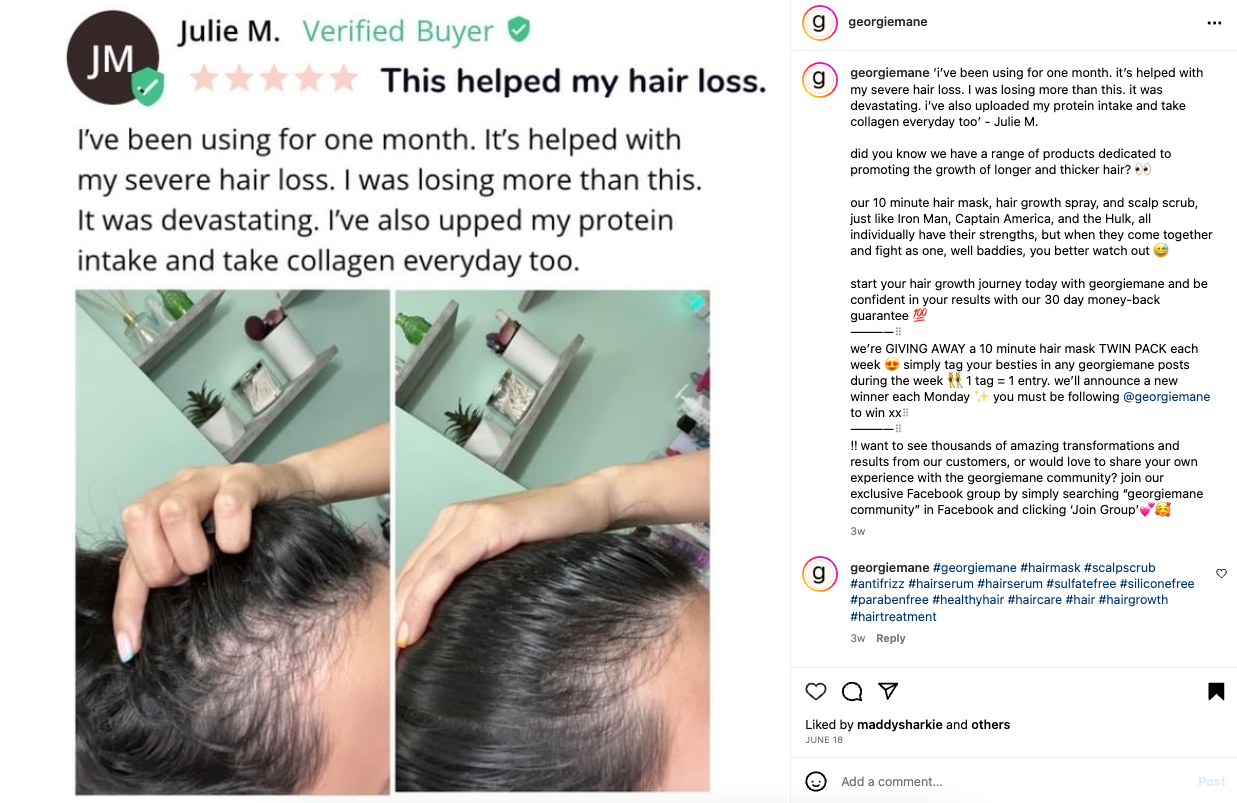 Most brands typically leverage user-generated content in their social media, email, and advertising strategies. They can reshare customers' posts, create social, email, and ad content using their photos and videos, and turn reviews into post captions, email copy, and graphics. Repurposing reviews into social content and ads is especially effective for increasing awareness and acquisition because they act as trust signals and give potential customers more context about why they should buy something. Brands like Stamped customer Georgiemane frequently use photo reviews to promote specific products and increase brand credibility.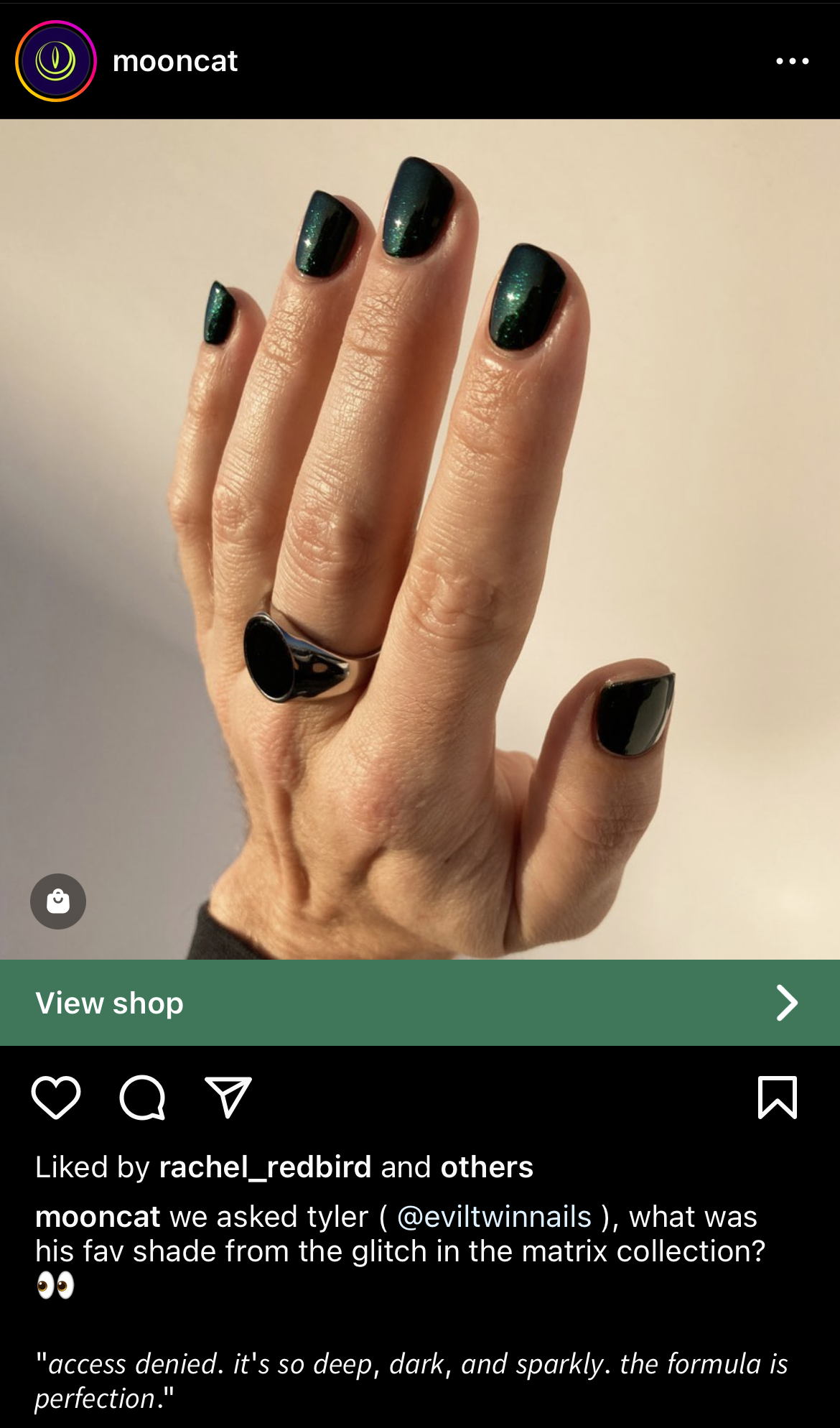 User-generated content also goes hand-in-hand with social commerce, where brands sell directly to customers via platforms like Instagram, TikTok, and Pinterest. For example, brands like Stamped customer Mooncat include customers' photos and reviews in their product listings. Hashtags help potential customers find brands they might not have heard of otherwise. UGC and social commerce work together to increase brand awareness, boost conversion rates, and create a seamless social shopping experience. Currently, social commerce is expected to reach $3 trillion in sales by 2026, with about 25% of consumers primarily using social media to research and purchase products.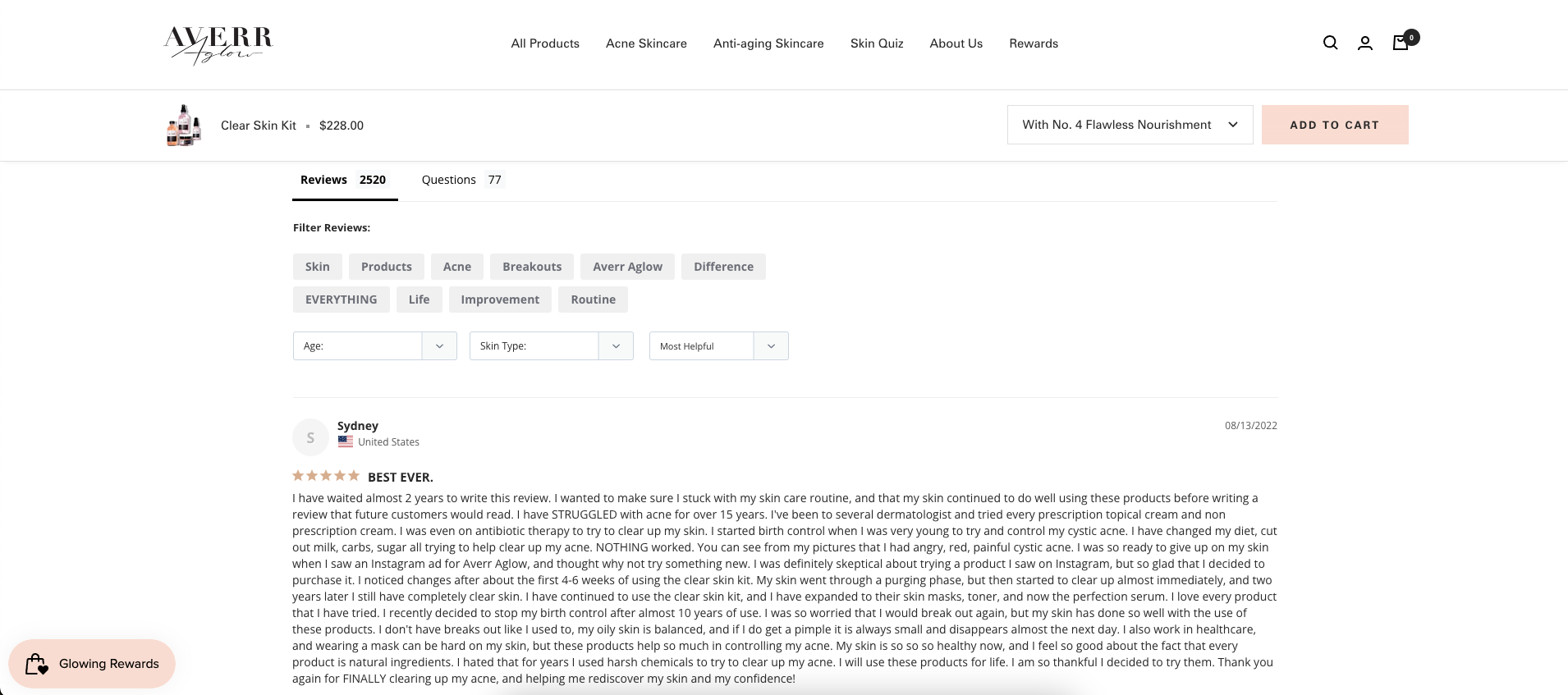 Brands should also leverage user-generated content on their landing and product pages to help customers make a purchase decision. They can incorporate customers' photos and videos in their product listings and add a dedicated reviews section or page with topics filters, keywords, and a search bar. Brands like Stamped customer Averr Aglow also incorporate a community Q&A function where shoppers can ask questions and interact directly with other customers or the brand itself. These features give customers the confidence they need to decide if the product is right for them and whether the brand is worth supporting. Customers' questions can also be turned into content, such as an FAQ section, and inform a brand's product development and customer service strategies.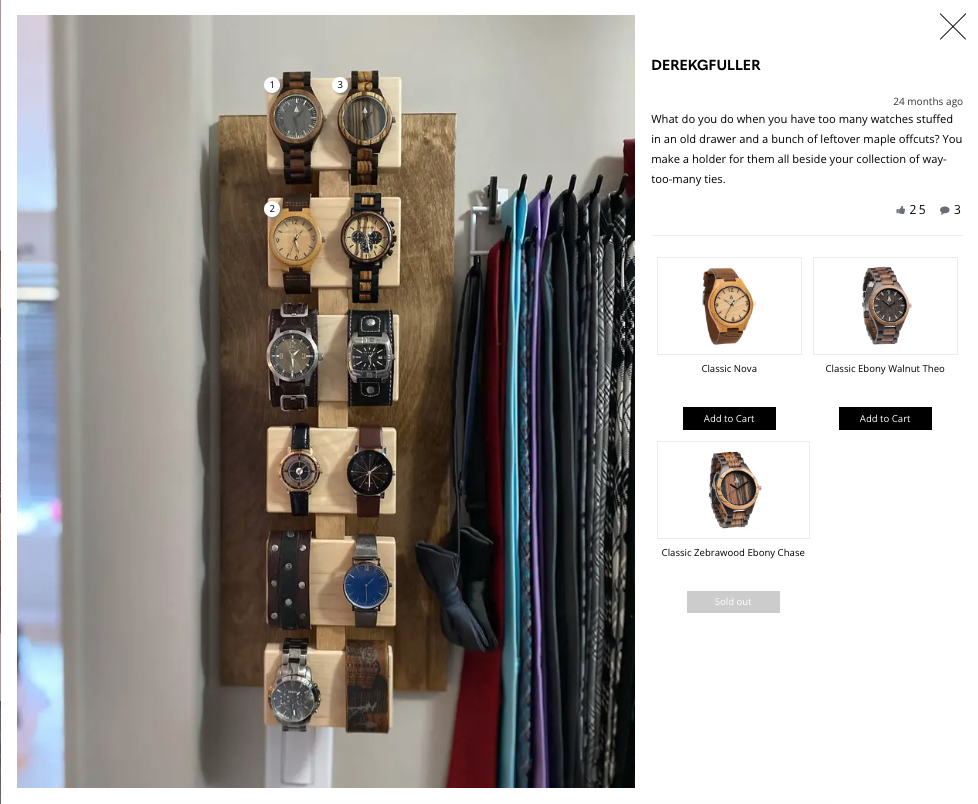 Lastly, brands like Treehut can also combine the best of both social commerce and product page strategies with Stamped's shoppable Instagram galleries. This feature allows them to curate their customers' posts and their own posts, whether they're showcasing their entire product catalog or focusing on specific products. These galleries can be placed anywhere on a brand's website, but they're especially effective on homepages and product pages. Customers can then browse other customers' content and make a purchase without having to switch between a brand's website and their social media feeds. This reduces friction, boosts engagement, and increases conversion rates.
How to measure your user-generated content strategy
Acquisition
Customer acquisition costs: One of the most important acquisition metrics is customer acquisition costs (CAC), where brands determine how much they spent to acquire new customers. They should compare the cost of their UGC strategy to their other acquisition strategies, such as paid ads with brand-created assets. They also need to consider evaluating costs in terms of time, such as how long it takes to repurpose user-generated content versus how long it takes to develop original content, to prove the efficacy of their UGC efforts.
Impressions and reach: Impressions refer to the number of times a social post or ad is displayed, while reach refers to the total number of people who have viewed your content. While these two metrics don't necessarily mean much on their own, they're important for calculating and contextualizing other KPIs like churn and conversion rates.
Social media engagement: Though social media usually isn't a brand's main priority, it's important for measuring brand reputation and building relationships with potential and existing customers. Brands should compare their likes, comments, and shares on their UGC content and non-UGC content. They also need to track their hashtag performance to determine their effectiveness and grow their content library, especially if they have hashtags for specific events, product lines, and so on.
Conversion
Click-through and conversion rates: Click-through rates help brands determine the effectiveness of their user-generated content. For example, whether a customer's tutorial video or photo review led to someone clicking a link in the post caption or email newsletter. Brands should also attribute conversions with specific UGC efforts, such as whether a shoppable Instagram gallery generated more purchases, a hashtag contest resulted in more survey submissions, or a UGC-centric landing page led to more loyalty program registrations.
AOV, CLV, and ROI: Brands should look at how their user-generated content strategy contributes to their financial performance. Do reviews convince customers to purchase products they hadn't considered before, thus increasing their average order value (AOV)? Do UGC strategies like hashtag contests lead to repeat purchases, boosting customer lifetime value (CLV)? Lastly, if brands continually drive sales and engagement via UGC while keeping customer acquisition costs low, their return on investment (ROI) will be high.
Reviews and surveys: Review ratings and survey responses are a type of user-generated content; however, they can also be used to measure the efficacy of a brand's UGC strategy as well. Brands often ask customers how they found them or why they decided to make a purchase. For example, did they find them on social media, were they recommended by a friend, and so on. While customers might not be able to attribute their purchase decision to a specific piece of content, brands can still get a general sense of whether things like reviews or UGC ads generated sales and other types of conversions.
Retention
Churn and unsubscribe rates: Brands need to keep an eye on churn and unsubscribe rates, which can indicate the effectiveness of their user-generated content. For example, are people unfollowing them on social media because they're posting too much customer content and not enough brand content? Have they stopped making purchases because they're sending too many review requests? Though churning and unsubscribing are a normal part of the customer lifecycle, brands need to look out for patterns and peaks.
Elevate and enrich your user-generated content strategies with Stamped
User-generated content is a cost-effective way for brands to build shopper confidence, acquire new customers, drive initial and repeat purchases, and boost customer retention. Customers trust other customers more than they trust brands, which is why it's important for brands to leverage user content like reviews, ratings, photos, and videos in their marketing campaigns.
With Stamped Reviews, brands can create and optimize their ideal reviews strategy to collect user content and insights, including photo and video reviews, custom questions, topic filters, shoppable galleries, and more. They can also incentivize content generation by creating a loyalty program with Stamped Loyalty, accelerating business growth and lifetime value at the same time. Book a demo with one of our sales reps to learn more.
Trust Builds Brands
Sign up to see how Stamped can help your Ecommerce brand drive growth and awareness.
Sign Up Free