Social Proof | Apr 26, 2021
10 Examples of Social Proof in eCommerce
If you're looking for real-world social proof examples to weave into your eCommerce strategy, we can't blame you there.
Using social proof can help drive sales and create a tribe of happy customers. It's why social proof apps and widgets are some of the best tools for conversion rate optimization.
So in this guide, we'll take a deep dive into everything you need to know about using social proof for your business, including all its benefits.
We'll also share 10 attention-grabbing social proof examples you'll want to use in your eCommerce strategy right away (and how to do so).
But first, let's take a minute to discuss what social proof means and why it's very much worth your time.
What is Social Proof?
While the term "social proof" is relatively recent, the concept has been around for ages.
Social proof is a phenomenon that shows people are more likely to take action if they see that others have already done so.
An easy example of this concept in action is checking out Google Reviews or Yelp Reviews before visiting a local restaurant.
You may be reluctant to try that new spot in town unless you know the food and service are worth the trek. So you quickly run a Google search to see what other people think of the place before you spend your time and money investigating it yourself.
So how does this apply to eCommerce?
Why Social Proof is Crucial for eCommerce Businesses
Having social proof is important for any business, but it's especially vital for eCommerce companies.
Because your customers can't physically visit your store and "touch" your products, they must do all their research online. They'll use every possible resource available, including social proof, to assess whether your brand is worth their hard-earned money.
Gorgeous photos and well-written descriptions can show off your incredible products online. But they may not be enough to convert potential customers, which means you'll be missing out on sales despite your hard work.
Adding social proof changes everything.
Social proof removes the risk for customers and convinces them that it's okay to trust your brand. When they see that your brand is legit and others have used your products or services, potential customers will be less leery and more likely to hit that "add to cart" button and check out.
Social proof reduces how long it takes people to make a purchase, especially those on the fence. It reassures potential customers to shop and say, "I need this in my life ASAP," which shortens browsing times.
So think of social proof like digital word-of-mouth that does the heavy lifting for you around the clock.
As you increase conversions and sales, you'll also build brand loyalty. Then, this momentum will spread like wildfire. Your customers will tell all their friends and family members about your brand, which expands your reach exponentially.
Now that you understand why including social proof in your digital marketing strategy is so essential, let's discuss the best ways to reap these incredible benefits right away.
10 Attention-Grabbing eCommerce Social Proof Examples to Emulate Today
These 10 social proof examples show there are several different ways to add this strategy to your marketing mix:
1. Secret Lab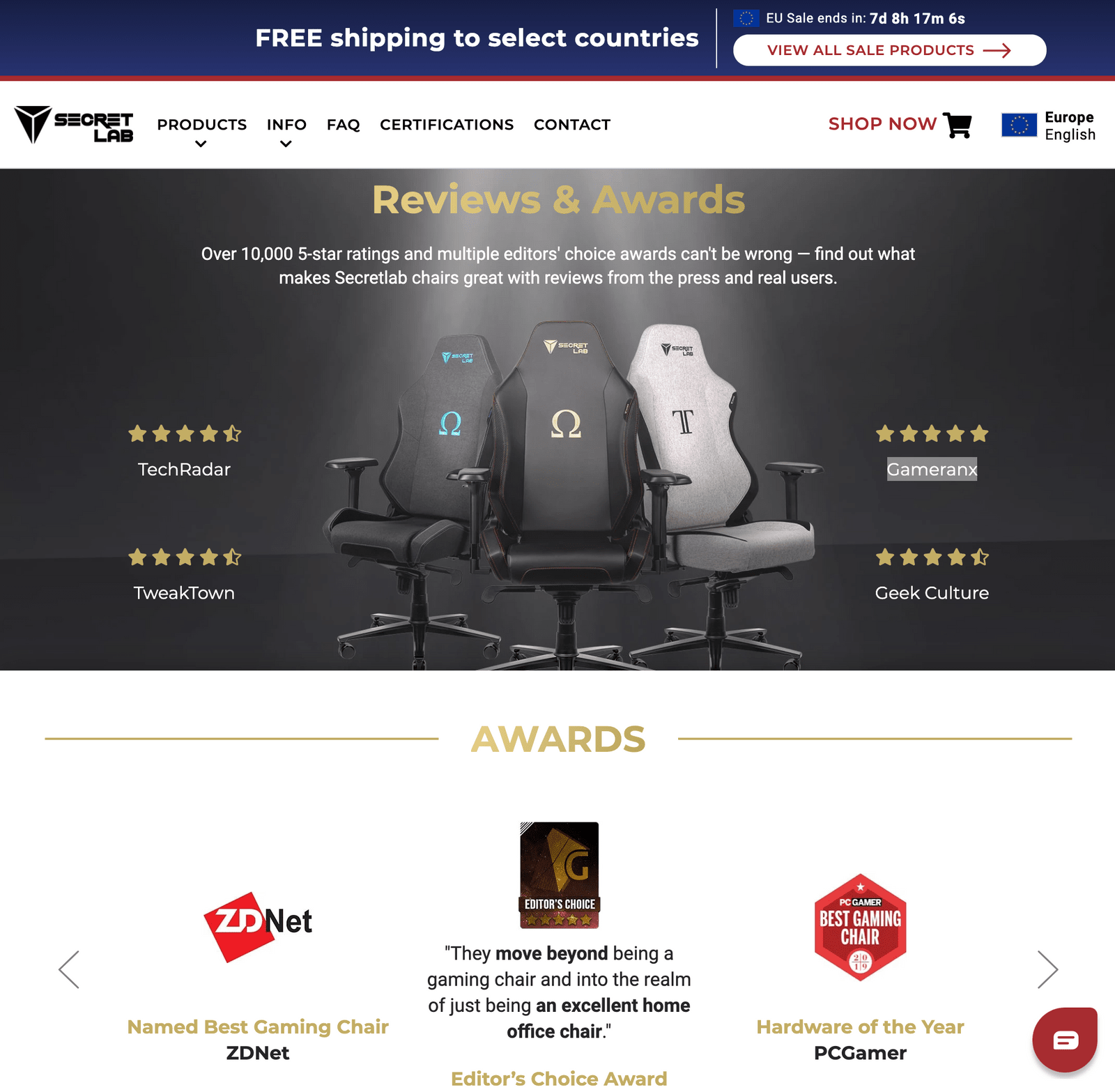 Gaming chair company Secret Lab dedicated an entire page to the reviews and awards they received, making it easy for potential customers to see that they sell the must-have chair of the century.
If you have enough reviews and recognition, consider creating a page just like this to rack up conversions quickly.
2. Tesalate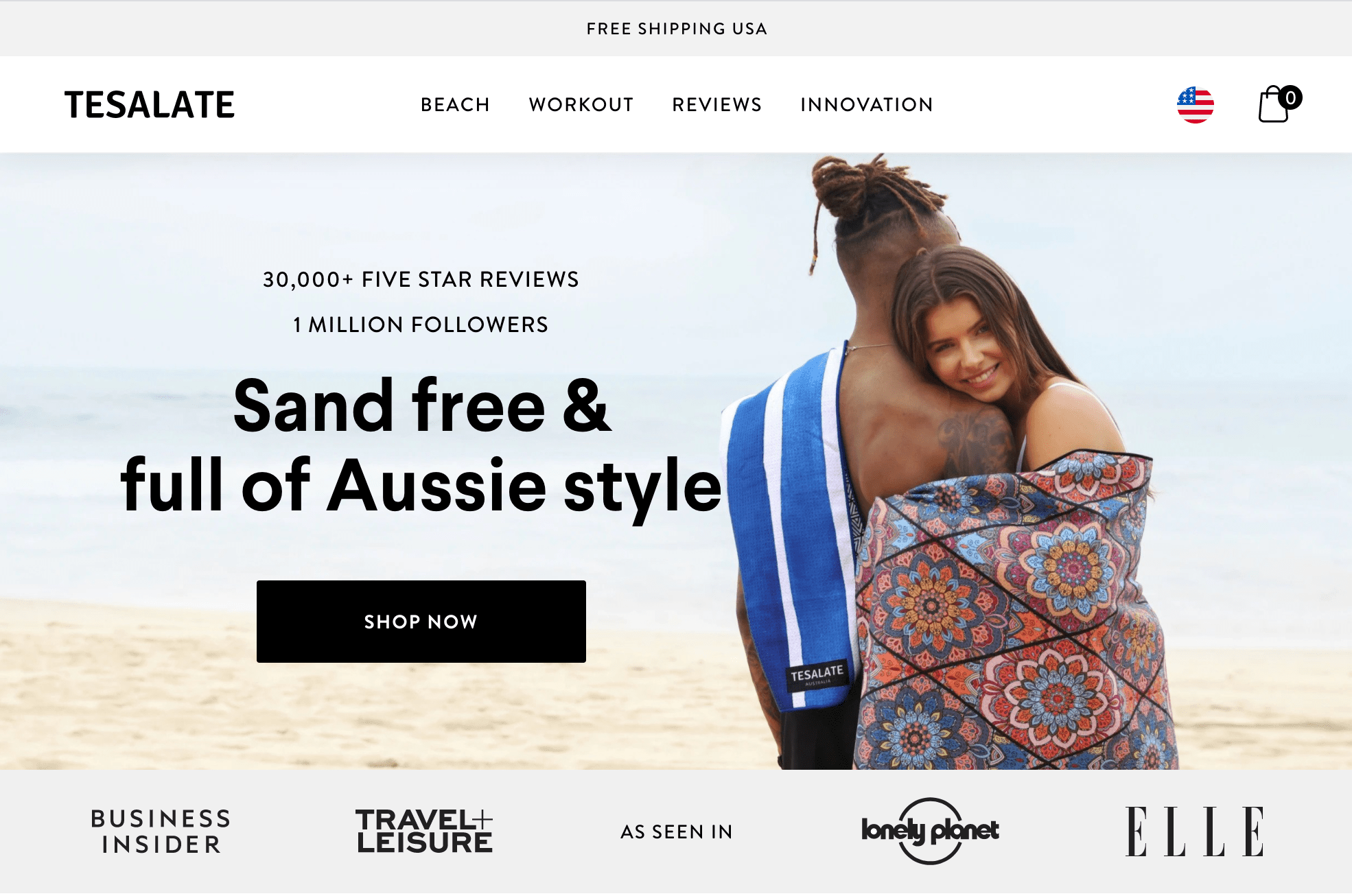 Australian sand-free beach towel company Tesalate crushes their social proof on their homepage above the fold and before users have to scroll down.
As you can see in the image above, they proudly mention their 30,000 5-star reviews, 1 million followers, and the well-known brands that have featured their product. That hits three different types of social proof, all in one eye-catching image.
What's even better? This happens before people even start to shop, giving new customers a trustworthy impression right from the start (and makes the sale much more likely).
3. La Passione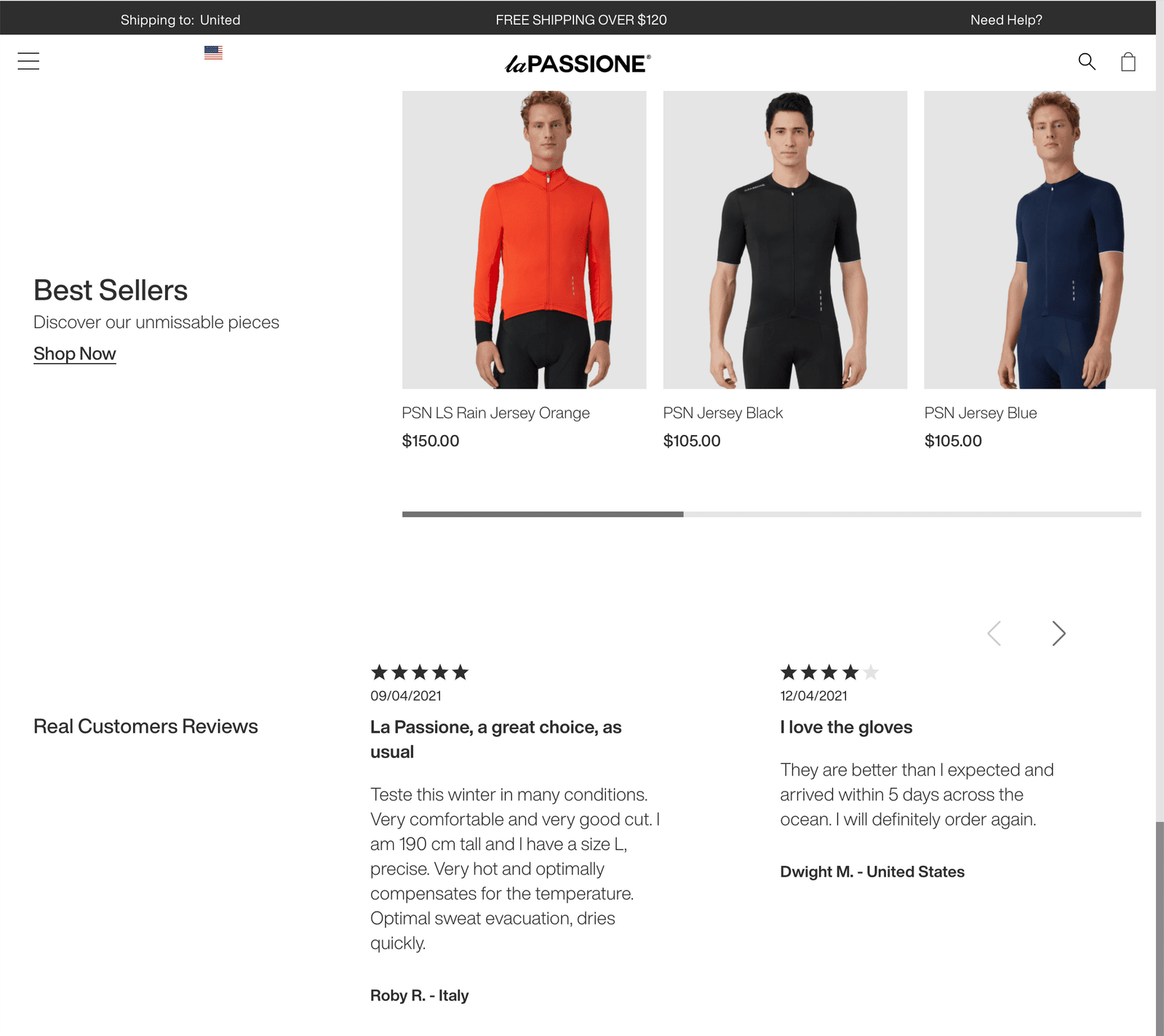 Premium cycling clothing brand La Passione also knows how to use social proof well. Their homepage (pictured above) features "Real Customer Reviews" and "Best Sellers" to help make purchasing choices easy for new shoppers.
4. Purple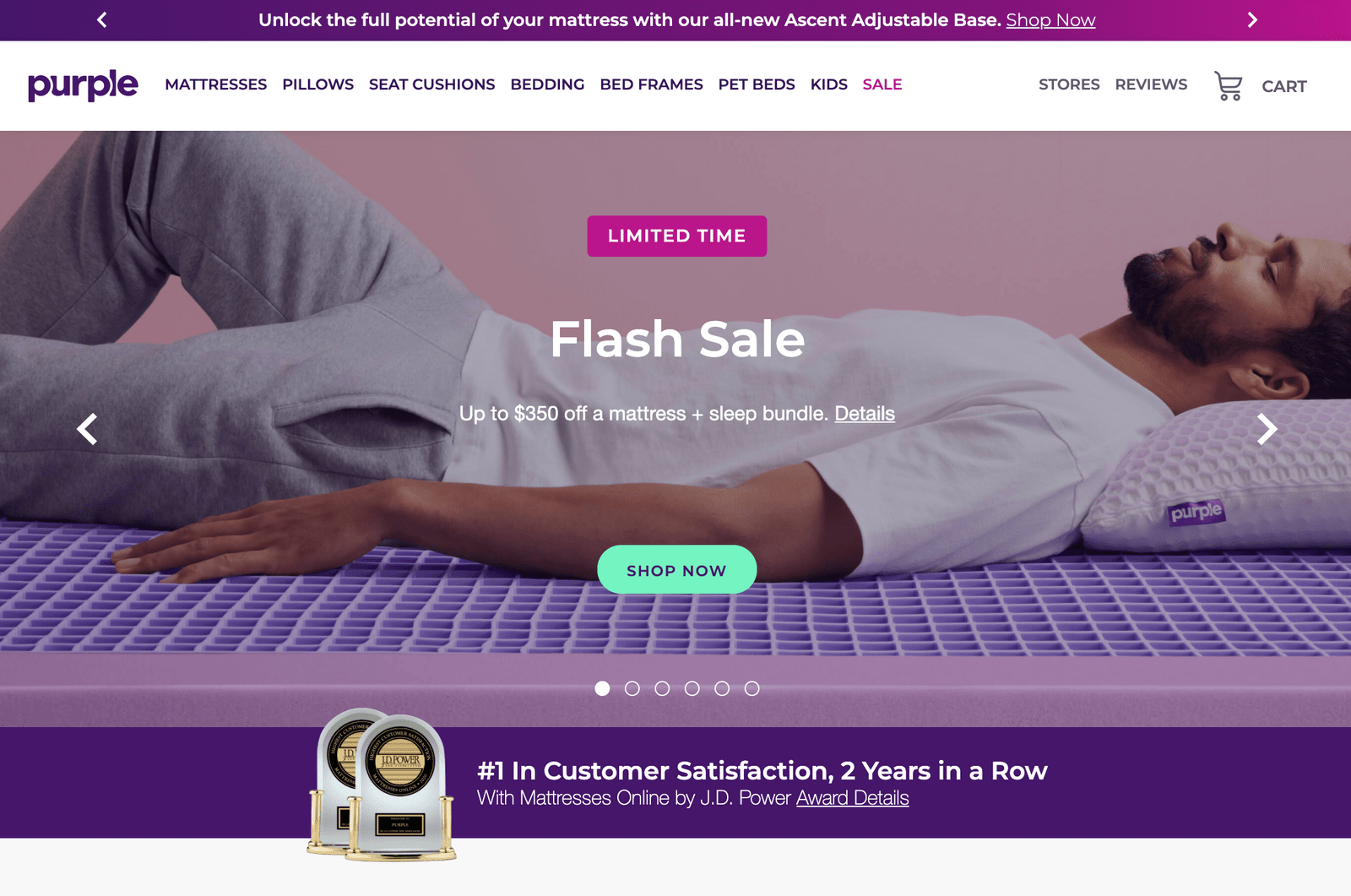 The online mattress store Purple displays social proof as soon as visitors land on their website. Showcasing their two-year J.D. Power rating as "#1 in Customer Satisfaction" tells potential customers that they won't regret purchasing from them.
5. Elevated faith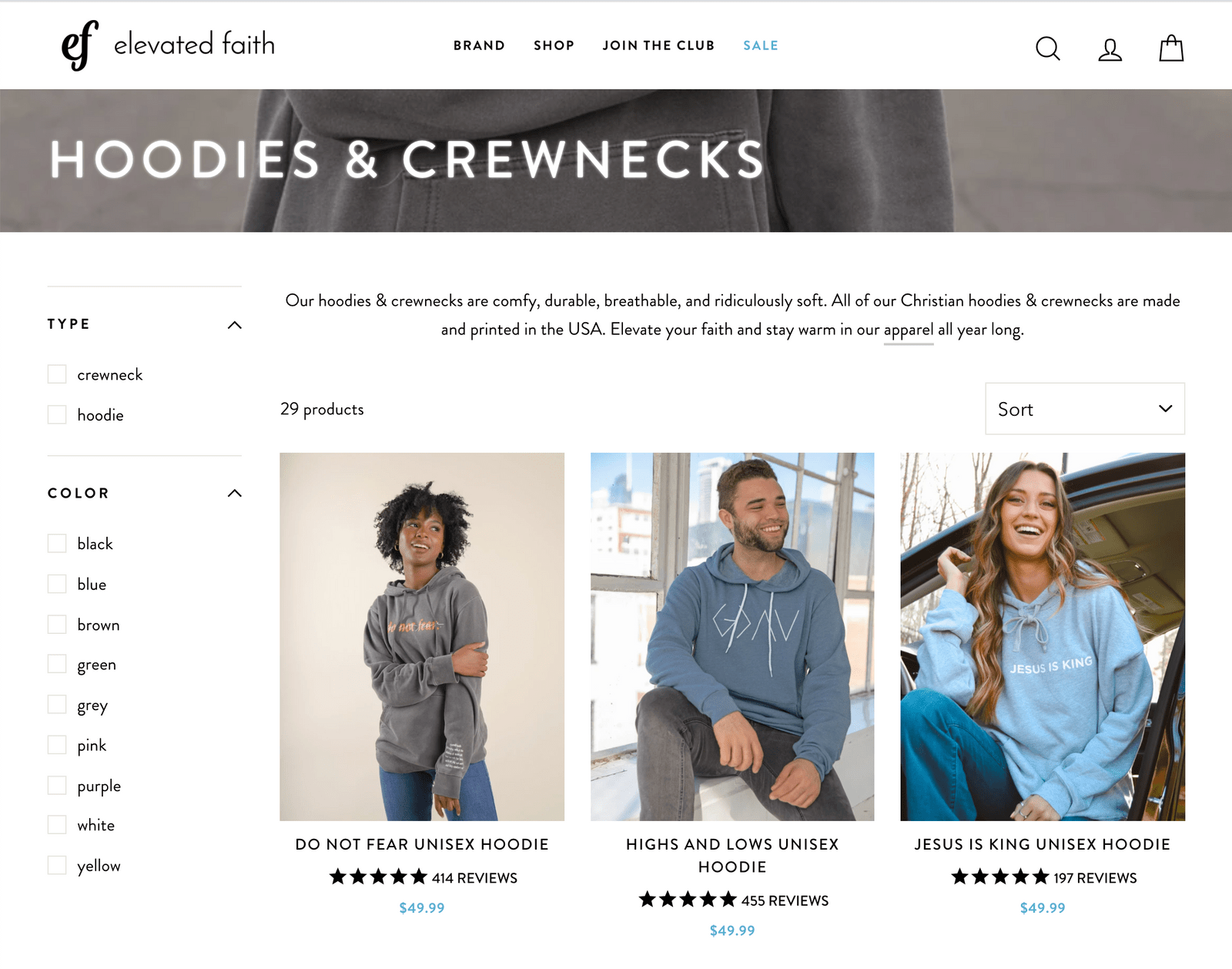 Elevated Faith, a Christian apparel brand, highlights their social proof by putting star ratings underneath each product. Customers can quickly and easily see that 5-star reviews back each product, making purchasing less risky since so many others have happily done so already.
6. Thread Wallets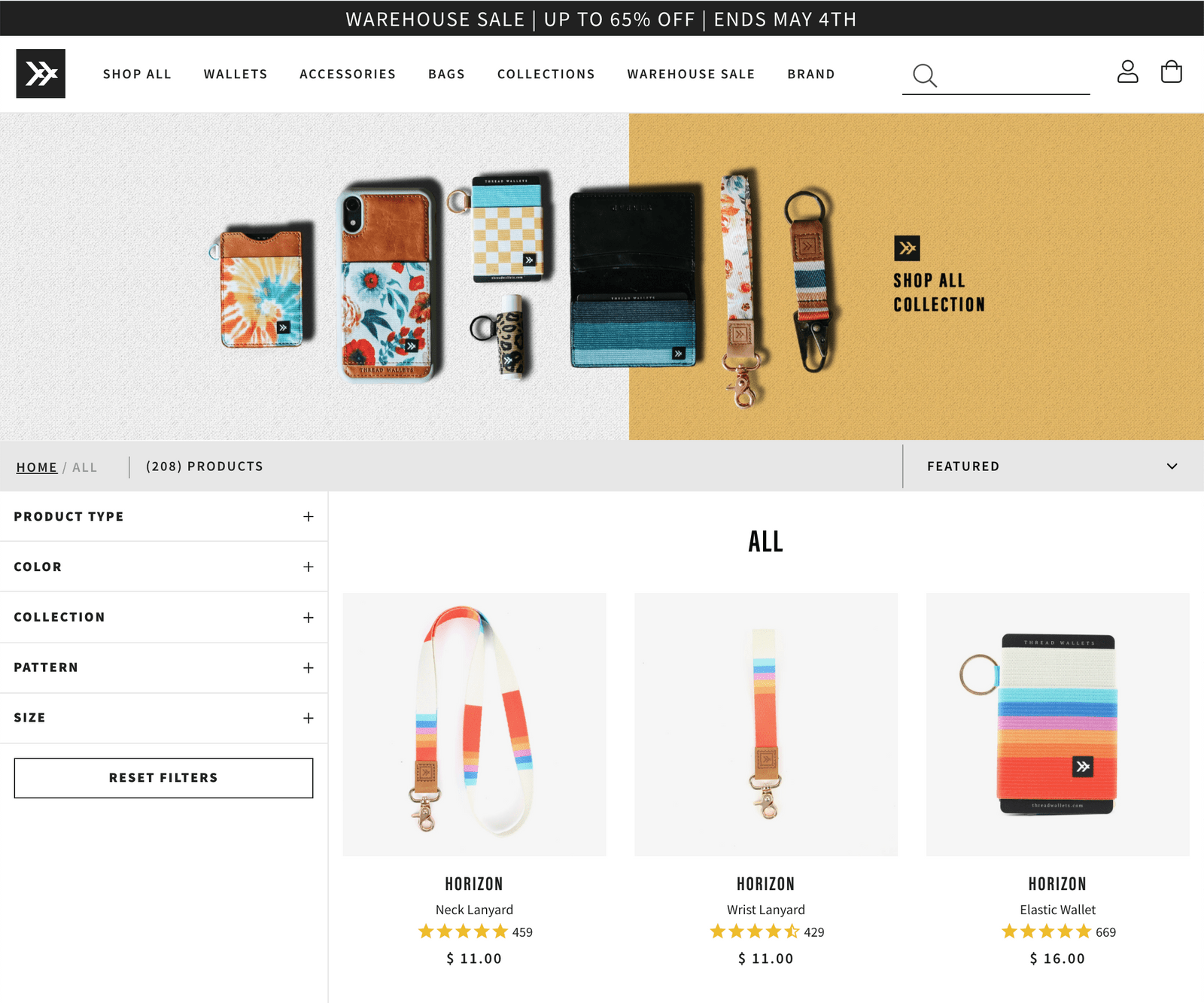 Stylish slim wallet company, Thread Wallets, uses a similar social proof approach by adding their reviews right under their products. They take this strategy a step further by prominently showcasing their Best Sellers, which helps new customers find their top products without having to dig around.
Featuring best-selling products like this removes the guesswork for new customers and decreases their time spent browsing. After all, the more time people spend browsing, the more likely they'll become overwhelmed and leave your website without making a purchase. So the more you can shrink this time, the better.
7. Linjer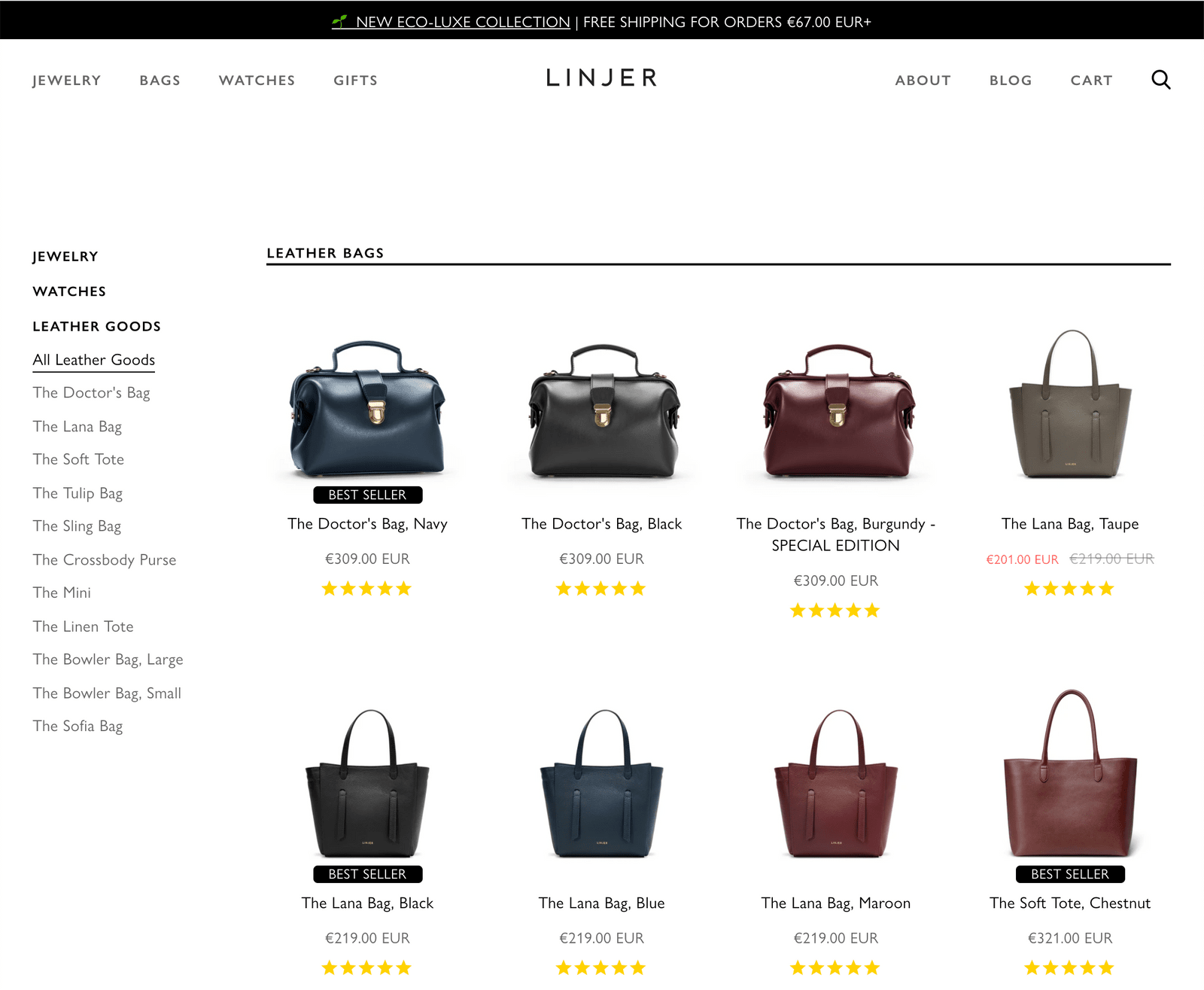 Sustainably-made Norwegian designed jewelry company Linjer follows a similar social proof approach by combining their 5-star reviews with the tag "Best Seller." Here, social proof and authority help new customers see what the brand specializes in and what their customers love.
8. Fit Affinity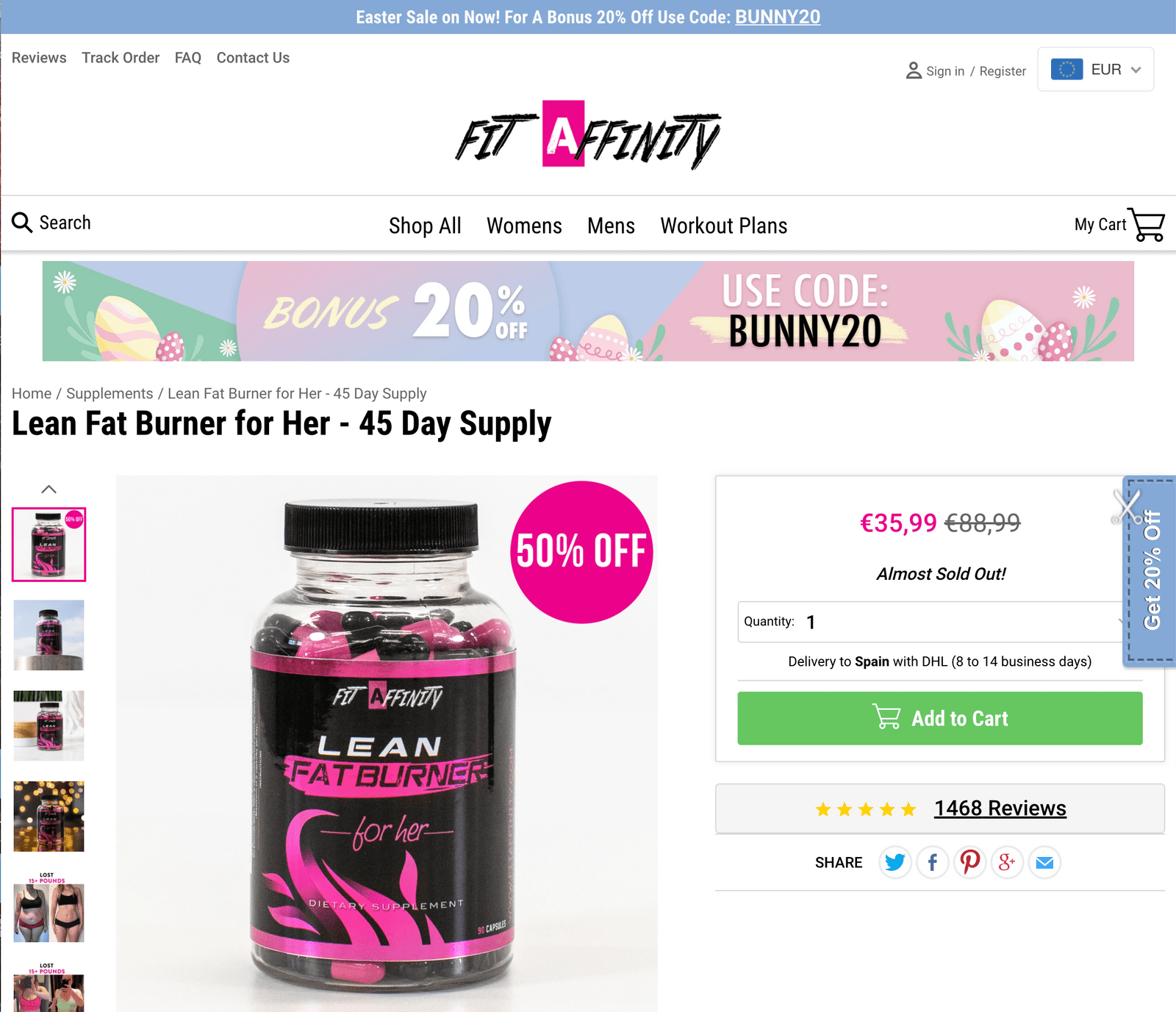 Women's supplement brand Fit Affinity gives you yet another way to use social proof, this time on your product pages.
Visitors can see the average star rating based on the number of reviews right next to their products. Then, they can scroll down to actually read what customers have to say about their purchase.

The "Verified Buyer" badge is another excellent use of social proof in this example. This tells potential customers that these reviews are genuine and trustworthy.
Including all these elements in your product pages can ease the minds of potential customers and help you close sales that much faster.
9. Frankies Bikinis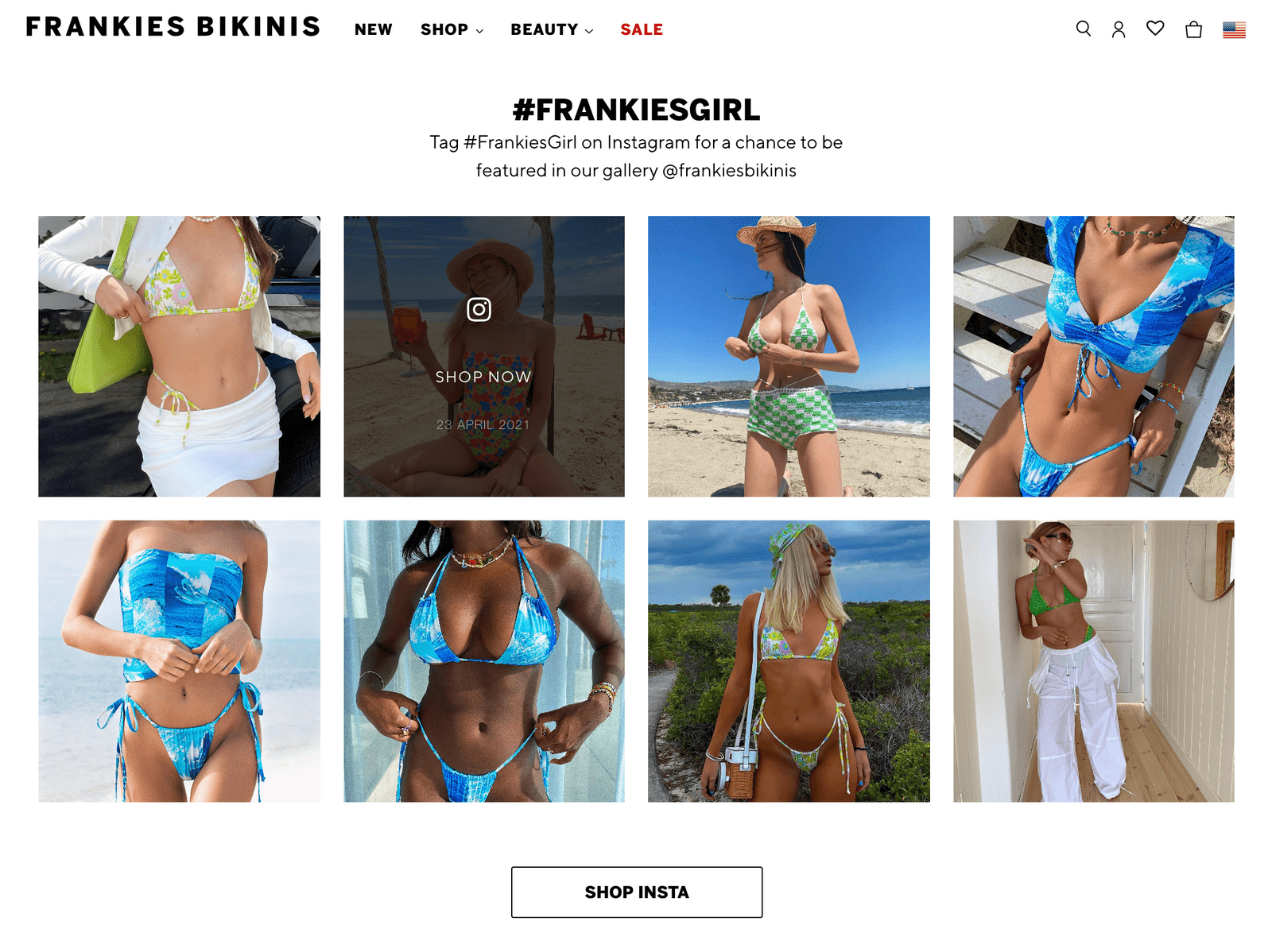 High-fashion swimsuit company Frankies Bikinis is all about social proof.
The brand features a gallery of their actual customers wearing their bikinis, which is known as user-generated content (UGC). They even encourage people to use their hashtag #FrankiesGirl on Instagram to win a chance to be featured in this prominent spot on their homepage.
Not only does this help potential customers see how their bikinis fit on real people, but it also creates an exclusive tribe where women are drawn into becoming part of their community.
Combining these types of social proof drives sales and generates happy brand ambassadors who are more than willing to spread awareness of your products to everyone in their network. Talk about packing a double social proof punch!
10. Sims Direct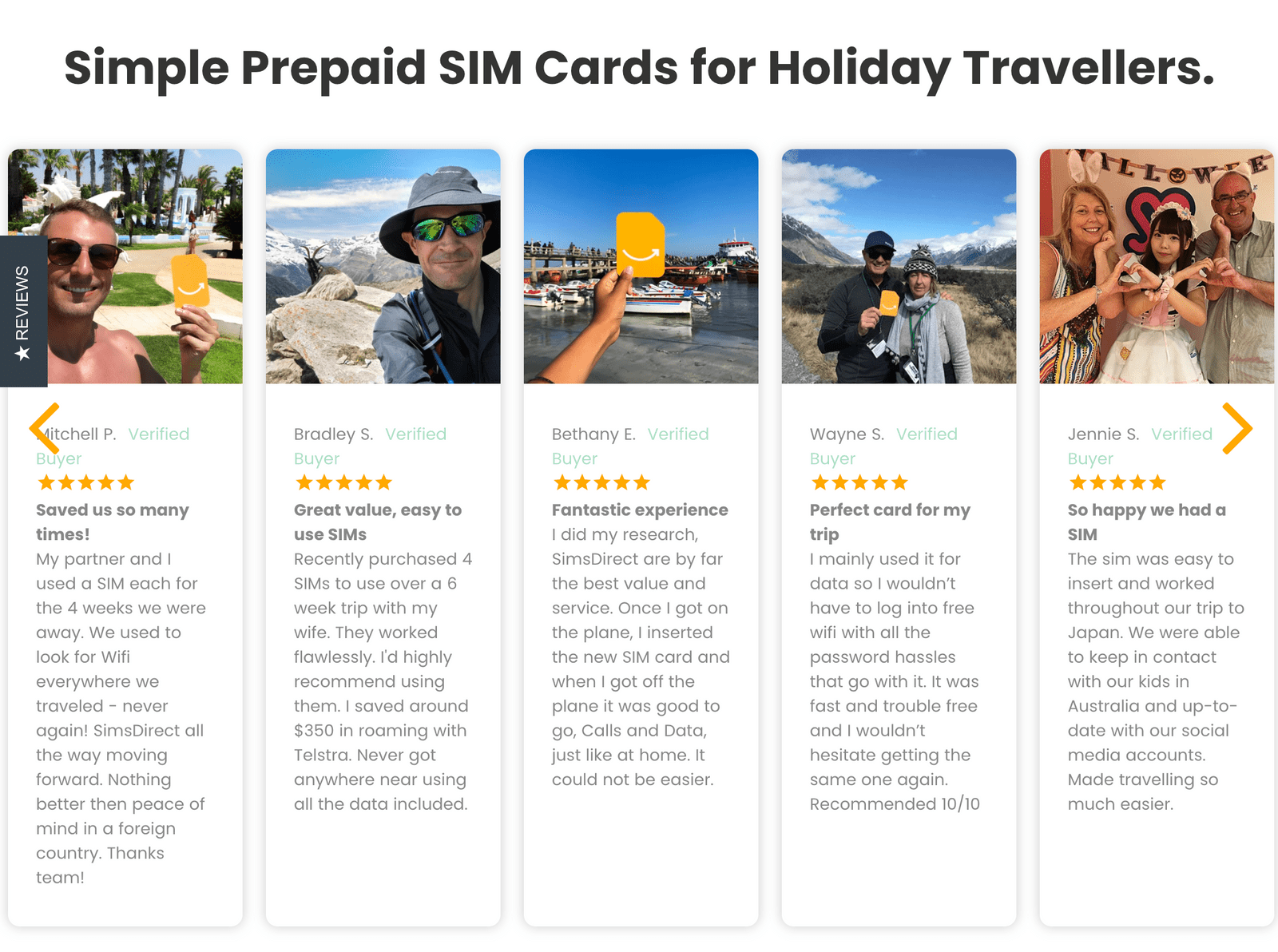 Sims Direct, which provides sim cards for traveling abroad, lets their social proof take center stage on their homepage.
Their visually appealing gallery features customers using their product on their trips. Each customer proudly holds their Sims Direct sim card, and visitors can read a detailed description of why they were glad they went with this product.
You'll also notice a "Verified Buyer" badge that helps solidify that these are real customers. The button down below the gallery shows that over 6,000+ verified reviews exist, giving potential customers more than enough information to decide that this product and company can be trusted.
Final Thoughts On Taking a Cue From These Social Proof Examples for Your eCommerce Store
With so many benefits and fantastic types of social proof to use in your eCommerce store, you'd be crazy not to take advantage of this effective marketing strategy.
You'll likely see an uptick in sales and happy customers, making it easier to build your own word-of-mouth machine that naturally creates a community of loyal fans.
So what's the best way to go about this?
If you use top-rated social proof apps like this one, you'll be able to seamlessly weave in customer reviews on your website.
You may also want to consider a social proof widget that helps you include user-generated content (like Frankies Bikinis did) to really amp up your social proof and drive sales.
Now you have no excuse not to implement social proof into your eCommerce marketing strategy ASAP.
Trust Builds Brands
Sign up to see how Stamped can help your Ecommerce brand drive growth and awareness.
Sign Up Free