Integration | Oct 27, 2022
Integration Spotlight: Attentive & Stamped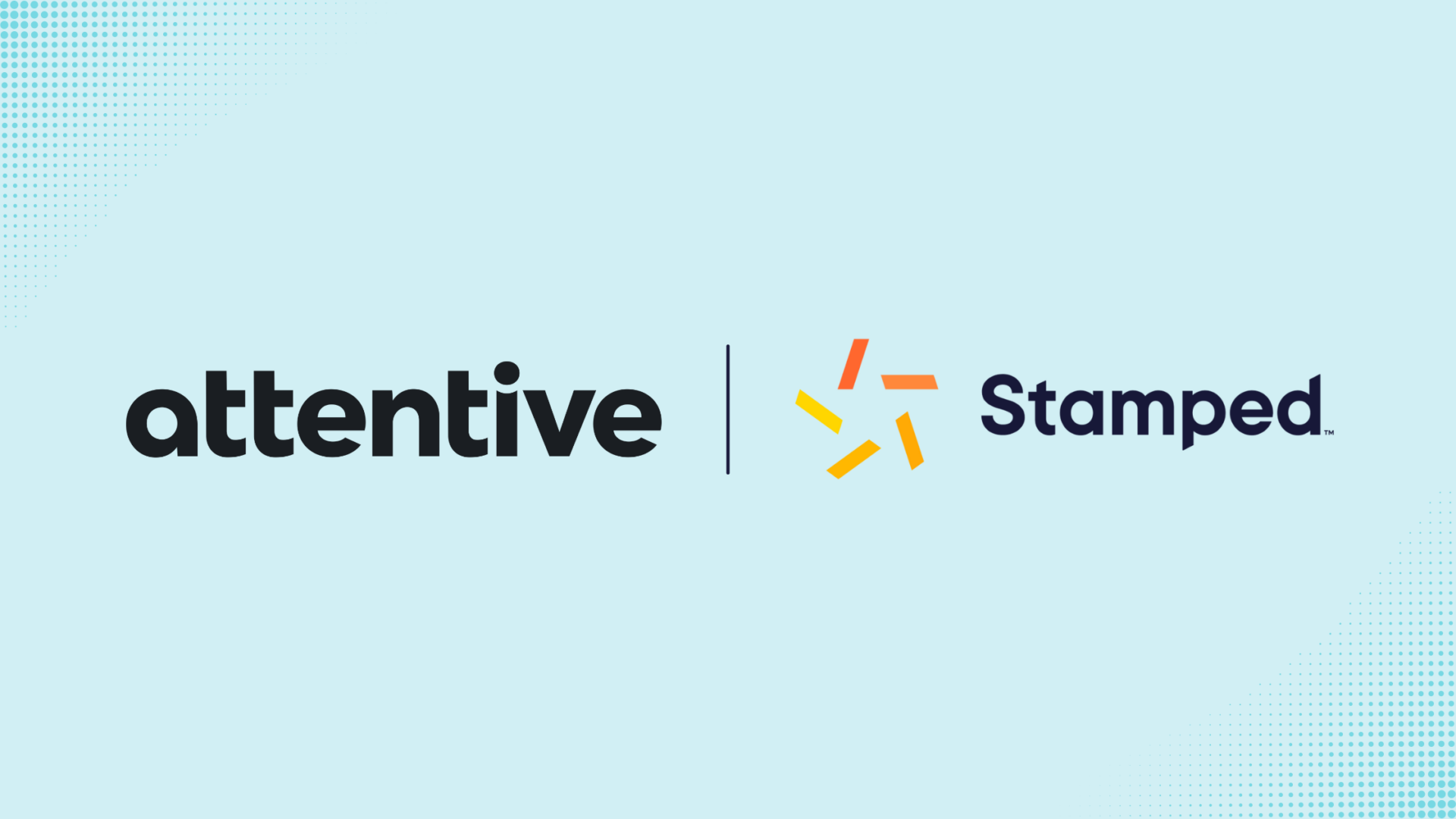 We are excited to announce that Stamped is now integrated with Attentive, the conversational commerce platform. Attentive empowers over 5,000 global brands to create customer-first connections with personalized text messaging so they can drive revenue and customer loyalty.
An engaged audience drives revenue
eCommerce brands know that connecting with their customers directly and meaningfully builds stronger engagement and relationships, resulting in increased revenue. Great communication tools reduce friction, increase two way communication, and delight customers with personalized experiences. That's why text message marketing is quickly becoming one of the most impactful marketing channels for eCommerce.
Here are three reasons why Attentive, the industry leaders in SMS marketing, knows that SMS is one of the best channels for eCommerce marketing:
Nearly 96% of marketers using text messaging say it's helped them drive more revenue—and almost 60% say it's significantly or overwhelmingly increased revenue generation(*).
SMS is a win-win for marketers and consumers, the majority of whom primarily use mobile devices when shopping online. 66.5% of consumers signed up to receive text messages from more brands from 2020-2021, contributing to marketers' success on this channel.
Attentive customers drive billions in online revenue from SMS and generate $55 in sales for every dollar spent on their text message marketing programs.
SMS is a form of engagement marketing, the process of building relationships with your customers through personalized experiences to increase purchases and increase loyalty over time. Engagement marketing often includes:
Personalized buying journeys which use first party data to recommend products or services
Social media strategy with user-generated content (UGC) as a core pillar to highlight your customer community and showcase your products in the real world
Conversational communication strategies – faster, more personalized ways for customers to reach out with questions about your products or any of your programs (i.e. reviews or loyalty!)
Great communication about reviews and loyalty takes your engagement marketing strategies to the next level. That's why Stamped is thrilled to announce the launch of our integration with Attentive, which work together to increase your overall engagement and revenue.
What is Attentive?
Introducing Attentive - the industry leader in SMS marketing which empowers the most innovative brands to create meaningful interactions through personalized text messaging. With Attentive, brands capture customer attention at every stage—from first touch to latest transaction and amplify their outreach with timely, customized experiences. Using two-way, real-time, personalized SMS communication techniques, Attentive drives billions of eCommerce revenue.
We are thrilled to partner with Stamped to offer a solution that will allow merchants to build a deeper connection with its customers and drive more loyalty through their SMS marketing program.  Your most loyal customers are going to be your best advocates and the most likely to subscribe to your SMS program, and we look forward to the value that this will drive for our mutual merchants.
Greg Bauman, Director of Ecosystem Partnerships
SMS performs better than email for a variety of reasons including:
Higher open rates
People who opt-in are generally more engaged and more likely to purchase with a higher Average Order Value
SMS engagement leads to better loyalty over time, increasing your Customer Lifetime Value and Customer Retention Rate
Attentive helps leading brands like Supergoop, Thrive Market, and more to use SMS to grow their revenue channels.
Stamped's integration with Attentive enables brands to communicate and manage their reviews and loyalty programs using SMS so they can leverage the power of conversational commerce.
Enabling the Stamped + Attentive Integration
Setting up the Stamped and Attentive integration is quick and easy using this guide. We've designed the integration to pull in various touch points and data from Stamped to Attentive so you can build Journeys that make sense for your brand growth goals. Best of all? Stamped and Attentive work for Reviews and Loyalty, so you can align all of your engagement marketing.
Stamped passes two types of data to Attentive:
Events - these are customer behaviours or activities passed to Attentive to send automated, in-the-moment text messages. Once a subscriber completes an event, such as submitted a positive review, Stamped passes that data to Attentive to trigger an automated journey, such as sending a text message to say "thanks" and invite them to sign up for your loyalty program. See the full list of events here and keep reading for some high-impact use cases.

Customer Attributes - these are characteristics of your customers and subscribers passed to Attentive to build segmentation. They allow you to create segmentation for your SMS journeys so you always know the right people are receiving your messages. Personalization requires segmentation, as you want to Find a full list of attributes here.
Once you have your Events and Attributes set up, you'll use them to create customized Segments. Segments are used to filter customers/actions and utilize them in your Attentive "Journeys". For example, you can create a segment that tracks 10 star NPS (Net Promoter Score) submissions. This can then be used in a "Journey" to send an SMS message to those customers thanking them for the review.
Use Cases
Here are some of our favourite use cases for Stamped and Attentive:
Top Stamped x Attentive Use Cases
Update customers when they've earned or redeemed loyalty points
Respond to positive or negative reviews
Update customers when their referral codes are redeemed
Update customers when they've earned or redeemed loyalty points
A loyalty program is a strategy to reward your customers with structured discounts and exclusive offers for behaviours that positively impact your brand, such as purchases, reviews, or engagement.
Points are the rewards earned by your customers for purchasing or engaging with your brand. Customers use these points for discounts towards future purchases.
Communicating when a customer has earned new points will get them excited about the Loyalty program and encourage them to spend them. With Stamped and Attentive, you can set up a segment to automate SMS messages when a customer earns points or redeems points. It keeps the points top of mind for them, which is key to the success of your loyalty program as you want the points to be actively used by the customer.
Respond to positive or negative reviews
A staggering 89% of consumers read reviews before making a purchase -- and just one review on your product page can boost conversion rates by 354%*. Collecting reviews via SMS gives you an opportunity to increase your open rates and response rates as people who opt-in to SMS are generally more engaged.
In our beta test, one eCommerce brand shared that the highest impact use case for the Stamped Reviews + Attentive integration is to reply to negative reviews. When a customer leaves a negative review, reply to address the issue and open a conversation turns a detractor into a future brand champion!
Once you have synced Stamped and Attentive, you will create a segment for customers who left a negative review, and then create a campaign in Attentive with customized content. Ask for more feedback and get to the heart of the issue so you can resolve it for the customer. Here's the segment to create in Attentive:
Update customers when their referral codes are redeemed
Referral codes are another core component to a loyalty program. With Stamped, customers can share their referral code with their friends and family. When that code is used, the customer and the new customer receive a discount.
Notify the customer who shared the code via SMS that they have earned the referral bonus to ensure they are aware and get them excited about spending it!
Looking for inspiration for your own SMS text messages for each of these flows? Check out Attentive's "Texts We Love!" hub for real-life examples from eCommerce brands.
Here's a full list of the popular Stamped touchpoints for which you can build SMS marketing journeys in Attentive:
Reviews Attributes:
Last Review Score (1-5)
Last Review Date (yyyy-mm-dd)
Last Review Sentiment Score
Total Number of Reviews
Last NPS Score (1-10)
Last NPS Date (yyyy-mm-dd)
Total Number of NPS
Last Product Reviewed Title
Last Product Reviewed ID
Last Question Asked (yyyy-mm-dd)
Last Question Asked Date (true or false)
Loyalty Attributes:
Total Rewards Points
VIP Tier Level
VIP Tier Date Joined
Birthday (yyyy-mm-dd)
Account Date Created (yyyy-mm-dd)
Account Confirmed (true or false)
Referral Link
Total Referrals
Accepts Marketing (true or false)
Getting Started
Stamped and Attentive is available to all Stamped customers with a Professional or above subscription. Attentive is offering Stamped customers 60-days free! Sign up here.
Use our Integration Guide to install and set up your first few use cases, and reach out to hello@stamped.io with any questions and to share your feedback.
Happy SMSing!
Trust Builds Brands
Sign up to see how Stamped can help your Ecommerce brand drive growth and awareness.
Sign Up Free