Integration | Jun 23, 2022
Integration Spotlight: Rebuy & Stamped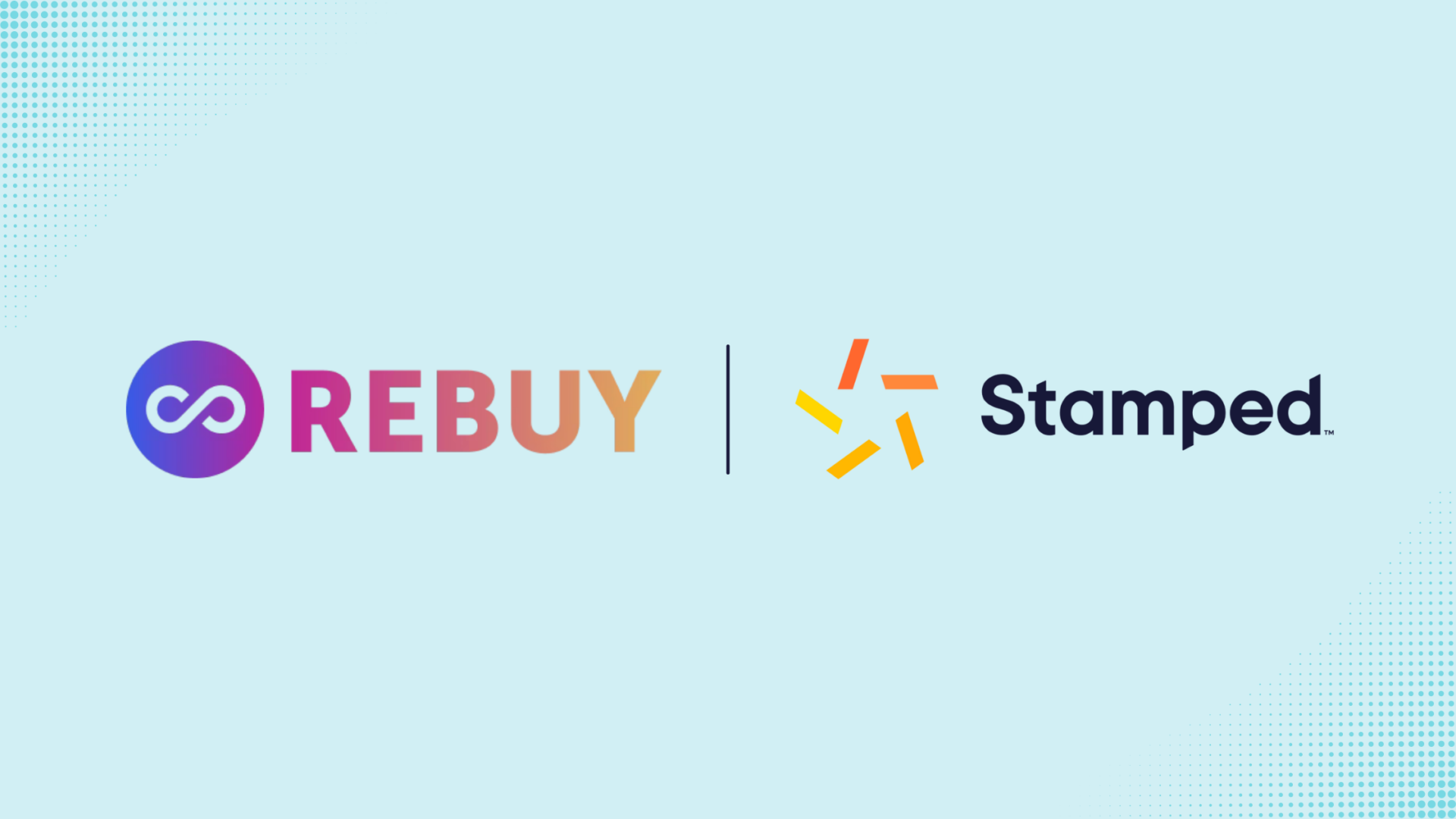 Stamped is proud to partner with Rebuy. Rebuy's personalization increases order values, wins more customers, and accelerates sales.
Rebuy is an omnichannel personalization platform empowering ecommerce brands on Shopify to increase AOV, accelerate sales, and grow quickly. Unlike other options, Rebuy provides a full suite of personalization, marketing, and retention services, white-glove support, and a customizable shopping cart. Trusted by 4,000+ retailers worldwide, Rebuy's powerful technology is redefining data-powered shopping experiences.
Why Personalization Matters
Rebuy brings personalization to your product recommendations, shopping cart, and post-purchase experiences so you can increase order values, win more customers, and accelerate sales. They offer multiple products to create intelligent shopping experiences based on data, so your customers see the right things at the right time. 80% of consumers are more likely to buy from a brand that provides personalized experiences, so investing in personalization has quick results on your overall sales. Personalized content should be dynamic, meaning that it is showing the best results for that customer based on key attributes.
Personalized Product Recommendations
Product recommendations are key to upsell and cross-sell offers, and getting them right requires smart data. Rebuy brings personalization to your shopping homepage or product storefront. Getting the right recommended products when a customer first visits your store is key to demonstrating the value of your products. A good example of this is regionality. If a customer lives in Canada, you aren't showing them a product recommendation for flip-flops in January. To make this happen, Rebuy's personalized product recommendations are:
data powered, so you can customize the experience for every visitor
customized for upselling & cross-selling, so you can show products based on other items in their cart
customized to look like your brand for a consistent experience
best of all, quick to see results
Rebuy Smart Cart
Ecommerce stores see an average cart abandonment rate of 69.8%. Improving your shopping cart experience to encourage people to click that checkout button can have a huge impact on your revenue and sales. Rebuy's Smart Cart offers industry leading features:
Free shipping bar
Marketing messages
Countdown timer
Multi-currency support
Stamped reviews for the products in the cart
And more!
See how Rebuy's Smart Cart improved Licorice.com's AOV by 17% overnight.
Integrating product reviews into your Smart Cart brings social proof to the buying experience. If a customer is at the moment of purchase and concerned about the value of the product, a 5-star review can be just the ticket to ease their concerns.
Rebuy Post Purchase Flows
Did you know you are 60-70% more likely to make a sale to an existing customer over a new customer?* That's why improving your post-purchase experience is key to increasing your overall sales.
A great post-purchase experience is customized for the customer and the products they purchased, encourages them to leave a review, and opens the door to future sales. With Rebuy, post purchase focuses on:
Adding value when it counts
Maximizing AOV
Improving retention
Building loyalty
Maintaining that connect post-purchase with review requests, a loyalty program, and custom discount offers ensures your customers stick around and continue to purchase from your brand in the future.
Rebuy + Stamped Integration Benefits
Rebuy's personalization engine seamlessly integrates with Stamped so you instantly build trust and win customers at key decision points. Customers using Stamped to display social proof online are now able to surface hyper-targeted product reviews and ratings within Rebuy's data-driven upsell and cross-sell offers. Help your existing customers advocate for your brand when and where it matters most with Rebuy's integration for Stamped.
Give your sales a boost by featuring customer ratings and reviews in Rebuy's smart product recommendations.
Instantly build trust and drive conversions at key points in the buyer's journey.
Leverage the power of super-targeted social proof in every Rebuy upsell, cross-sell, and post-purchase offer.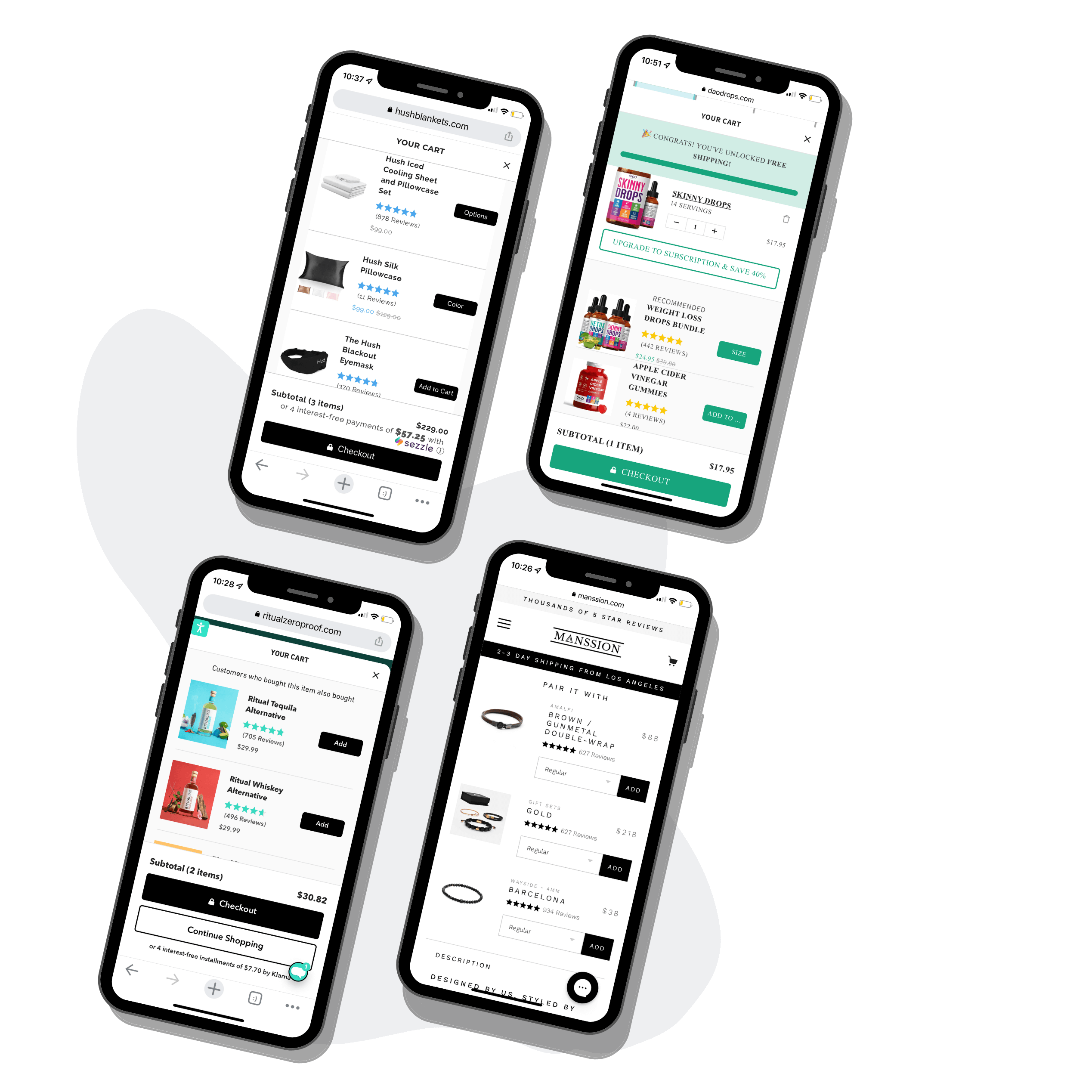 Getting Started
Brands first need accounts with Stamped and Rebuy before activating the integration:
Once both accounts are ready, follow the steps here to link the two together, then start customizing your automations.
Reach out to Stamped for support at hello@stamped.io and contact Rebuy support with any specific questions.
Trust Builds Brands
Sign up to see how Stamped can help your Ecommerce brand drive growth and awareness.
Sign Up Free